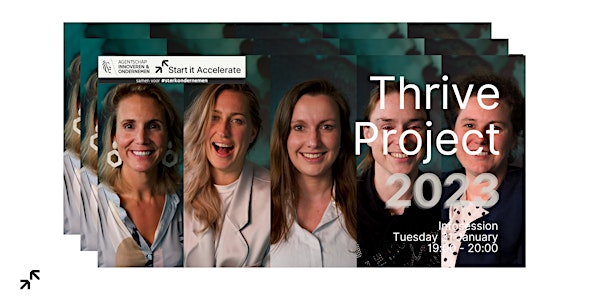 The Thrive Project by Start it @KBC | Infosession
The Thrive Project by Start it @KBC
About this event
Start your leadership journey at Start it @KBC during The Thrive Project
In February 2023 we're kicking off the third edition of The Thrive Project. During this 2-month program we select 15 female founders to accelerate their successes and their leadership journeys. Not your typical acceleration track.
Register here for our info session on January 30th from 19:00 - 20:00. During this hour we explain you all the ins and outs of the program.
We're looking forward to getting to know you soon!
Start it @KBC Team
EXPLORE your power
DISCOVER your leadership impact
ACTIVATE your network.
That's the Thrive Project.
———
Our vision
Women leaders don't need additional programs or training - they need to be seen, they need tools to help them thrive in a world where they are still in the minority and most of all they need each other!
Our goal is to provide you, as women founders and leaders, with new tools to help accelerate the success that you have already found in your leadership journey; as well as providing you with the support you need as you face your own very specific challenges.
A key objective will be to create a powerful support network (your own personal professional tribe) to ensure a lasting impact through your career. We would like you to leave the program feeling completely empowered and able to fully embrace who you are, in all your strength & power, and with a set of new skills to help drive your business to new heights.
Our graduates from 2021
Huapii, Pronovix, BloomUp, Oquila, Space Refinery, Live The World, My Add On, Miokoo & Oak Tree Projects.
Our graduates from 2022
Claire, Jelloow, NextGenics, Guud, Trooper, Side&Kick, BioSensource & Colevator.