Sales Have Ended
Ticket sales have ended
Sales has ended for this webinar, but be sure to check other upcoming training sessions at www.cacaolab.be
In this webinar, the science behind the high-quality of Belgian chocolates will be discussed.
About this event
Cannot say 'No' to the delicious and creamy taste of Belgian chocolates? You are not alone.
Chocolate lovers from all over the world are fond of Belgian chocolates. The superior quality and taste of Belgian chocolates is based on not only the excellent skills and craftsmanship but also devotion of chocolate producers. This has inspired researchers at Cacaolab and Ghent University (UGent) to explore the wonders of chocolate scientifically. Over the past two decades, we have built up solid scientific expertise and developed an extended analytical toolbox for cocoa- and chocolate-related research.
Cacaolab as a UGent spin-off company is fully dedicated to innovation and training from bean to praline since 2012. In the webinar, the science behind the high-quality of Belgian chocolates will be revealed covering the whole value chain such as sustaining high-quality cocoa production, post-harvest processing, and chocolate processing. Also, the Cacaolab training program in autumn 2022 will be released during the webinar thus more events are coming soon.
Join us and sign up for one of the sessions – 2 sessions, same content – choose the timeslot that works for you:
When: Thursday May 19 at 9:00 – 11:00 OR 15:00-17:00 pm CEST/Brussels
Language: English
Schedule:
9:00-9:10 & 15:00-15:10 Welcome remarks
9:10-9:20 & 15:10-15:20 Dr. Hui Xu: Introduction of Cacaolab & International Open Innovation Center on Cocoa and Chocolate Processing
9:20-9:40 & 15:20-15:40 Prof. Koen Dewettinck: The Secrets behind Belgian chocolate
9:40-9:50 & 15:40-15:50 Q&A
9:50-10:10 & 15:50-16:10 ir. Claudia Delbaere: Everlasting chocolate(s): how far can we go?
10:10-10:20 & 16:10-16:20 Q&A
10:20-10:40 & 16:20-16:40 ir. Hanne Baert: The future of chocolate
10:40-10:50 & 16:40-16:50 Q&A
10:50-11:00 & 16:50-17:00 Dr. Hui Xu: Cacaolab training program
This is a livestream program, and it will not be recorded. After ticket purchase, an invitation link for the webinar will be sent to you therefore NO REFUND is possible. The slides will be sent by a follow-up email after the webinar.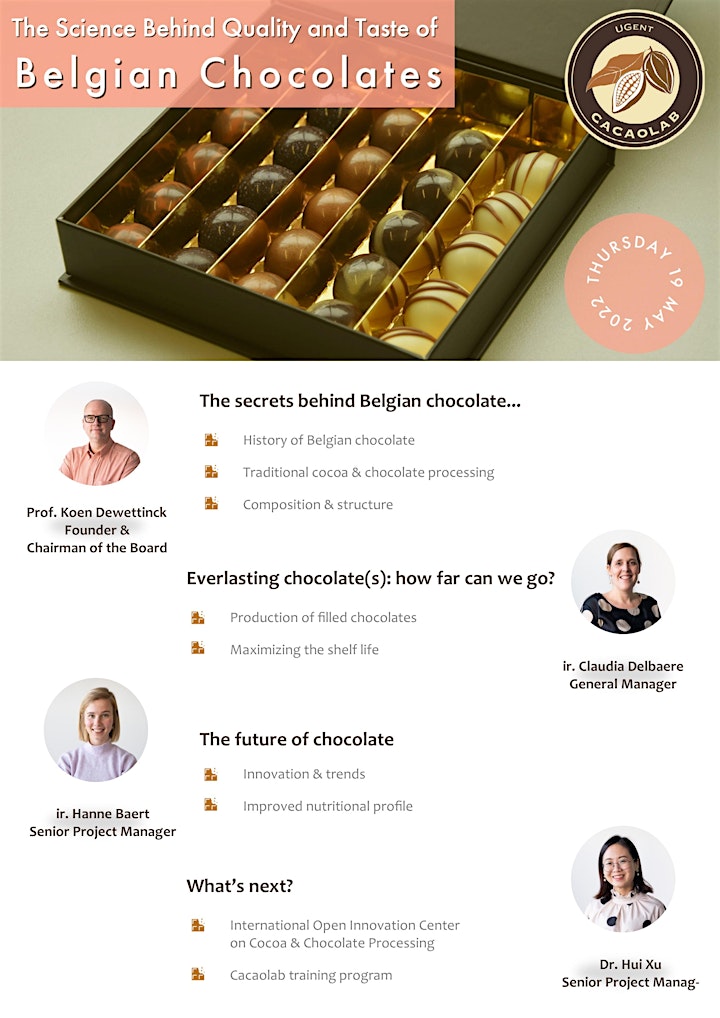 Main speaker: Prof. dr. ir. Koen Dewettinck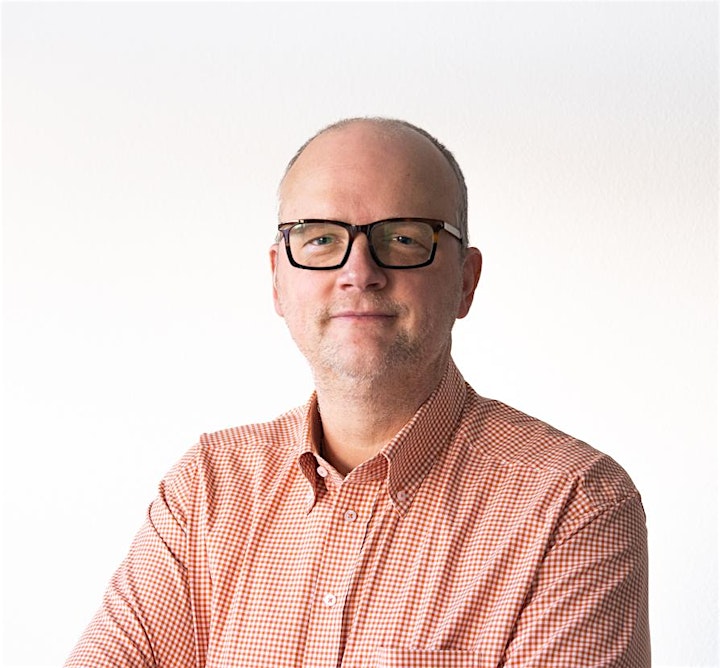 Full Professor at Ghent University, CEO & inspirator of Cacaolab bv
Koen heads the Research Group of Food Structure and Function (previously known as Food Technology and Engineering Research Group) at Ghent University, Belgium. In November 2012, he founded Cacaolab bv, a UGent spin-off company. He has more than 25 years' research experience on cocoa and chocolate processing.
Co-speaker: ir. Claudia Delbaere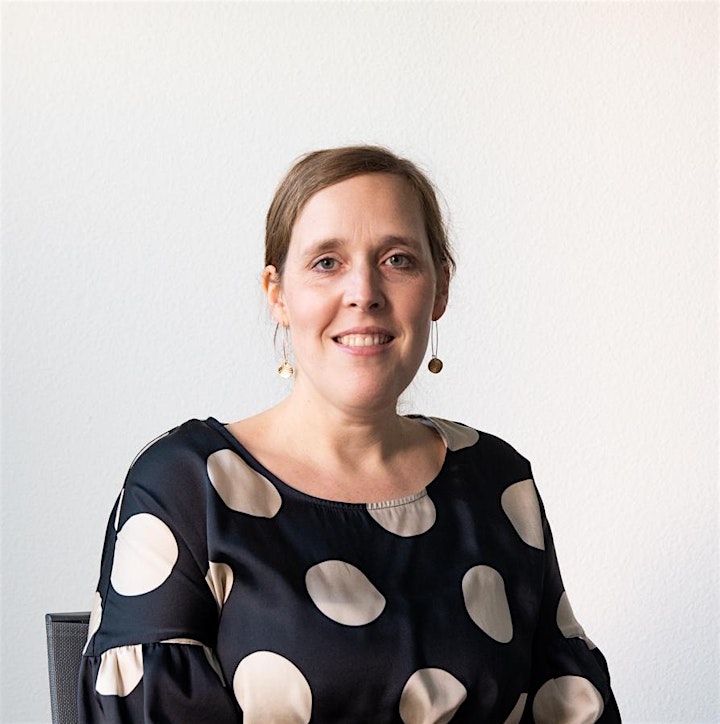 General Manager at Cacaolab bv
Claudia is responsible for the day-to-day operations of Cacaolab. Additionally, she works closely with clients to create tailored research solutions for their product and process challenges. Prior to her transition to the industry in 2013, she worked as a scientific co-worker at UGent for five years focusing on fat bloom in complex chocolate products. She holds a Master degree in Bioscience Engineering with a major of Chemistry.
Co-speaker: ir. Hanne Baert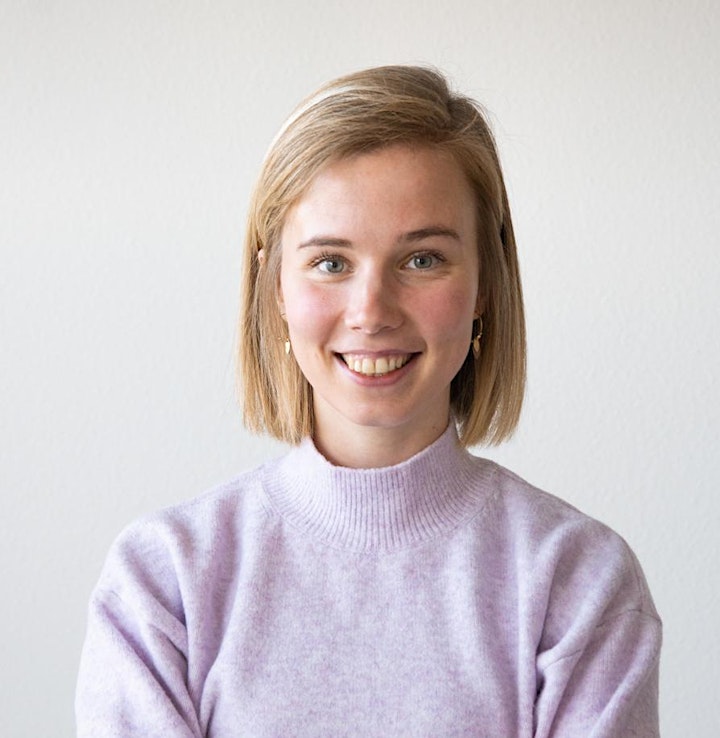 Senior Project Manager at Cacaolab bv
Hanne has more than five years' experience in managing bilateral projects on a wide range of topics not only covering the whole cocoa and chocolate value chain but also the application of chocolate in complex finished goods. She holds a Master degree in Bioscience Engineering with a major of Food Science and Nutrition.
Chairwoman: dr. ir. Hui Xu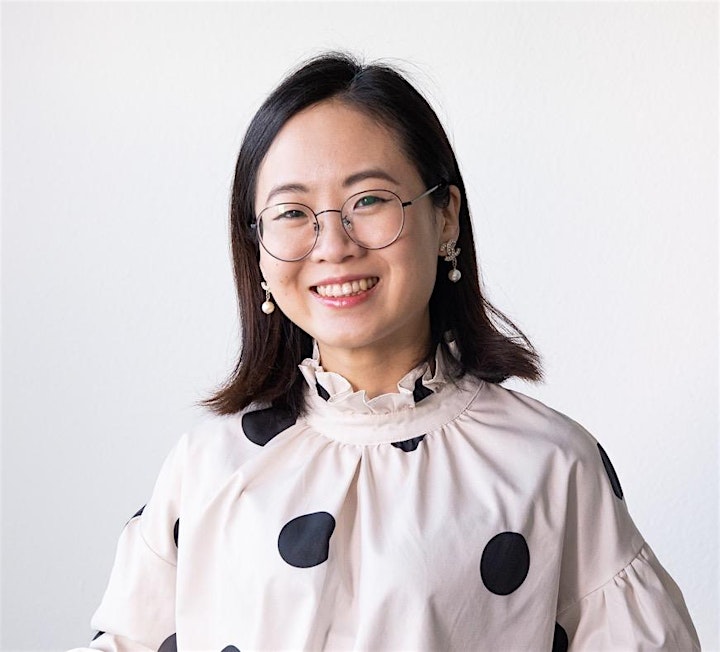 Senior Project Manager at Cacaolab bv
Hui is responsible for coordinating of the International Open Innovation Centre on Cocoa and Chocolate Processing and managing projects in the Asian region. She holds Master degrees in Food Technology and in Tropical Natural Resources Management and a doctorate in Bioscience engineering.
More information
http://www.cacaolab.be (updating)
https://www.ugent.be/bw/foodscience/en
We look forward to seeing you there!
Team Cacaolab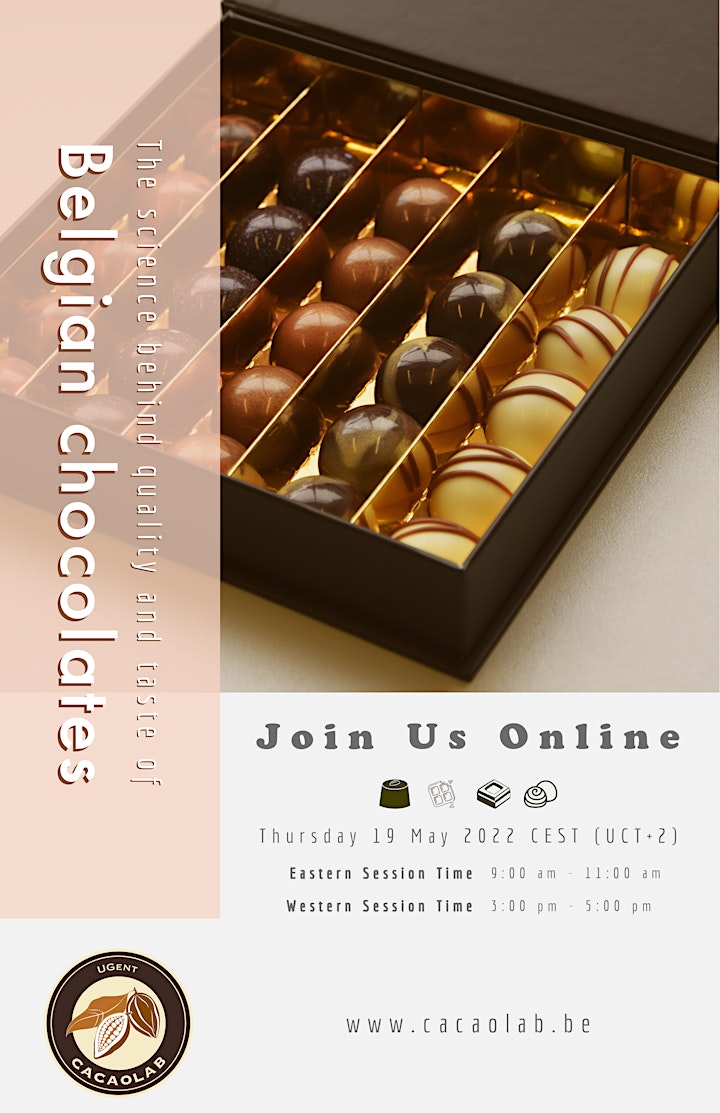 Microsoft Teams Connection:
This educational program is open to all chocolate lovers and since it is an online/virtual event via Microsoft Teams you can connect from anywhere in the world. Teams webinars have a limit on the number of people that can participate and therefore the event may "sell-out" once a certain number of registrations has been reached.
Microsoft Teams Connection Link Will Be Emailed:
Registration forms will be emailed after purchase. Once the registration form is complete, the Microsoft Teams connection link will be followed by email. If you did not receive the link 24 hours prior to the event, please contact us for assistance.
Microsoft Teams Connection Suggestions:
Connecting a few minutes earlier is strongly recommended.
To join the event, simply click the Microsoft Teams link and follow the instructions.
If clicking the link doesn't work, try copying and pasting it instead.
A password is not required.
Teams may work better in some browsers/devices than others - if one doesn't work try another.
When all else fails, please read and follow the directions. 😊
Didn't Receive the Microsoft Teams Connection Info?
Check your spam folder, make sure you didn't sign-up with your other email address (personal vs. work, etc.). Also, review the email settings on your Eventbrite account (you may have turned off our notifications)- link below:
https://www.eventbrite.com/account-settings/email-preferences
Additional Eventbrite Troubleshooting Link:
https://www.eventbrite.com/support/articles/en_US/Troubleshooting/did-my-email-send-invitations-order-confirmations-reminders?lg=en_US