The next generation skills you will need in view of contin. manufacturing
Description
This exclusive pharma training event brings together leading academic, industry and regulatory aspects and combines theory with practical demo's. The first edition of this training event was held in Ghent, Belgium in 2017 and was fully booked.
Full programme below - Practical info (travel, hotel, ...) will be sent to you shortly after registration.
Day 1: Introduction to continuous manufacturing platforms and material characterisation
Day 2: Modelling and simulation towards design space definition
Day 3: PAT for process monitoring and control of continuous manufacturing processes
Demo's and hands-on activities include:
Continuous process lines in action
Impact of material properties on CM operations
Flow sheet modelling of continuous manufacturing
Mechanistic modelling of twin-screw granulation, drying and milling
Feedback from previous edition:
"Entire picture covered: (flow sheet) modelling, PAT, control, regulatory"
"Great to see theory practically implemented during the DEMO sessions. Good combination of presentations and demonstrations"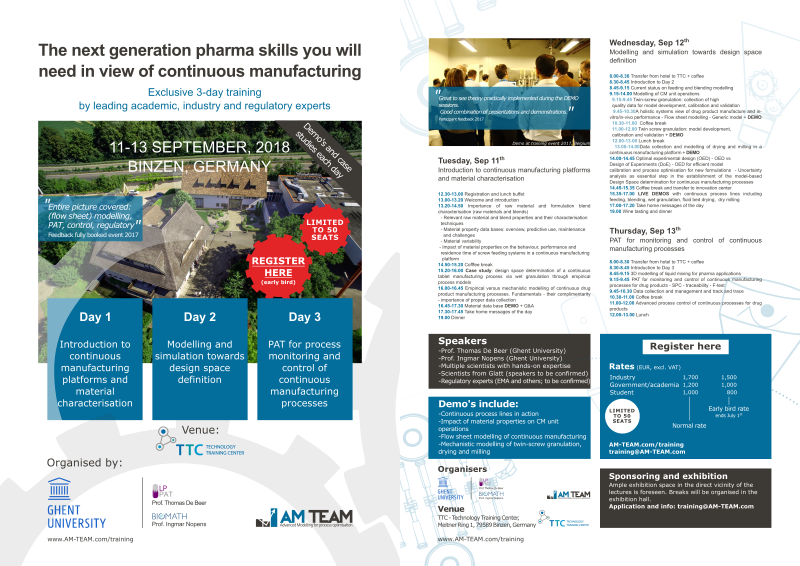 FAQ
Where can i find practical information on the venue, travel, hotel etc?
We will provide you with this information shortly after your registration and this information is also be provided at the event homepage.