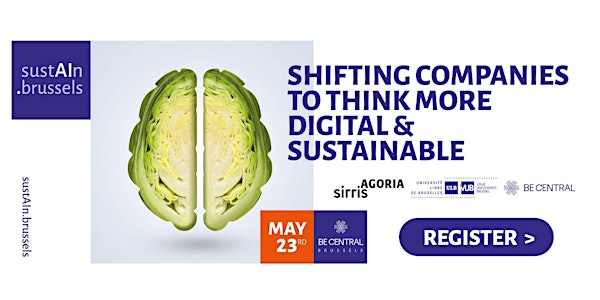 SustAIn.brussels - Shifting companies to think more digital & sustainable
SustAIn.brussels is the single point of contact for companies that want to grow their digital and sustainable ambitions.
Date and time
Tue, 23 May 2023 15:30 - 18:30 CEST
Location
Becentral 12 Kantersteen 1000 Brussel Belgium
About this event
Do you and your company have digital ambitions and aim for sustainable impact? Then this SustAIn.brussels event is the place to be!
The road to successfully applying digital technologies can be a rocky one:
• How to choose and test technology solutions?
• What skills do you need to acquire?
• What type of investments are needed and where can you find those?
• How do you establish local or international partnerships? 
• How do you do this in a sustainable way so that it positively impacts our society and environment?
SustAIn.brussels is the new European Digital Innovation Hub in Brussels, created with the support of the European Commission, Innoviris and hub.brussels and coordinated by Sirris, Agoria, BeCentral VUB, and ULB.
Our mission is to be the single point of access for companies to sustainable digital innovation with a focus on AI and other emerging technologies.
Join us at this launch event in the heart of Brussels at Becentral. Explore the new FARI AI Experience Center and meet the "who's who" of public and private actors in Brussels who can support your digital and sustainable challenges.
Agenda
3:30pm - Welcome coffee
4pm - Plenary
Welcome word - by Stefaan Sonck Thiebaut, Director General at Innoviris and by Yves Paindaveine, Sr Expert Artificial Intelligence & Digital Industry at European Commission
Digital Innovation Journey: Funding opportunities for entrepreneurs - by Jonathan Duplicy, Innovation Advisor at Innoviris
Tips, tools and services for a successful digital and sustainable business with the testimonials from:
1. Grégoire de Hemptinne, Co-founder & Chief Operations Officer at Shayp, tech start-up that aims to eradicate water waste & improve water efficiency in buildings

2. Gregory Verlinden, Associate Vice President AI & Analytics at Cognizant, an American Fortune 500 information technology services and consulting company with over 350,000 employees worldwide.
4:45pm – Breakout sessions - What can SustAIn.brussels do for you?
(Participants will be invited to choose 2 out of these 3 sessions below)
Test before invest – by Ludwig De Locht, Digital Transformation Ambassador at Sirris
Skills & training – by Ronnie Raeymaekers, Scientific Advisor ICT at ULB; Marie-Modeste Vaeyens, Responsible TechSci at ULB. This session takes place in the new FARI AI experience center - guided by Diana Remache, Project Manager at VUB FARI.
Finance guidance – by Gwen Gillard, Program Officer at BeCentral
5:45pm: Cocktail & closing word by Secretary of State, Barbara Trachte, responsible for Economic Transition in Brussels
For whom
All employers or employees interested in the topic of digital/sustainable transformation, artificial intelligence and other emerging technologies
Language
The main language will be English. Some speakers might use French or Dutch.
Admission
Free of charge
Optional: New AI Experience center visit
An optional tour of the newly opened AI Experience center will be possible at 2:45pm - 3:45pm. This state of the art facility allows companies, institutes, policy-makers, and citizens to test and experiment AI technologies. It is operated by FARI, the AI Center for the Common Good institute jointly set up by ULB and VUB, and supported by Innoviris and Paradigm.brussels. The visit will include an introduction of the research groups Brubotics, ETRO, LTST Research group, SMIT, AI lab, Solvay Business School, Perelman centre, Machine Learning Group, IRIDIA and SAAS from Vrij Universiteit Brussels and Universite Libre Bruxelles.
The number of participants is limited to 30 max.
Organisers
Agoria, Belgian Federation of the technological industry.
BeCentral, digital campus located in Brussels Central Station
Sirris, collaborative research centre for the Belgian technology industry.
Université Libre de Bruxelles (ULB), French speaking university in Brussels
Vrije Universiteit Brussel (VUB), Dutch speaking university in Brussels