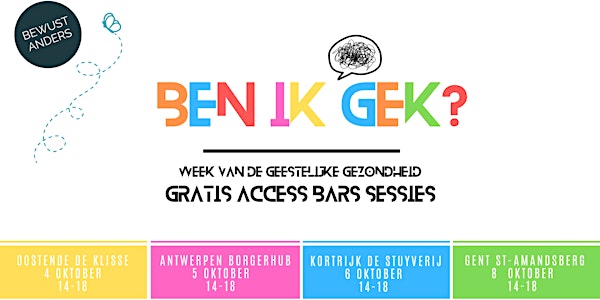 Stuyfsessies Access Bars
Welkom op ons Open Huys met Stuyfsessie, deze woensdag 5-10
When and where
Location
BorGerHub Turnhoutsebaan 92 2140 Borgerhout Antwerp Belgium
About this event
Ben je gek of ben je gewaar?
Bestuyfster Ivy van Bewust Anders geeft op woensdag 5 oktober in BorGerHub Access Bars sessies, behandelingen voor een diepgaande rust, in het kader van week van de geestelijke gezondheid.
Tijdens ons Open Huis woensdagochtend geeft ze ook een stuyfsessie hierover! Wees welkom om te komen luisteren naar het verhaal van Ivy & ´Bewust Anders, laat je inspireren of help versterken door feedback ...
Wat zijn Access Bars?
Een Access Bars Sessie is een zachte behandelmethode die inwerkt op cel niveau en zorgt voor onmiddellijke diepgaande rust. Op langere termijn ondervindt men meer gemak en positieve veranderingen in het leven.
Access Bars zijn 32 punten op het hoofd die als ze zachtjes worden aangeraakt, een positieve verandering in de hersenen stimuleren en die de elektromagnetische bestanddelen van stress, gedachten en emoties defragmenteren.
Het werkt op het loslaten van zowel fysieke als mentale blokkades die zijn opgeslagen in het lichaam en helpt om meer gemak te creëren in alle verschillende gebieden van het leven.
Wil je graag een sessie boeken of nog wat meer info? www.bewustanders.be/ben-ik-gek