Learn to dance on roller skates @ Het Entrepot Bruges
About this Event
Hou je van dansen en rolschaatsen en verlang je naar een moment boordevol fun? Start to Rollerdance In the City en leer samen met mij dansen op rolschaatsen !
Tijdens een les van anderhalf uur leer je stap voor stap dansen op rolschaatsen. De focus ligt op het plezier, maar een basisvaardigheid staan en bewegen op rolschaatsen is noodzakelijk.
De lessen worden gegeven in het Engels voor het niveau « beginner » en worden aangepast naargelang het niveau van de groep. De minimum leeftijd voor deelname is 12 jaar.
Schrijf je in voor een onvergetelijke ervaring met professionele Rollerdance danseres Amandine Etelage van het Miss'ile team Parijs.
Wegens COVID-19 is het aantal plaatsen beperkt, wees er dus snel bij en registreer je nu!
Een concept aangeboden door rollerdance.be.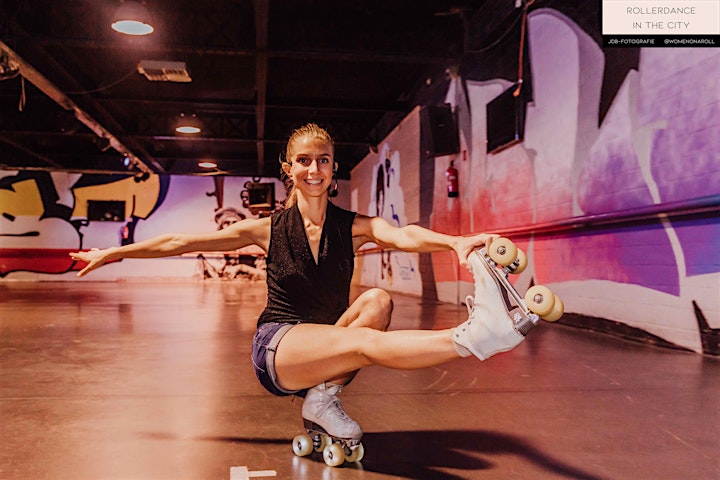 Vous aimez la danse et le patin à roulettes et vous rêvez d'un moment plein de plaisir? Commencez à Rollerdance In the City et apprends à danser sur des patins à roulettes avec moi!
Durant un cours d'une heure et demie vous apprendrez pas à pas le roller dance.
Les cours sont dispensés en anglais pour le niveau « débutant » et sont adaptés en fonction du niveau du groupe. L'âge minimum pour participer est de 12 ans. Une compétence de base (être capable de se tenir debout et de bouger sur) les patins à roulettes est nécessaire pour participer.
Inscrivez-vous pour une expérience inoubliable avec la danseuse professionnelle de rollerdance Amandine Etelage du Miss'ile Paris.
En raison du COVID-19, le nombre de places est limité, alors soyez rapide et inscrivez-vous maintenant!
Ce concept est proposé par rollerdance.be.
* * *
Do you like dancing and roller skating and do you long for a moment full of fun? Start to Rollerdance In the City and learn how to rollerdance with me.
During a class of one hour and a half you will learn to roller dance step by step.
Classes are given in English for « beginners» level and are adapted according to the level of the group. The minimum age for participation is 12 years. A basic skill (being able to stand and move on) roller skates is necessary to participate.
Register for an unforgettable experience with professional Rollerdance dancer Amandine Etelage from the Miss'ile team Paris.
Due to COVID-19 the number of places is limited, so be quick and register now!
This concept is offered by rollerdance.be.