Dit evenement is afgelopen.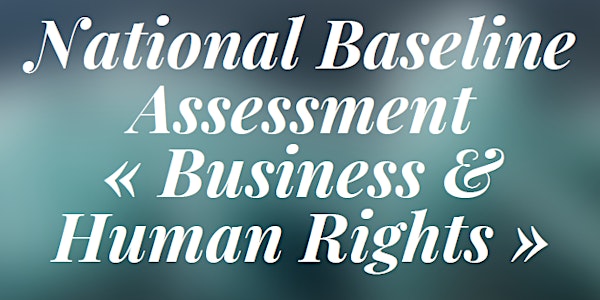 Stakeholder consultation NBA Business & Human Rights
February 10, 2021 - Virtual stakeholder consultation on the NBA on Business and Human Rights . Registration is free but obligatory
Over dit evenement
The consortium HIVA-KU Leuven and The Law and Development Research Group (University of Antwerp), IPIS Research and FIDO/IFDD kindly invite you to a (virtual) stakeholder consultation on February 10, 2021.
During this stakeholder consultation, the research team will present the findings of the National Baseline Assessment for Human Rights, and all stakeholders will be given the opportunity to ask questions and/or to react to the findings. While the whole event will take a full day (10:30-16:15), you are off course welcome to only attend those sessions that are of interest to you.
Programme
• 10.30: Introduction
• 10.40: International experiences with NBAs (Daniel Morris, Danish Institute for Human Rights)
• 11.00: Pillar I – the state: Findings and recommendations + Q&A
• 12.30: Lunch break
• 13.00: Pillar II – Business: Findings and recommendations + Q&A
• 14.15: Break
• 14.30: Pillar III - Remedy: Findings and recommendations + Q&A
• 15.45: Synthesis and way forward
• 15.55: Closing remarks
Practical
Participation is free but registration is required. After registration, you will receive a draft of the NBA report one week before the stakeholder consultation.
Presentations will be done in French, Dutch and English. Translation to English will be available.