On the 6th of October the tourism sector takes over Brussels. A European initiative that you can be a part of. Join our SOS! #SaveOrSink
About this event
Click the "register" button to order your free ticket. We look forward to seeing you on the 6th of October.
(Scroll down for French and Dutch information)
ENGLISH VERSION
The travel industry is one of the industries which has been and is still hit really hard by the widespread impact of the corona virus measures. The travel industry as a whole employed 1 out of 10 people of the world's working population in 2019, supporting more than 330 million jobs and contributing more than $ 8.9 trillion to the global GDP. This means the travel industry accounts for 10 percent of global employment. SOS Travel: #SaveOrSink is a Belgian initiative but with widespread support all over the world. We want to support everyone working in the tourism industry. Join our SOS on Tuesday the 6th of October in Brussels. The event takes place between 12:00 (12PM) and 14:00 (2PM)at the entry of the entrance of the Parc du Cinquantenaire (Jubelpark). The exact location is the corner of the Rue De La Loi (Wetstraat) and the Avenue De La Joyeuse Entree (Blijde Inkomstlaan). We ask you to dress in red and wear a mouth mask during the complete demonstration. Feel free to bring placards and banners with catchy slogans. Also welcome: flags from European and non-European countries. The more, the better. All together, let's make them hear our SOS all over Europe. Our time is now, so don't miss out and register now! #SOSTravel #SaveOrSink
NEDERLANDSTALIGE VERSIE
De reisindustrie is een van de sectoren die het hardst getroffen werd door de wijdverspreide impact van de maatregelen tegen het coronavirus. De reisindustrie als geheel had in 2019 1 op de 10 mensen van de werkende wereldbevolking in dienst, goed voor meer dan 330 miljoen banen en een bijdrage van meer dan 8,9 biljoen dollar aan het mondiale GDP. Dit betekent dat de reisindustrie goed is voor 10 procent van de wereldwijde werkgelegenheid. SOS Travel: #SaveOrSink is een Belgisch initiatief, maar met brede steun over de hele wereld. We willen met onze actie iedereen ondersteunen die in de toeristische sector werkt. Sluit je aan bij onze SOS op dinsdag 6 oktober in Brussel. Het evenement vindt plaats tussen 12.00 uur en 14.00 uur aan de ingang van het Jubelpark te Brussel. Exacte locatie: de hoek van de Wetstraat en de Blijde Inkomstlaan. We vragen je om tijdens de volledige demonstratie in het rood te kleden en een mondmasker te dragen. Neem gerust pancartes en spandoeken mee met pakkende slogans. Als je vlaggen hebt van Europese en niet-Europese landen dan zijn die ook zeker welkom. Er zijn gratis bussen vanuit alle Belgische provincies. Registreren kan via de button "Register" hiernaast. Laten we, allemaal samen, onze SOS in heel Europa laten horen. Dit mag je niet missen! #SOSTravel #SaveOrSink
VERSION FR
L'industrie du tourisme est l'un des secteurs les plus durement touchés par l'impact généralisé des mesures contre le coronavirus. Le secteur du tourisme dans son ensemble employait 1 personne sur 10 de la population active mondiale en 2019, fournissant plus de 330 millions d'emplois et contribuant plus de 8,9 billions de dollars au GDP mondial. Cela signifie que le secteur du tourisme représente 10 pour cent de l'emploi mondial. SOS Travel: #SaveOrSink est une initiative belge, mais avec un large soutien dans le monde entier. Avec notre action, nous voulons soutenir tous ceux qui travaillent dans le secteur du tourisme. Rejoignez notre SOS le mardi 6 octobre à Bruxelles. L'événement a lieu entre 12h00 et 14h00 à l'entrée du Parc du Cinquantenaire. Adresse exacte: le coin de La Rue De La Loi et L'Avenue De La Joyeuse Entrée. Nous vous demandons de vous habiller en rouge et de porter un masque facial pendant la démonstration. N'hésitez pas à apporter des pancartes, des drapeaux du monde entier et des bannières avec des slogans. Nous organisons un service de bus gratuit. Faisons tous ensemble entendre notre SOS à travers l'Europe. #SOSTravel #SaveOrSink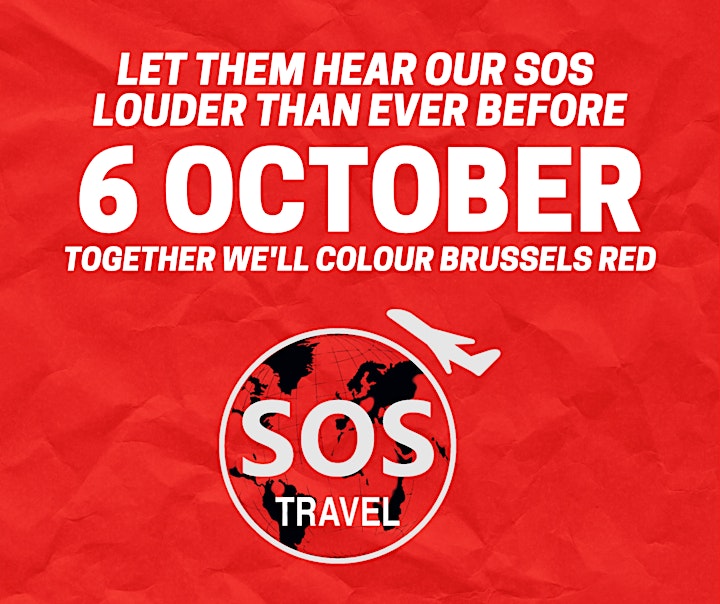 BOOK THE FREE BUS SERVICE
A free bus service is provided. When registering, you can easily select if you want to take the bus or not. You can choose one of our 22 pick up points in Belgium. Scroll down for the full list.
BOEK DE GRATIS BUSDIENST
Er is een gratis busdienst voorzien. Bij het registreren kunt u makkelijk aanvinken indien u de bus wenst te nemen of niet. U kunt kiezen uit één van de 22 vertrekplaatsen in gans België. Scroll naar beneden voor de volledige lijst.
RÉSERVEZ LE SERVICE DE BUS GRATUIT
Un service de bus gratuit est assuré. Lors de l'inscription, vous pouvez facilement sélectionner si vous souhaitez prendre le bus ou non. Vous avez le choix entre 22 points de départ. La liste complète se trouve ci-dessous.
Antwerpen/Anvers: Geel – Geel West Carpoolparking, Hotel Vivaldi (09h10)
Antwerpen/Anvers: Herentals – VDAB gebouwen Oud-Strijderslaan (09h30)
Antwerpen/Anvers: Zandhoven - Burger King, Liersebaan 190 (10h00)
Antwerpen/Anvers: Wilrijk - Crowne Plaza, Legrellelaan (10h30)
Antwerpen/Anvers: Mechelen - Technopolis (11h00)
Oost-Vlaanderen / Flandre orientale: Lokeren - Garage Destrycker (9h30)
Oost-Vlaanderen/Flandre orientale: Sint-Niklaas - Zwembad naast Hotel Serwir (09h50)
Oost-Vlaanderen/Flandre orientale: Gentbrugge - P&R Arsenaal, Brusselsteenweg (10h00)
Oost-Vlaanderen/Flandre orientale: Wetteren – Frunpark, Oosterzelesteenweg 5 (10h20)
Oost-Vlaanderen/Flandre orientale: Aalst - Gentsesteenweg 56 (bushalte), Kreatos (10h40)
West-Vlaanderen/Flandre occidentale: Oostende – Melinda, parking autocars (09h00)
West-Vlaanderen/Flandre occidentale: Brugge - Kinepolis (09h20)
West-Vlaanderen/Flandre occidentale: Harelbeke - Reizen Vermeeren (9h20)
West-Vlaanderen/Flandre occidentale: Kortrijk - ingang Xpo Doorniksesteenweg aan bushalte Halve Jan (09h40)
Limburg / Limbourg: Alken - Alk Reizen (09h10)
Limburg / Limbourg: Kuringen – Hyper Carrefour / Decathlon, Kuringersteenweg (09h30)
Limburg / Limbourg: Lummen – Carpoolparking Septemberstraat (10h00)
Limburg / Limbourg: Halen - Carpoolparking Staatsbaan (10h30)
Vlaams-Brabant / Brabant flamand: Heverlee – Parking Bodart, Veilingweg (11h00)
Vlaams-Brabant / Brabant flamand: Groot-Bijgaarden – Colmar (11h15)
Namur / Namen: Namur - La gare de Namur (10h30)
Brabant wallon / Waals-Brabant: Wavre / Bierges - Carrefour sortie 6 E411 (11h15)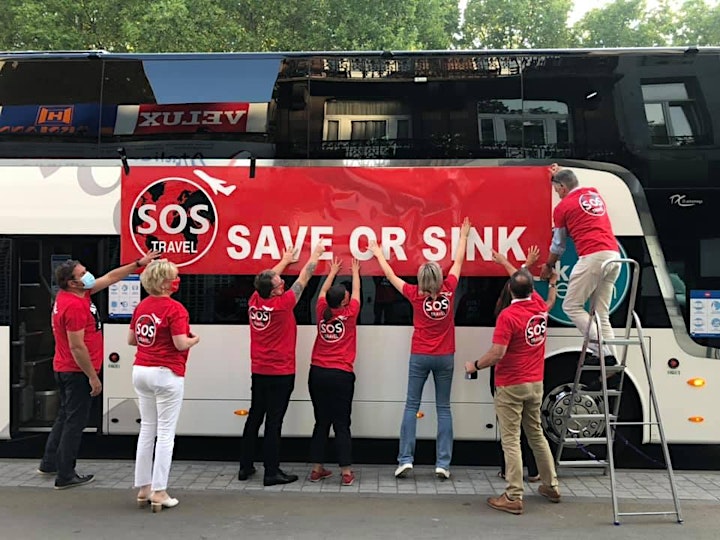 SOLD OUT / UITVERKOCHT / PLUS RIEN EN STOCK
SOLD OUT / ORDER YOUR #SAVEORSINK T-SHIRT AND / OR MASK
On October 6, we kindly ask you to come in a red outfit. Optionally, you can also choose to purchase a #SaveOrSink t-shirt and / or mask. A T-shirt costs € 19 / piece, a mask € 10. Orders can be submitted via info@saveorsink.eu. Remember to include your T-shirt size (M - L - XL - XXL), your first / last name, your company name (optional) and your contact details.
UITVERKOCHT / MERCHANDISE: BESTEL UW T-SHIRT EN/OF MONDMASKER
Op 6 oktober vragen we je vriendelijk om in het rood te komen. Optioneel kan je er ook voor kiezen om een #SaveOrSink T-shirt en/of mondmasker aan te schaffen. Een T-shirt kost 19€ / stuk, een mondmasker 10€. Bestellingen kunnen doorgegeven worden via info@saveorsink.eu. Vermeld zeker uw T-shirt maat (M - L - XL - XXL), uw familienaam/voornaam, de naam van uw bedrijf (optioneel) en uw adresgegevens.
PLUS RIEN EN STOCK / COMMANDEZ VOTRE T-SHIRT ET / OU VOTRE MASQUE #SAVEORSINK
Le 6 octobre, nous vous demandons de bien vouloir venir dans une tenue rouge. En option, vous pouvez également choisir d'acheter un t-shirt et / ou un masque #SaveOrSink. Un T-shirt coûte 19 € / pièce, un masque 10 €. Les commandes peuvent être soumises via info@saveorsink.eu. N'oubliez pas d'inclure votre taille de T-shirt (M - L - XL - XXL), votre nom / prénom, le nom de votre entreprise (facultatif) et vos coordonnées.