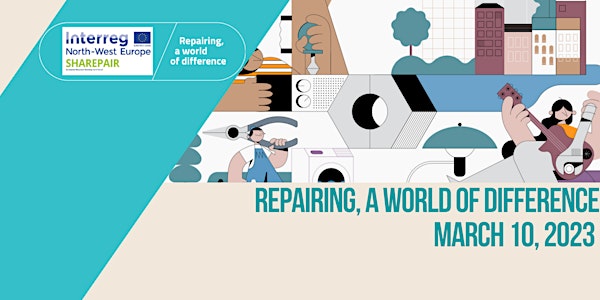 Repairing, a world of difference
The Sharepair project is happy to invite you to its closing event on 10th of March 2023 in Louvain-la-Neuve.
Date and time
Friday, March 10 · 9:30am - 5pm CET
Location
Aula Magna Traverse du Comte Yves du Monceau 1348 Ottignies-Louvain-la-Neuve Belgium
About this event
Are you good at repairing things, or do you wish you were? Are you interested in the issue of over-consumption or rather in zero-waste living? Are you interested in what is happening at political level to encourage repair?
Within the European Sharepair project, we have been working on solutions to reduce the amount of e-waste and would like to share the project results with you in a series of conferences and workshops.
Please join us if you want to find out and discuss what we have realized so far and will continue to work on. Topics on the agenda:
- toolboxes for cities to encourage repair- approaches to strengthen repair communities- campaigns for changes at individual, societal and political level- digital tools to make DIY, repair café or professional repair solutions more accessible, incl. work on (3D) spare parts- long-term vision on the place and role of repair data as part of a more circular economy
See you on March 10th at Aula Magna in Ottignies-Louvain-la-Neuve from 9:30 am to 5:00 pm.
You are welcome to bring a broken device for this event. Our repair volunteers will do their best to repair it or give it a second life!
Program:
March 10, 2023
9:30 am - 10:00 am : Welcome breakfast
10:00 am - 10:15 am : Introduction
10:15 am - 11:00 am : Repair, what is in it for cities?
Introduction : What is the city repair toolkit and how to use it?
Three toolkit actions in the spotlight :
Promoting repair in the city by Sophie Dewaele (Testaankoop/Testachats)
Introducing repair to younger generations by Liene Blancke (City of Leuven)
Digital tools for cities by Stephanie Heylands (Statik)
11:00 am - 12:00 pm : Repair Policy : what is happening and what should be coming next ?
Insights from research, key priorities by Yoko Dams (Vito)
Repair policy updates at Belgian level by Rosalie Heens (Repair & Share)
Approved EU repair policies and remaining gaps by Ugo Vallauri - The Restart Project/ European Right to Repair campaign
12:00 pm - 1:00 : pm Lunch
1:00 pm - 1:15 pm : Interreg & Sharepair spin-offs by Matthias Verhegge (Vlaio) and Lieve Van Espen (City of Leuven)
1:15 pm - 2:15 pm : Scaling up repair via repair data in the bigger (European) picture through business models by Agustín García Pereira (National University of Ireland, Galway), Sirus, Yoko Dams (Vito), Lieve Van Espen (City of Leuven) and Alex Bunodière (KULeuven)
2:15 pm - 3:00 pm : Opportunities and challenges for the repair communityPerspectives from the repair community on the tools and practices developed in the Sharepair Project. What have we learned about the opportunities and challenges to strengthen the repair community ?by Simon Frémineur (Repair Together), James Pickstone (The Restart Project) and Rosalie Heens (Repair&Share)
3:00 pm - 3:30 : pm Break
3:30 pm - 4:10 pm : Perspectives and Long-Term Vision
Sarah Matthieu, Member of European Parliament (MEP)
Zakia Khattabi, Federal Minister of Climate, the Environment, Sustainable Development and Green Deal (Belgium)
Thomas Van Oppens, Deputy Mayor of Waste Management, City of Leuven
Philippe Delvaux, Alderman for Budget, Environment, Rural affairs, Digital & Administrative simplification, Ottignies-Louvain-la-Neuve
4: 10 pm - 5:00 pm Final Conclusion and drink
Repair Together will be present with its "Repair café mobile", for the duration of the event, in front of the Aula Magna
Please note this event can accommodate 200 guests only, therefore registration is mandatory