Location
MYND Adeje
36 Calle el Jable
38678 Callao Salvaje
Spain
⚠️ The 9 of July we will be at the Networking Real Estate Investment Event that will take place with a pool in LA CUMBRE ROOFTOP
About this event
A great opportunity to create synergies and generate contacts in the real estate sector. Interesting conferences by experts from the world of Architecture, Investments, and Vacation Rentals in the South of Tenerife. They will discuss new business opportunities to consider. 🤝​
It's also the opportunity to meet people that can teach you:
-How to buy a house in Tenerife
-How to get a credit in Tenerife
-How to become an Airbnb host
-The return on investment when buying a property
-Job possibilities
We'll be there, are you going to miss it?
🕐Planning:
3PM-4PM: Welcome Drink and appetizers
4PM-5PM: Conference
5PM-10PM: Networking time with Swimming Pool and DJ
👙🩳Dress code: Swimming clothes
👉​ Sponsors:
@losqualo.tenerife
@oasis.coliving
@ALSE HOMES
@sebarquitectos
@OMG Gardens&Pools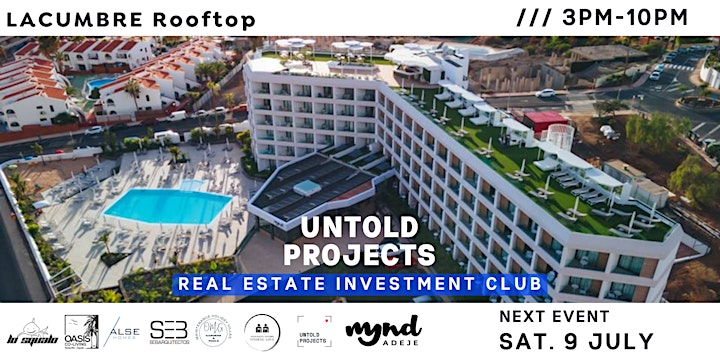 ⚠️ Este 9 julio estaremos en el Networking Real Estate Investment Event que se llevará a cabo en el rooftop con piscina en LA CUMBRE ROOFTOP⚠️
Una gran oportunidad para crear sinergias y generar contactos en el sector inmobiliario. Interesantes conferencias de expertos del mundo de la arquitectura, construcción, inversiones y alquiler vacacional en el Sur de Tenerife. Se discutirán nuevas oportunidades de negocio a considerar. 🤝​
También es la oportunidad de conocer gente que te puede enseñar:
-Cómo comprar una casa en Tenerife
-Cómo conseguir un crédito en Tenerife
-Cómo convertirse en un anfitrión de Airbnb
-El retorno de la inversión al comprar una propiedad
-Posibilidades de trabajo
Allí estaremos, ¿te lo vas a perder?
🕐Programa:
3PM-4PM: Copa de Bienvenida y aperitivos
4PM-5PM: Conferencia
5PM-10PM: Networking con piscina y DJ
👙🩳 Ropa ligera y vestido de baño
👉Patrocinadores:
@losqualo.tenerife
@oasis.coliving
@ALSE HOMES
@sebarquitectos
@OMG Gardens&Pools