Quo vadis, Smart Ports? The AS-IS and TO-BE toward smarter ports in Europe
Introduction of the Smart Port Maturity Model and the Tomorrowports Barometer self-assessment.
About this event
Ports across Europe are making the shift to more digital, value-added, resilient and sustainable operations. The future success of ports will increasingly be measured in other measures than TEU.
But what exactly will be the new measures of success?
which new opportunities for value creation lie hidden at the horizon? And more importantly, what will be the way to get there?
In this webinar we will introduce the Smart Ports Maturity Model and the Smart Port barometer. The Smart Port Maturity Model (SPMM) offers a comprehensive framework to assess smart port maturity in incremental steps in the domains of efficient port operations, safe and secure governance, synchromodality, energy and environment al sustainability and collaborative digital innovation capability (see image below). For each phase, in each dimension the SPMM is also able to suggest specific smart port applications to focus investments, based on 22 families of application types identified as part of the SPEED project.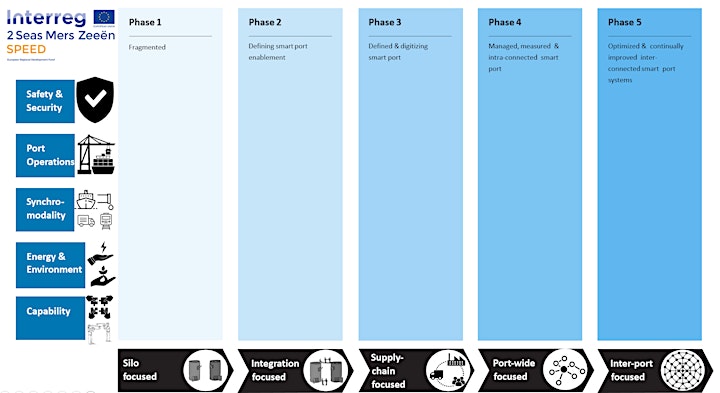 The Smart Port Barometer is a logical extension of this model into a survey to quantify the current state and ambitions in smart ports maturity for port areas and stakeholder types.
Like to know more?
Register for the webinar.
Don't want to waste time and go directly to the Barometer?
Here it is, enjoy!
Organizer of Quo vadis, Smart Ports? The AS-IS and TO-BE toward smarter ports in Europe