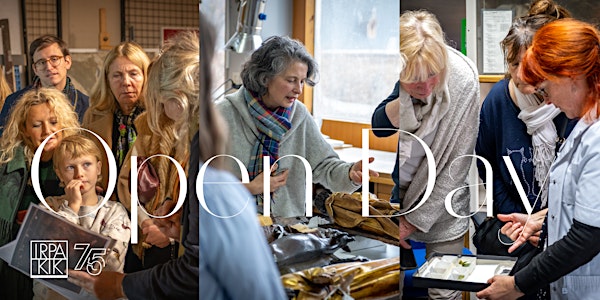 Open Day 2023
KIK-IRPA open house day 2023
When and where
Location
KIK-IRPA Parc du Cinquantenaire 1 1000 Brussels Belgium
About this event
FR
Lors de la journée portes ouvertes de l'IRPA, vous découvrirez toutes les finesses de la préservation du patrimoine :
Comment se déroule une restauration ? Qu'est-ce que la dendrochronologie ? Avez-vous des photos historiques de ma commune ? Comment radiographie-t-on une peinture ? Comment déterminez-vous la composition de la peinture médiévale ? Et comment voyez-vous la différence entre une œuvre d'art originale et un faux ?
Nos restaurateurs, historiens de l'art, chimistes et photographes passionnés ne laissent aucune question sans réponse. Faites-vous plaisir dans les ateliers de restauration avec un large éventail d'œuvres d'art, découvrez comment les particules radioactives dévoilent l'âge d'un objet, ou comment visualiser l'invisible par rayons ultraviolets ou infrarouges. À l'IRPA, l'expérience et la technologie de pointe vont de pair pour assurer l'avenir des monuments et des œuvres d'art de toute la Belgique.
NL
Op de opendeurdag van het KIK ontdek je alle finesses van de erfgoedzorg:
Hoe verloopt een restauratie? Wat is dendrochronologie? Hebben jullie historische foto's uit mijn gemeente? Hoe maak je een radiografie van een schilderij? Hoe bepaal je de samenstelling van middeleeuwse verf? En hoe zie je het verschil tussen een origineel kunstwerk en een vervalsing?
Onze gepassioneerde restaurateurs, kunsthistorici, scheikundigen en fotografen laten geen vraag onbeantwoord. Geef je ogen de kost in de restauratieateliers met een ruime waaier aan kunstwerken, ontdek hoe radioactieve deeltjes de ouderdom van een object onthullen, of hoe je met ultraviolet- of infraroodlicht het onzichtbare in beeld brengt. In het KIK gaan jarenlange ervaring en spitstechnologie hand in hand om de toekomst van monumenten en kunstwerken uit heel België veilig te stellen.
EN
Are you fascinated by art, culture and science? At the Royal Institute for Cultural Heritage's open day, you will discover all the finer points of heritage conservation and restoration:
How does restoration work? What is dendrochronology? Do you have historical photos from my municipality? How do you make a radiograph of a painting? How do you determine the composition of medieval paint? And how do you tell the difference between an original artwork and a forgery?
Our passionate restorers, art historians, chemists and photographers leave no question unanswered. Let your eyes wander in the restoration studios displaying a wide range of artworks, discover how radioactive particles reveal the age of an object, or how to use ultraviolet or infrared light to visualise the invisible. At the Institute, years of experience and cutting-edge technology go hand in hand to safeguard the future of historic monuments and works of art from all over Belgium.