Nané Party/ Halloween Bash
About this event
کمپانی آلند خشنود است پنجشنبه ۳۱ اکتبر در کلاب بودگا در شهر بروکسل با دومین «ننه پارتی» میزبان شما در جشن هالووین باشد. خبر خوش اینکه جمعه اول نوامبر تعطیل رسمی است پس تا ۵ صبح در کنار هم خواهیم بود!
اگر این امکان برای شما وجود دارد؛ با لباس و گریم مخصوص هالووین ما را تا سر‌ حد مرگ بترسانید! اگر هم امکان‌پذیر نیست، با مبلغی اندک گریمور ما به شما در این امر کمک خواهد کرد.
بلیت: ۲۰ یورو ، شب جشن ۵ یورو به بهای بلیت افزوده خواهد شد.
رزرواسیون و اطلاعات بیشتر: ۰۴۸۴۷۰۳۶۵۲
Op Donderdag 31 Oktober 2019 verwelkomen we jullie graag in La Bodega te Brussel voor de Halloween editie van NANÉ Party! Goed nieuws dat 01/11 moet er niet gewerkt worden dus we gaan voor tot 5u!
We verwachten jullie die avond allemaal met je meest verschrikkelijke costumes en/of make-up om er een griezelige Halloween van te maken.
Tickets: 20€ Avondkassa: +5€
Meer info's en reservatie: 0484.70.36.52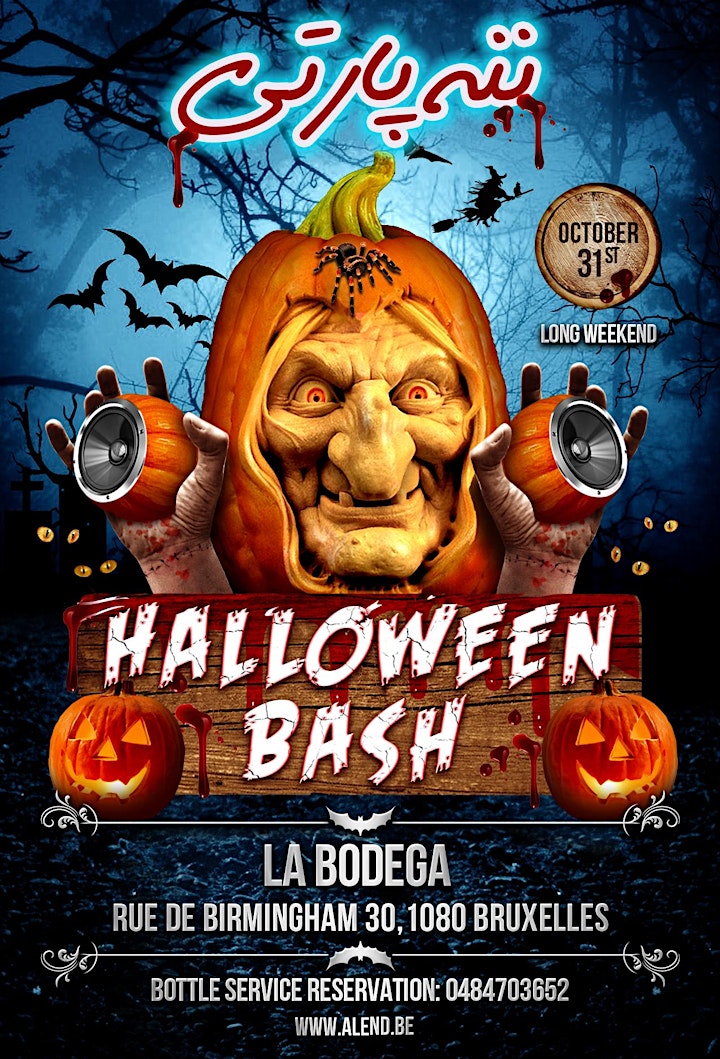 Organizer of NANÉ PARTY/ HALLOWEEN BASH
ALEND bvba is specialized in organization of concerts, cultural and networking events in Europe and abroad. ALEND strives at uniting people of different origin and from different countries. It is through the music and cultural exchange that people can get to know each other, share their values and more importantly built out their common way to convergence. ALEND is meant to be one of the major event organization companies which will help people from all over the world to unite and celebrate their special moments. Alend will help others to arrange their special events and contribute building up of the unanimous multicultural society.