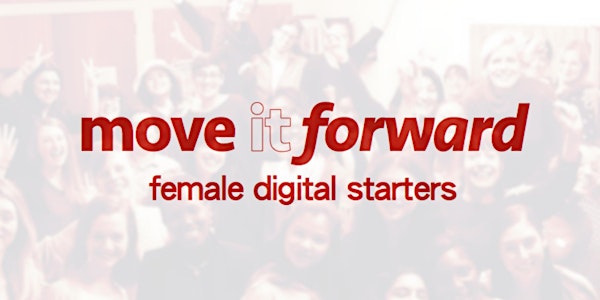 Move It Forward for Women versus COVID19 - female digital starters
By Digital Leadership Institute
When and where
Date and time
April 24, 2020 · 12am - April 26, 2020 · 11am PDT
Description
Move It Forward female digital starters events are an initiative of inQube, DLI's female digital accelerator,
and are supported by top technology companies, non-profit organisations, and youth and women's networks and communities. Their objective is to give teen and adult women* the skills to become digital entrepreneurs and leaders, and to support them in driving positive change in their communities and society-at-large.
Participants: If you are a teen or adult woman* interested in building your tech and entrepreneurship skills while

addressing challenges facing Women during the COVID19 crisis

, please sign up for this FREE event!

Coaches/Volunteers/Partners: Please contact us if you would like to support this event. Opportunities exist for Move It Forward volunteers, interpreters, coaches, jury members, content and media partners, prize contributors and sponsors.
*Anyone who identifies as a woman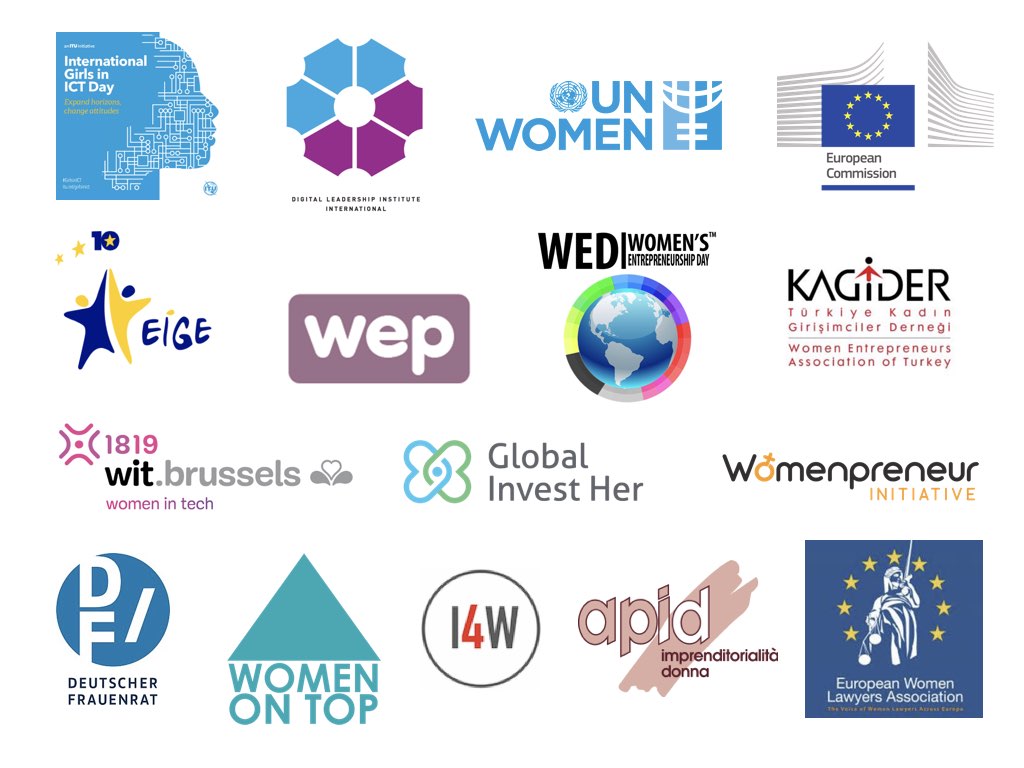 Draft Programme:
Day One - 24 April (Friday - All Times CET, GMT+2):
09:00-09:30 - Check-in & Virtual Coffee

09:30-10:00 - Orientation Webinar 1: Orient Yourself to Innovate with Zoom
10:00-11:30 - Opening Session (Open to the Public): Unpacking the Challenge of "Women versus COVID19"


10:00-10:15 - Welcome Message from Commissioner Mariya Gabriel, European Commissioner for Innovation, Research, Culture and Youth

10:15-11:30 - Keynote Presentations:
11:30-12:30 - Orientation Webinar 2: Orient Yourself for the Move It Forward Workshop Webinars
12:30-15:00 - Workshop Webinar 1: Build & Launch Your Wordpress Website in the Cloud with Amazon Web Services

15:00-17:00 - Brainstorming, Project Ideation & Team Grouping

17:00-18:00 - #EUvsVirus Opening Session
Day Two - 25 April (Saturday - All Times CET, GMT+2):
Day Three - 26 April (Sunday - All Times CET, GMT+2):
09:00-09:30 - Check-in & Virtual Coffee

09:30-12:00 - Workshop Webinar 3: Visualize Your Data with Tableau
12:00-15:00 - Project Work with Coaches

15:00-16:00 - Project Submissions to #EUvsVirus (optional)
16:00-19:00 - Closing Session (open to the Public): Project Pitches for "Women versus COVID19"


16:00-18:00 - Jury Introduction & Project Presentations:
18:00-18:45 - Jury Deliberation and Closing Keynotes:

18:45-19:00 - Award** Announcements & Prizes


19:00-20:00 - Virtual Reception with #EUvsVirus

**Awards: Prizes will be handed out for the top three projects presented at the Closing Session:
Overall Best: 6-month Virtual inQubation at DLI; 10 Hours one-to-one inQube Startup Coaching; and free access to Crowdfunding 101 online course

care of Global InvestHer

Most Impact: 4-month Virtual inQubation at DLI; 8 Hours one-to-one inQube Startup Coaching
Most Innovative: 4-month Virtual inQubation at DLI; 8 Hours one-to-one inQube Startup Coaching
---
FAQ:
1. Do I have to attend all three days of the Move It Forward event? Participants are encouraged to attend all three days of the MIF Event, although only participation in Day One activities and at the Closing Session is truly critical. If you have registered for the event but will not be able to attend all scheduled activities, or if you have a last-minute difficulty with participating, please let the organisers and your project team members know right away.
2. What kind of digital skills do I need to participate in the MIF Event? Participants do not require any digital skills to participate in this event beyond the ability to use a computer, web browser and basic skills to navigate office software programs.
3. What kind of technology setup will I require to join the MIF Event?
To best take advantage of the event activities, participants will require a computer, specific free/open-source software and a wifi connection (wireless internet connection) to be able to take advantage of all the activities included in this event. The Opening and Closing Sessions and all Workshops will be held online via Zoom at the noted CET times. Online tools/software needed for the Workshop Webinars will be shared with participants separately ahead of the event. All online tools used are open free/open-source and can be downloaded from the internet for participants who possess a computer and an internet connection.

4. What are Orientation Webinars? Orientation Webinars (x2) will familiarise Participants with the online tools, software and devices needed for following Workshop Webinars and for getting the most out of the event. All tools and software required are freely available online via a web-browser. Other computer, device and Internet connection requirements will be shared with Participants ahead of the event.

5. What are Workshop Webinars? Workshop Webinars (x3) are prepared ahead of time by dedicated team members and delivered for free for the benefit of event Participants. Workshop Webinars will deliver digital skills to Participants that can contribute to Projects and also be used beyond the MIF Event, so Participants are strongly encouraged to take advantage.

6. What does Project Work with Coaches involve? Time is foreseen in the schedule for Project Work with Coaches (x3), during which teams will have the opportunity of being supported to develop and strengthen their project idea with help from a subject-matter and/or functional area expert. These time periods are optional and unsupervised, and collectively agreed on by team members.

7. Do I already need to have a Project Idea or an existing Team in order to participate in the event? Participants do not need to already have an idea for a Project, nor have an existing Team in order to benefit fully from the MIF Event. The Opening Session on Day One will introduce the Challenge Area as well as stimulate Project Ideas for addressing that Challenge. A Brainstorming and Project Ideation session will also support Participants to come up with Project Ideas to work on, and it will also serve to group Participants into Teams in order to work on Projects in which they are interested. If you already have a Project Idea and/or a Team, you are also encouraged to join the event in order to add to your team members and/or further develop your Project.

8. Can teams work on their projects outside MIF Event hours? Team members are permitted to work on their projects outside the formal schedule of the MIF Event at the discretion and agreement of team members.

9. What are #EUvsVirus Activities? MIF Event Participants are encouraged to take advantage of the scheduled activities of the#EUvsVirus hackathon, for which MIF is a supporting event, including by submitting their project presentations and/or prototypes for review by a separate #EUvsVirus jury. Participation in these events is voluntary and will certainly be of benefit to MIF Event Participants and their projects.
10. In which languages is the MIF Event carried out? Workshops and talks will be given in English. If you require assistance or would like to support this event as an interpretor, please contact us.
11. Can women from outside Europe take part in the MIF Event? Women from around the world are encouraged to take part in this event as long as they have no problem in following the live agenda for the event, which takes place in Central European Time (CET).

If there is any other way we can facilitate your participation in this event, please do not hesitate to let us know!

About the organizer
The Digital Leadership Institute ("DLI") is a Brussels-based international organisation bridging the gender gap and digital divide by educating and empowering digital leaders of today and tomorrow.