Dit evenement is afgelopen.

Restitutiebeleid
Neem contact op met de organisator om een restitutie aan te vragen.
Eventbrite-kosten zijn niet restitueerbaar.
MOBILE PAYMENTS: THE NEW NORMAL (ONLINE WEBINAR)
Over dit evenement
Powered by Payconiq by Bancontact
Mobile payments have become the new normal these days. Bancontact quickly noticed this trend and developed a unique app, 'Payconic by Bancontact'. This payment method ensures that you can make mobile payments anywhere. By combining the 'best of both worlds' and offering both mobile and debit card payments, Bancontact remains the first choice of Belgians to pay online.
In this webinar, Johan Boeckstijns, the Business Development Manager of Payconiq, talks you through the (commercial) advantages of offering Payconiq to your customers. He also explains you how the Payconiq concept works and what the combination of card and mobile payments looks like in practice. Furthermore, he shows you how Payconiq managed to integrate payments with meal vouchers into its app. Finally, the future plans of Payconic by Bancontact are discussed.
After the presentation, there will be time for a Q&A session, where you can ask Johan all your questions. The spoken language in this webinar is English.
Speaker: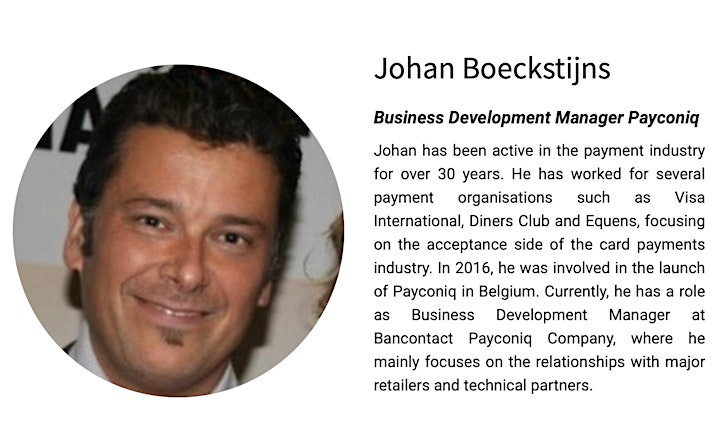 About Bancontact Payconiq Company
As a local player, Bancontact Payconiq Company offers payment solutions, secure and tailored to each merchant, whether it is Payconiq or Bancontact. The company's main mission is to continue developing electronic payment solutions and to make them increasingly "invisible". It aims to do so in a firmly Belgium-based setting – an essential part of our country's economic prosperity.
The Payconiq by Bancontact app enables users to make mobile payments, in total security, across the widest possible range of payment situations: in bricks-and-mortar stores (both small retailers and Delhaize supermarkets), on web shops, in restaurants and cafés, in sports club refreshment bars, at the doctor, etc. The app also makes it possible to pay invoices, split the bill with friends, or make large or small donations to good causes. The app is targeted at all Belgians and operates on both iOS and Android smartphones. It is accessible to clients of 20 banks. In 2021 Belgians paid 204 million times with the Payconiq by Bancontact app or with a bank app offering the Bancontact and/or Payconiq payment methods.
The Bancontact card remains the reference for electronic card payments, with a strong boom for contactless payments: 822,7 million contactless payments with the Bancontact card in 2021. With the Bancontact card, the Payconiq by Bancontact app and bank apps offering the Bancontact and/or Payconiq payment methods together, more than 1.9 billion payments were registered in 2021.