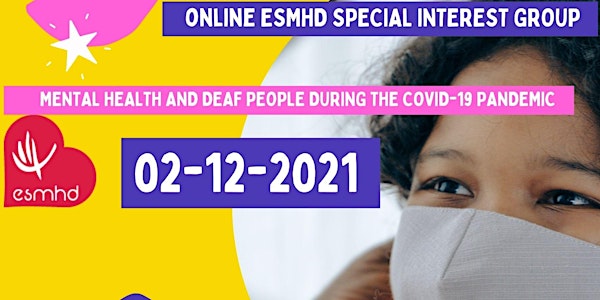 Mental Health and Deaf People during COVID-19 pandemic - Online SIG Meeting
ESMHD Special Interest Group Online Meeting
About this event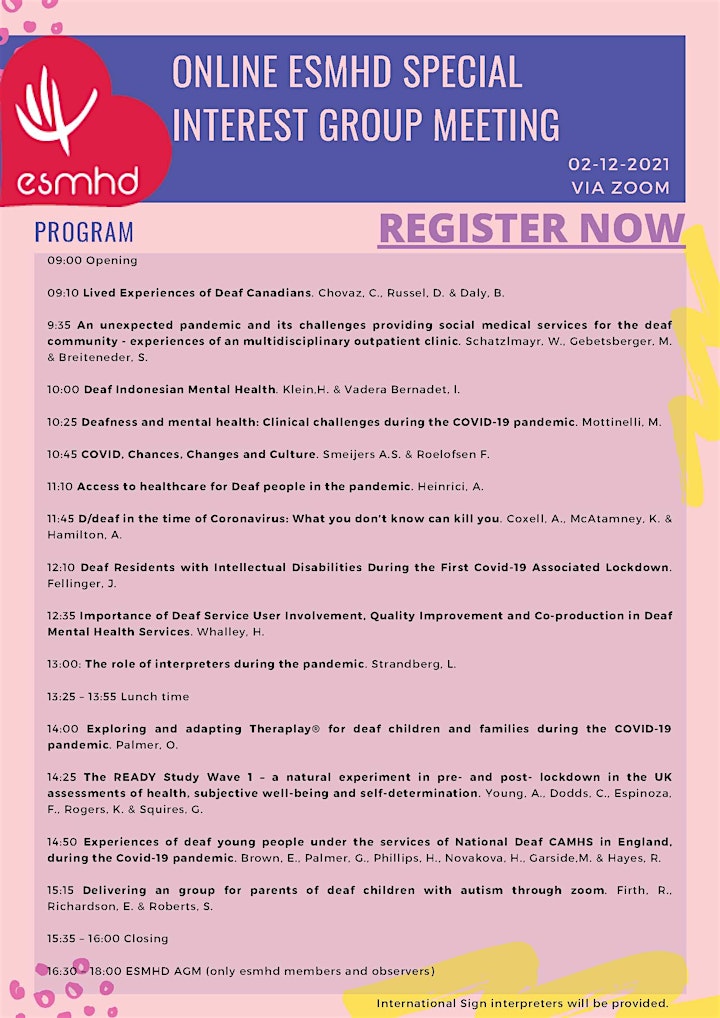 Registration still open!!
As all of you already know, the COVID-19 pandemic brought lots of challenges to all health professionals. Deaf people, especially, have faced many obstacles during this time and the ESMHD, therefore, thinks it is an excellent time to discuss how the COVID-19 pandemic has affected the mental health of Deaf people.
As we already have mentioned, we look forward to contributions on the following topics:
Original research on the Mental Health and Quality of Life of Deaf people during and after the COVID-19 pandemic
Examples of good practice to support people who are Deaf during the COVID 19 pandemic
Ideas about what can be improved and therefore is of value after the COVID 19 pandemic.
SIG Deaf Children and Families - Chair: Chris Margaret Aanondsen
We primarily encourage submissions related to the topics mentioned above in deaf and hard-of-hearing children and adolescents. We do, however, also accept general submissions on mental health and quality of life in deaf and hard-of hearing children and adolescents.
SIG Deaf Adults and Family. Chairs: Ines Sleeboom-van Raaij and Ana Garcia
Beside abstracts related to the subjects as mentioned before, we are interested in the lessons learned from experiences and challenges in the support and mental health care of adult Deaf people and their families during the Covid 19 pandemic. We also accept abstracts about general mental health care of Deaf Adults and their Family
Interpreters SIG - Chair Lea Strandberg
This is the first time ESMHD wants to encourage interpreters to participate actively. In this regard, we would like to highlight and share the experiences of interpreters in a sign language setting. Relevant topics for this SIG are interpreting in education, work, leisure time and health settings for both children, adolescents and adults. We would like to focus on:
What is your experience from your assignments, as the Pandemic made new demands on interpreting?
How has it affected your work and the participants in those settings – clients as professional sign language users?
What issues concerning patient safety, ethical issues and the right to have access to services did you meet?
GENERAL INFORMATION
Abstracts (300 words) can be submitted to the conference committee consisting of the chairs of the ESMHD SIGs on Deaf Children and Families/ Deaf Adults and Families, Public Health and Interpreters before 15th October 2021. Abstracts will be submitted through the form of registration. Presenters will be notified by the first week of November of the decision on their papers. It is expected that presenters submit their final presentation for the SIG meeting by the 24th November to allow the interpreters sufficient time for preparation. Presentations not submitted by this due date will not be presented at the conference.
LANGUAGE
Official language is English and International Sign.
Discounts
There are discounts for students and ESMHD members. Ask us how to get the discount!!
Chairs of the SIGs
Chris Margaret Aanondsen ESMHD SIG Deaf Children and Families
Ines Sleeboom-van Raaij and Ana Garcia ESMHD SIG Deaf Adults and Families
Johannes Fellinger ESMHD SIG Public Health
Lea Srandberg ESMHD SIG Interpreters