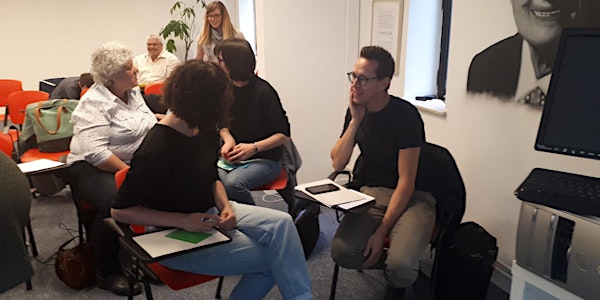 Masterclass: Behouden van vrijwilligers via een sterk waarderingsbeleid
Wat? Een toegankelijke workshop voor vrijwilligerscoördinatoren om een sterk waarderingsbeleid uit te werken, uit te rollen en te evalueren.
Date and time
Thu, 20 Oct 2022 13:00 - 17:00 CEST
Location
Beacon Sint-pietersvliet 7 2000 Antwerpen Belgium
About this event
Wat? Een toegankelijke workshop voor vrijwilligerscoördinatoren en organisaties die met vrijwilligers werken, over hoe vrijwilligers te behouden via de uitwerking & uitrol van een sterk waarderingsbeleid. Elke vrijwilliger die je kan behouden, moet je niet meer werven! Alle vrijwilligers waar je een ambassadeur van kan maken, brengen extra vrijwilligers aan. Waardering als sleutel tot een succesvol vrijwilligersbeleid.
Tijdens deze workshop leer je:
Meer dan 50 praktijkvoorbeelden en mogelijkheden aan om in te zetten ter waardering
Theoretische én praktische inzichten in de beste selectie van waarderingselementen door middel van de waarderingscanvas en brainstorm technieken voor draagvlak binnen je organisatie
Ontwerpen van een verantwoorde visietekst, waarderingsplan én begroting op maat van je organisatie om aan je beleidskader af te toetsen en de kans te vergroten om intern goedkeuring te verkrijgen
Opzetten en uitrollen van een kant en klaar vrijwilligerswaarderingsplan
Hoe de impact van je waarderingsplan te meten, op te volgen en bij te sturen
De toolbox met templates voor waarderen optimaal te gebruiken: van opvolging, bekrachtiging, eigenaarschap tot attentievol versterken.
Lesgever: Lies Pelsmakers (Give a Day)
Maximum deelnemers: 20 (minimum 10)
About the organiser
Give a Day Vrijwilligerswerk Academie
Werk je met vrijwilligers? Ben je bezig met sociale impact? Dan moet je bij Give a Day zijn. Onze missie is goesting geven in vrijwilligerswerk en zo samen de wereld beter maken. Give a Day ontwikkelt daarom kennis en IT-tools. Om het vrijwilligerswerk in al z'n geuren en kleuren naar het volgende niveau tillen, en de betrokken spelers in de samenleving met elkaar verbinden. Met De Give a Day Vrijwilligerswerkacademie ondersteunen we op vlak van kennis, competenties en know how.