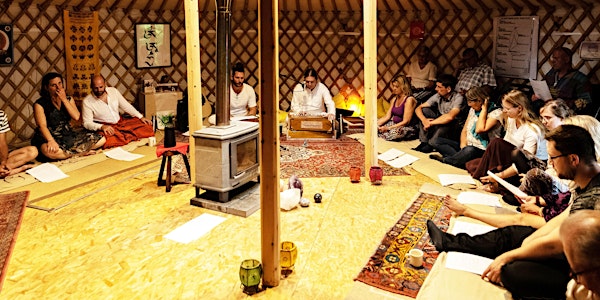 Mantra's en meditatie met Ludo & Ruben
Mantra's en kirtan zingen is een manier om het goddelijke in jezelf te ervaren.
When and where
Location
Soulpath - Herbronning, Coaching & Retreat Bemortel 24 2860 Sint-Katelijne-Waver Belgium
Refund Policy
Contact the organizer to request a refund.
Eventbrite's fee is nonrefundable.
About this event
Mantra's en kirtan zingen is een manier om het goddelijke in jezelf te ervaren.
De combinatie van meditatie en mantrazang zorgt ervoor dat je contact maakt met de stille stem in jezelf, er klank aan geeft en zo reist tot je in een soort van Goddelijke vervoering komt.
"Kirtan" is de eeuwenoude oefening van mantra's zingen 'vraag en antwoord'. De herhaling van mantra begeleid door muziek zorgt voor het openen van het etherisch (energetisch) lichaam.
De Goddelijke namen, deze woorden, deze zinnen, deze mantra's, komen van een plaats binnen in ons, in ieder van ons. Een plaats die dieper is dan gedachten, dieper dan emoties.
Dus wanneer we deze herhalen, met een open hart, onze intentie eraan toevoegen, dan trekken ze ons in onszelf, de schoonheid in onszelf wordt ontsluierd waardoor het ultieme, de diepe Vrede in onszelf naar boven mag komen.
Door samen te zingen, versterken we elkaar. Door ons te verbinden met het Hart van de Aarde pluggen we in op een helend tijdloos netwerk van Lichtwerkers.
Na de mantra en meditatie namiddag kan je kiezen om in de Wellness aan de rand van het Waverwoud te gaan waar het Soulpath domein is gelegen en/of potluck (gezamelijk ieder zijn zelfbereid eten delen).
𝑶𝒗𝒆𝒓 𝑳𝒖𝒅𝒐
Ludo is al sinds zijn kindertijd bezig met muziek en de zoektocht naar wat heilig is in de wereld. Na verschillende rockbands en een pad langs verschillende spirituele tradities besefte hij dat hij wilde dienen met muziek. Uiteindelijk kwam hij bij Kirtan terecht en in het besef dat er geen onderscheid is tussen "de naam van het heilige en het heilige zelf", duidend op het belang van mantra voor de spirituele beleving. Door te Chanten openen we de deur naar het hart. Ludo begeleidde Kirtan op het eerste Yoga en Vegan festival in Brussel, Kirtan Experience Antwerpen India festivals en in verschillende tempels en Ashrams in België en Duitsland.
Dit programma gaat vanaf nu door elke tweede zaterdag van de maand in de Yurt van Soulpath.
PRAKTISCH
15u00: start korte inleiding en meditatieve begeleiding door Ruben Dewulf
15u30: start Kirtan
18u00: start potluck (maaltijd) >> Neem een vegan gerecht mee voor de potluck.vanaf
18u doorlopend gebruik van de Soulpath Wellness Corner
20u00: einde