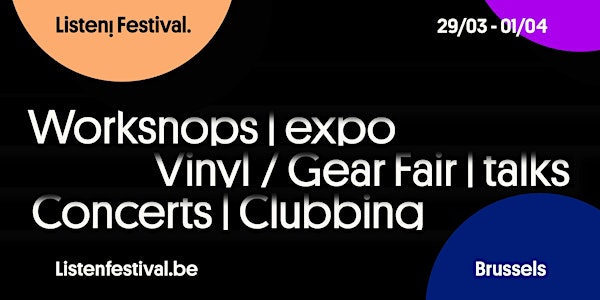 Listen! Festival Extra : "Blind Sampling Sessions" Workshops / Sessions
Location
ING Art Center
6 Place Royale
1000 Bruxelles
Belgium
Description
Blind Sampling Sessions :
When :
4 sessions on two days : saturday 31 march and sunday 1 April
Saturday
14h-15h : TURTLE MASTER
16h00-17h00 : SHUNGU
Sunday
14h-15h : PHASM
16h00-17h00 : KUNA MAZE
What
The challenge : A beatmaker picks three vinyls with his eyes closed and fight against the clock to create a beat within an hour ! The Weapons ? A turntable, a sampler, a midi keyboard and a laptop. Everything will be played in front of a public, filmed and then projected ! Between impro and composition, blind sampling sessions are a great way to immerse yourself into the beatmaker's universe.
Descriptif Artists
Turtle Master : Turtle Master is no newbie. Born in the late 80's, he made his first steps as b-boy and learned to write thanks to graffiti. Influenced by the oldschool DJ style, he was the first beatmaker upon Namur. Still giving hot beats to the MC's since then !

PHASM : PHASM is a real Swiss Army Knife. MC or beatmaker depending the situations, he only aims one goal : make the speakers go wild. Discreet but talented, he's definitely part of the wave that has made Belgian rap famous. Among other things, thanks to to a song called "Tu vas glisser" from a certain Romeo Elvis.

SHUNGU : DJ and beatsmith extraordinaire ShunGu has been dropping cosmic killer beats in Brussels since 2012. ShunGu makes astral beats that are fizzling and rich in flavour, exploding with spaced out hip-hop vibes sitting somewhere between Knxwledge and Nujabes. He creates projects that can't just be played in the background, but is meant to be examined and picked at warranting your attention. Whether it's with his remixes or instrumentals, he has a way to spin it into his own interpretations. ShunGu's DJ sets explore the depths of soul music, experimental beats, spiritual jazz, boogie-funk and hip-hop gems.

KUNA MAZE : Kuna Maze is a young French producer based in Brussels. Influenced in his early work by the Los Angeles beat scene and its different artists, he managed to free himself from its codes and add his own influence which goes from Jazz to English electronic music, exploring also experimental music and Hip Hop. Trained musician, he managed though his influences and his musical journey to build his own sound and universe. Since his debut, he shared the stage with artists such as Nosaj Thing, Flako, Lapalux, Lone, Machine Drum, Samiyam…