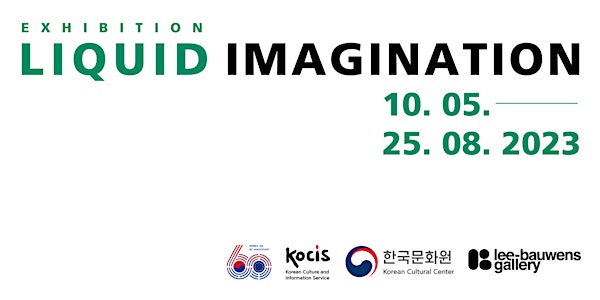 Multiple dates
Liquid Imagination
Exhibition
By Korean Cultural Center Brussels
Date and time
May 10 · 6pm - August 25 · 7pm CEST
Location
Korean Cultural Center Brussels 4 Rue de la Régence 1000 Bruxelles Belgium
About this event
Opening on May 10, at 6.30 pm.
In the presence of the artists : Sukbong Hwang, Woo Kim, Keong-A Song, Jukhee Kwon and Director of the KCC Jaewhan Kim
The Korean Cultural Center showcases the works of five contemporary Korean artists. Each of the artists are active in Korea and countries abroad — some are senior and established, some in mid-career, and there are those who are now just emerging. Some are grounded in Korean painting traditions, while others experiment with book art and illustration techniques.
Sukbong Hwang's work is a unique blend of traditional Korean calligraphy and painting. His brush moves in and out of the blank space, following the fluid flow of energy. According to Hwang, "The vacant areas within infinite space, that secret margin, which seems to hold still while evoking waves of energy–this is the source of my creation and where the tip of my brush departs."
Hyunsik Kim has already garnered attention at Art Brussels with the intense coloration of his oil paintings, which reveal complex and layered meaning through delicately executed lines. The numerous lines drawn vertically by Kim show the effect of 'repetition' as well as the 'difference' between each line.
Luxembourg-based Keong-A Song is well known locally for her unique work based on illustrations, in which she creates rare scenes where nature and humans, the urban and ecological, mingle and blend together. In her own words, the world Song reveals to us through is a "new wilderness" that exists as a "parallel universe" to our own.
Jukhee Kwon creates works of book art. Books made of paper and type are transformed through her hands into artworks, claiming new meaning and new life through this resurrection. Kwon sees books as objects that possess the potential to transcend their states as mere physical matter or as artistic material. To her, "Books are objects of surprising rebirth, capable of transcending a likely destiny of deterioration and oblivion."
Woo Kim's work displays mesmerizing patterns that she calls "Deongeori" which can take the meaning of 'mass' in Korean. These patterns, both alike and unalike, are Kim's way of understanding and artistically summarizing the world, and embody a unique formative beauty in their own right. They dance across the canvas, pushing and pulling at one another, flowing and halting.
Each of these five artists manifest 'fluid imagination' in their own specific ways. What is being manifested is not a fixed immutable world but, rather, an animistic world that comingles, transforms, and renews. At the same time, the work of manifesting this fluid world embodies a unique and inherent dynamism – whether it is created by brush, hand, or knife.