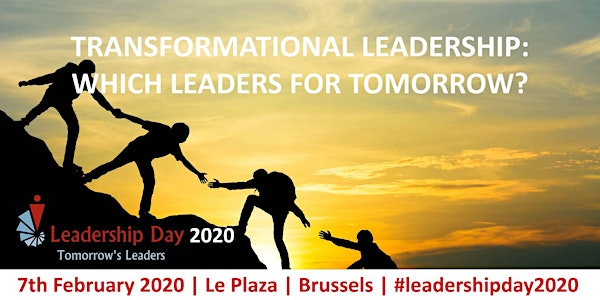 LEADERSHIP DAY 2020- BRUSSELS
When and where
Location
Le Plaza Brussels Blvd Adolphe Max 118-126 1000 Brussels Belgium
Description
A ONE DAY EVENT FOR

YOU

TO INVEST IN YOUR GREATEST RETURN
This unique conference titled "Leadership Day 2020, Which kind of Leader for Tomorrow?" aims at initiating a reflection on the subject of Leadership, and will try to provide a definition for a humanistic, responsible and true leadership. A transformational leadership that responds to the needs of the rapidly changing world.
The future seems to be coming at us faster than ever, because the pace of change, the leader needs to be flexible: The more nimble, adaptable, and flexible, the more quickly he can move and change.
"Adaptability is the ability to change (or to be changed) to fit new circumstances
is a crucial skill for leaders"
The benefit of this day is to allow participants (Managers, Leaders or Entrepreneurs and coaches) to exchange, grow and leave with a beautiful awareness on their positioning as a leader starting from today's societal, economic and technological reality, provide themselves with ideas allowing them to advance in their reflections, perspectives and missions, create an energy mobilizing and transforming integrating the human within their organizations.
5 reasons to participate :
Reason 1: Become a transformational leader
Reason 2: Have a vison on leadership for change
Reason 3: Develop your entrepreneurial mindset
Reason 4: Apply the process and the tools according to your reality
Reason 5: Connect with visionary people and dialogue with them
Register now to experience Leadership Day 2020 in Brussels. Learn from our eminents experts, be prepared to implement a new action plan, and start leading with renewed passion and commitment.
If you want more informations about our keynote speakers and our program, please see our website : www.leadershipday.be