About this Event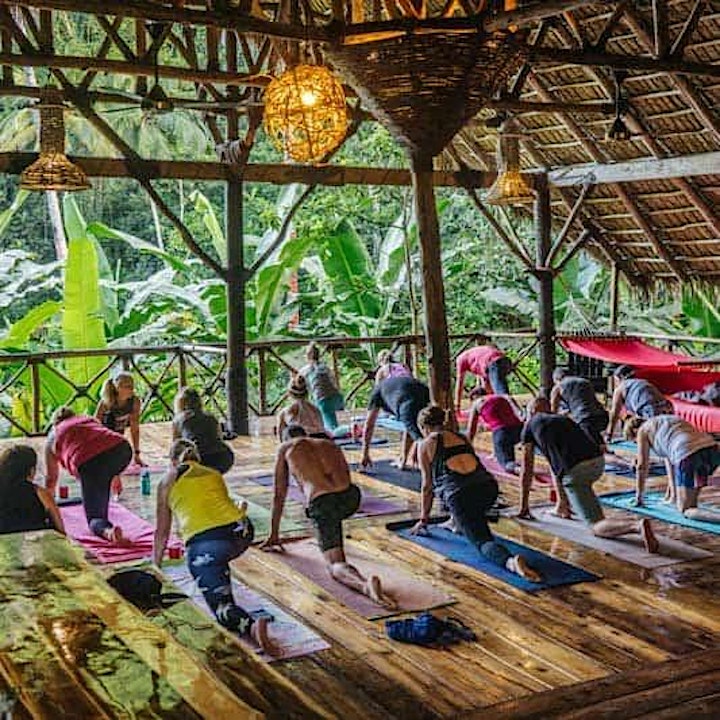 The location
Some describe the Dominican Tree House Village as a dream similar to a magical fairy tale. The Tree House Cabins are hidden in a tropical valley that is located in the core of an exotic Caribbean jungle. Rope bridges and jungle paths join the cabins allowing you to completely immerse yourself into the Caribbean experience. The open-air design allows you to feel the breeze, hear the bird call, and connect with the immense vitality of jungle life – completely mosquito free! We invite you to hike the meandering paths, swim in the lagoon, and relax by the evening fireside. Break free from the busy world and embark in an adventure vacation like no other you've experienced before.
The getaway
A Kokoon getaway duration in Tree House is 6 days and 7 nights, from sunday evening to Sunday afternoon. Every morning is dedicated to the body and every afternoon to the mind. The day always starts with a tiny bit of meditation, a little bit of yoga and a lot of high intensity workouts, followed by a dash of yoga again to rebalance your body and relax. Once you feel nice and refreshed, afternoons are all about boosting the mind with creative workshops animated by passionate and inspirational people, and crazy games to let go of everything. The day also offers plenty of time off too, to visit around, or simply relax.
What you get
Luxury accommodation for 7 nights
Transfers to and from the airport
All fitness training and equipment
Intense yoga classes
Daily yummy vegetarian breakfast, lunch & Dinner by a local chef
A relaxing massage
Fun sport activities
Crazy games
Inspiring workshops
A surprise challenge
A funky goody bag
Unforgettable moments
Your Coach
Kokoon getaways are led by ourselection of the best professional yogaand/or fitness coaches of the worldwho will guide your mornings helpingyou boost your body through yogaand work out sessions, and releasingyour mind through meditation.Each getaway is unique and reflects the personality of your coach.
Your local Chef
A local passionate chef will carefully cook a delightful detox menu for you, comprisinghealthy, nutritionally balanced and tasty vegeterian dishes for breakfast, lunch anddinner.Wether you are vegan, vegeterian or meatlover, we assure you that you will enjoy ourselection of the best local products through an eclectic and creative cuisine.
Your social Partner
Thanks to you, Kokoon is able to promotesocial companies and NGO's carefully selected. Kokoon actively contributes to having a positive social & environmental impact. Wework closely with local partners to practice sustainable tourism and create eco-conscious holidays. Positively impacting the communit yand the environment is a main focus during the retreat, but also afterward: when you participate in a Kokoon getaway, you become part of the Kokoon family, a community wherewe can keep in touch, help each other out andsupport any Kokoon cause you feel stronglyabout, on a long term basis..Each getaway is an occasion for you to meet the inspirational personalities behind these projects, who dedicate their life to have apositive social and/or environmental impact.
FAQ: Before I book I would like to know...
Are we all owed to have a drink during the getaway?
Yes, of course, what would be Dominican Republic without a bit of rum?
Is there free time? Can i go out during the week?
A Kokoon getaway is, before anything else, a holiday! Youare free to do whatever you want whenever you want.
Your flights to and from the location are not included, but we arrange pick ups and drop offs at the airport.