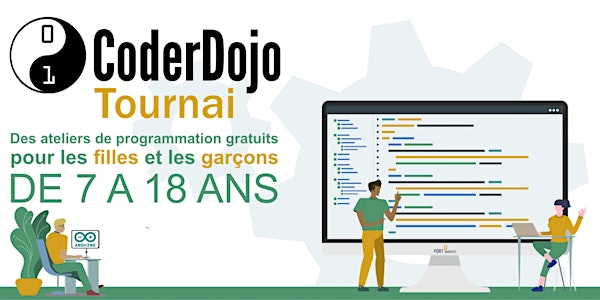 CoderDojo Tournai - 25/03/2023 -
Pendant les CoderDojo, filles et garçons apprennent à programmer, à développer des applications, des jeux ou s'initier à l'électronique !
Date et heure
sam. 25 mars 2023 14:30 - 16:30 CET
Lieu
SPARKOH! 3 Rue de Mons 7080 Frameries Belgium
À propos de cet évènement
2 heures

Billets électroniques sur mobile
Tu as entre 7 et 18 ans et tu souhaites t'initier à la programmation ?
Inscris-toi sans plus attendre et viens développer des applications, des sites internet, des robots et bien plus encore !
Tu seras épaulé par une équipe de coachs passionnés qui te guideront pas à pas pour réaliser tes projets les plus fous.
Ne mets pas de limite à ta créativité, dans ce monde fait de Bits et d'Octés, rien n'est impossible !
Ouverture des inscriptions le 01/03/2023
N'hésitez pas à rejoindre le groupe Facebook "CoderDojo Tournai" pour être informé des dernières nouvelles !
Lien Facebook : https://www.facebook.com/groups/634845201060677
About CoderDojo
CoderDojo organises free coding clubs, so-called "Dojo's". At those Dojo's girls and boys learn to program, make websites and develop apps and games. They meet like-minded peers and show each other their projects. CoderDojo aims on making coding a fun, cool and awesome learning experience.
Dojo's are set-up and hosted by volunteers. Most of our coaches have an extensive ICT expertise and the drive to coach youngsters. They help our little coders with their projects. Our cooks are the helping hands behind our organisation. They are in charge of all the practical and organisational stuff.
CoderDojo focuses on open-source and free software. The movement has a fast-growing network of members and volunteers world-wide.
CoderDojo wants to show the world that coding is not just for nerds. Our coders can build the most amazing projects and are the perfect example that technology can be fun. Therefore CoderDojo has but one rule: "Above all: be cool!"
Practical information
You should be between 7 and 18 years old to participate. Participants younger than 12 are best assisted by a parent. Parents don't have to be present during the Dojo, but should be in the neighbourhood in case we have to contact them. We appreciate it if parents return half an hour in advance to be present for the show and tell and help our volunteers clean up after the Dojo.
You have to bring a laptop to be able to participate. The coaches will make sure all the necessary software will be installed or will let you know beforehand if you need anything specific. If you really don't have a laptop, let us know and CoderDojo will try to provide one.
Registration & Cancellation
The registration form will primarily collect personal data about the participant. If the information asked is about parents or guardians, this will be specifically mentioned. Upon registration we ask all participants to enter an email address and phone number of a parent or guardian. If necessary, CoderDojo will directly contact the parent or guardian.
We appreciate attendees taking the time to update their order, and if you can't attend, it's easy to cancel your registration from your Eventbrite account. Just log in to Eventbrite.com, go to the tickets page, and locate your order. Click your order to view order details, and then select "Cancel Order" to cancel your registration. You'll receive an email confirming the cancellation. If you have any problems cancelling a ticket, please let us know at city@coderdojobelgium.be.
Tracks
In most Dojo's you can participate in different tracks. If you have no prior experience you can best pick Scratch.
Questions
Contact us via tournai@coderdojobelgium.be. See you soon!
We Respect Your Privacy
We like to show the world what we do and take pictures during our events.
Your child might be photographed or filmed during such event. We might share these pictures on social media, but we wouldn't print them on fliers or use them in extensive campaigns without checking (again) with you. If you prefer that no pictures are used at all, you can indicate so during registration.
We also respect your data! Check our privacy statement at our website if you have questions.
À propos de l'organisateur