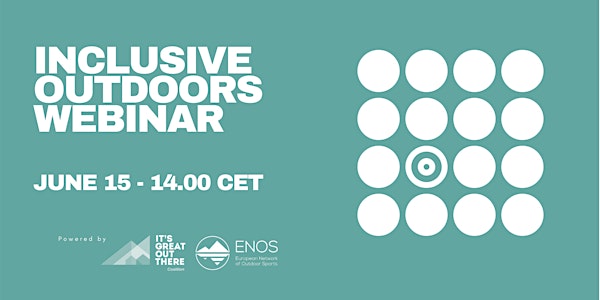 Inclusive Outdoors
Inclusive Outdoors Webinar Sharing knowledge to make the outdoor sports for all vision come true!
About this event
Outdoor sports can create inspirational opportunities for people with disabilities and this webinar will provide opportunities to hear about inspirational projects and programmes that will show how we can be more inclusive for people with disabilities, people from socio-economically disadvantaged communities, immigrants and others who are under represented in sport.
The EU White Paper on Sport states that "The specific needs and situation of under-represented groups therefore need to be addressed, and the special role that sport can play for young people, people with disabilities and people from less privileged backgrounds must be taken into account."
This webinar will provide opportunities to share ideas and discuss opportunities for future projects.
ORGANISERS
The European Network of Outdoor Sports & It's Great Out There Coalition
FORMAT
Online webinar with testimonies, examples of projects and group discussions and opportunity for brainstorming discussion and networking.
SPEAKERS
Florencia Van Houdt (TBC), Head of EU Sport Unit
Chris Kay - Leeds Beckett University - Host / Moderator
Mary Elaine McCavert & Nathan McCabe - All Out Trekking
Amanda Calder-McLaren - The North Face
Johanna Dochevska - Bulgarian Sports Development Association
Lena Frank - Ich Will Da Rauf E.v
Dany Rogers En Passant par la Montagne
Arne Strate - European Outdoor Group
Preliminary agenda
https://www.outdoor-sports-network.eu/inclusive-outdoors-webinar/
------------------------
About the organisers
The European Network of Outdoor Sports is a Brussels based non-governmental organisation gathering stakeholders and experts involved in the sustainable development of outdoor sports across Europe, promoting responsible access to nature. The network's mission is to foster knowledge sharing and provide guidance, support and advocacy for the recognition of outdoor sports in European policies. More information at www.outdoor-sports-network.eu
It's Great Out There Coalition is an International Non Profit Association, registered in Brussels, and set up and launched by the European Outdoor Group (EOG). Run by an executive team and non-executive board, the coalition's mission is to inspire more people to get active in the outdoors. The It's Great Out There Coalition is funded by membership fees from some of the biggest outdoor businesses in Europe.More information at www.itsgreatoutthere.com