The secret to collaboration between startups and the third sector
About this event
How come startup - NGO collaboration hasn't become a staple innovation practice yet like it is true for startup - corporate collaboration? The past five years or so have seen major changes in open innovation in the private sector, with many large firms now collaborating with nimble startups as a core component of their innovation strategy.
For many impact businesses, corporates might not always be the right partner, customer or investor. The many large scale NGO's, foundations or UN subsidiaries are often a much better match. Until now, there was little research or framework to be used in establishing these types of collaborations.
In this Impact Shakers Talk, the authors of Nesta's 'Better Together: How startups and the third sector can collaborate' report will join us to answer your questions in an interactive Q&A.
Christopher Haley:
Chris leads Nesta's research interests into how startups and new technologies can drive economic growth, and what this means for businesses, intermediaries and for the government. Prior to joining Nesta, Chris worked for several years at Imperial Innovations (now part of IP Group), the technology commercialisation and investment company of Imperial College London. His role there focused on assessing emerging technologies and early stage investment opportunities, with particular attention to cleantech. Following this, he spent two years within Imperial College itself, developing and managing the institution's strategy for enterprise, technology transfer and translation.
Charlotte Reypens:
Charlotte Reypens is a Senior Policy Researcher in the New Technology and Startups team at Nesta. She carries out research projects to understand how startups and entrepreneurship can be supported, for example by analysing entrepreneurs' motivations to scale and barriers to scaling. In her latest project, she examined collaborations between startups and the third sector as a pathway to scaling.
Who should join the event?
Anyone from a startup or a third sector organisation who would like to learn how to make such a collaboration work.
What will participants learn?
Different modes of collaboration, practical examples, do's and don'ts, lessons learned and recommendations from the research study.
Requirement to join:
Have a question to ask! :)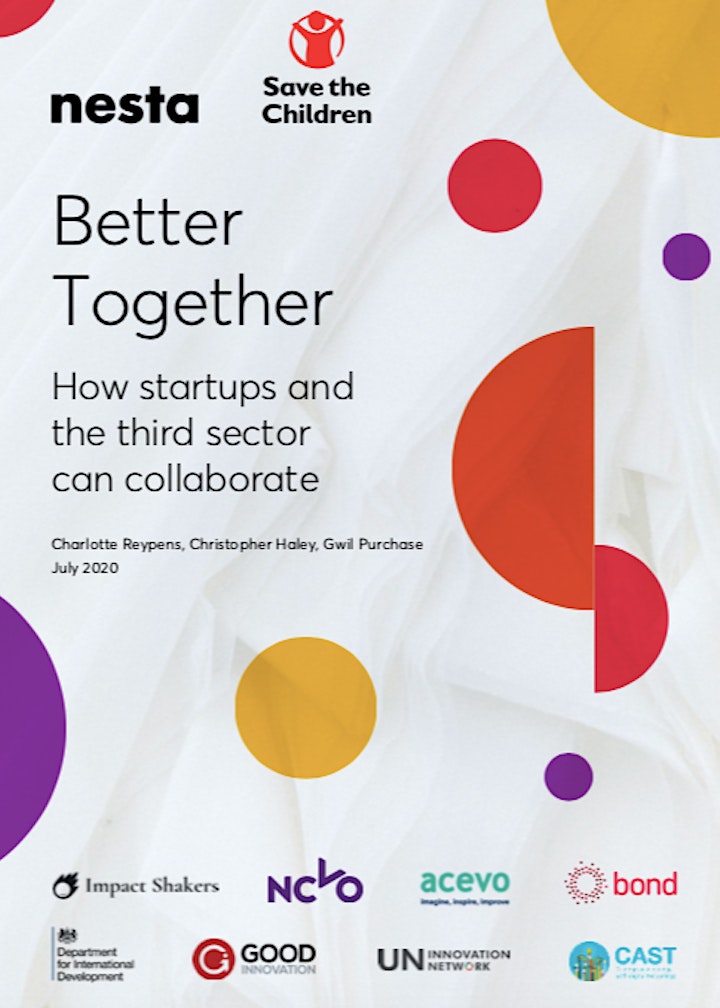 About Impact Shakers Talks:
In this format, we ask experts to share their knowledge and experience with the Impact Shakers community (temporarily open to everyone)
Would you like to be part of our online community?
Apply here to join in the next wave of admissions this Summer!
Read more about our work: https://www.impactshakers.com/
Organiser of Impact Shakers Talks: Q&A with Chris Haley and Charlotte Reypens
With Impact Shakers we help to build and scale stronger ventures tackling complex societal challenges through entrepreneurship.
We want to bridge the gap between impact and profit, make entrepreneurship more diverse and create alternative financing.
We are part of a global movement working on making impact part of every business model. Making the impact economy, just the economy.
We approach the impact ecosystem from different angles to help make this shift. In our venture studio we help build and scale impact ventures, we host an online community and knowledge hub.