Dit evenement is afgelopen.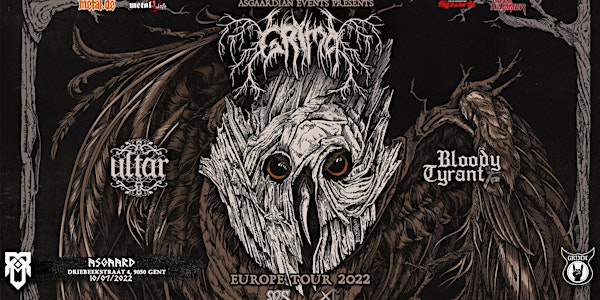 Grima • Ultar • Bloody Tyrant - Europe Tour 2022
Asgaardian Events & GRIMM Gent present: Grima (RU), Ultar (RU) & Bloody Tyrant (TW)
Waar en wanneer
Locatie
Asgaard Gentbrugge Driebeekstraat 4 9050 Gent Belgium
Kaart en routebeschrijving
Beleid voor refunds
Neem contact op met de organisator om een restitutie aan te vragen.
Eventbrite-kosten zijn niet restitueerbaar.
Over dit evenement
(Atmospheric Black Metal)
A duo from the dark woods of Siberia, Russia founded by Velhelm and Morbius.
It has existed since 2014 as a studio-only project, with a pagan ethos "based on the worship of the elder forest, its power and magic, where the Grima is a supreme god… a powerful spirit, who protects only those who live in a forest, and punishes everyone who does not respect nature".
(Lovecraftian Black Metal)
Lovecraftian Black Metal from the heart of Siberia, Krasnoyarsk, which is placed amidst the howling woods and red mountains. Founded in 2011 under the other name "Deafknife" as a post-black metal act. The band was reborn in 2016 with a new name, new approach and epicly atmospheric sound.
(Black/Death/Folk Metal)
Bloody Tryrant is another quite diversified extreme metal band from Nantou County in Taiwan.
Local promoter: GRIMM Gent
Tour organizer: Asgaardian Events