Sales Have Ended
Ticket sales have ended
Thanks
Sales Have Ended
Ticket sales have ended
Thanks
Description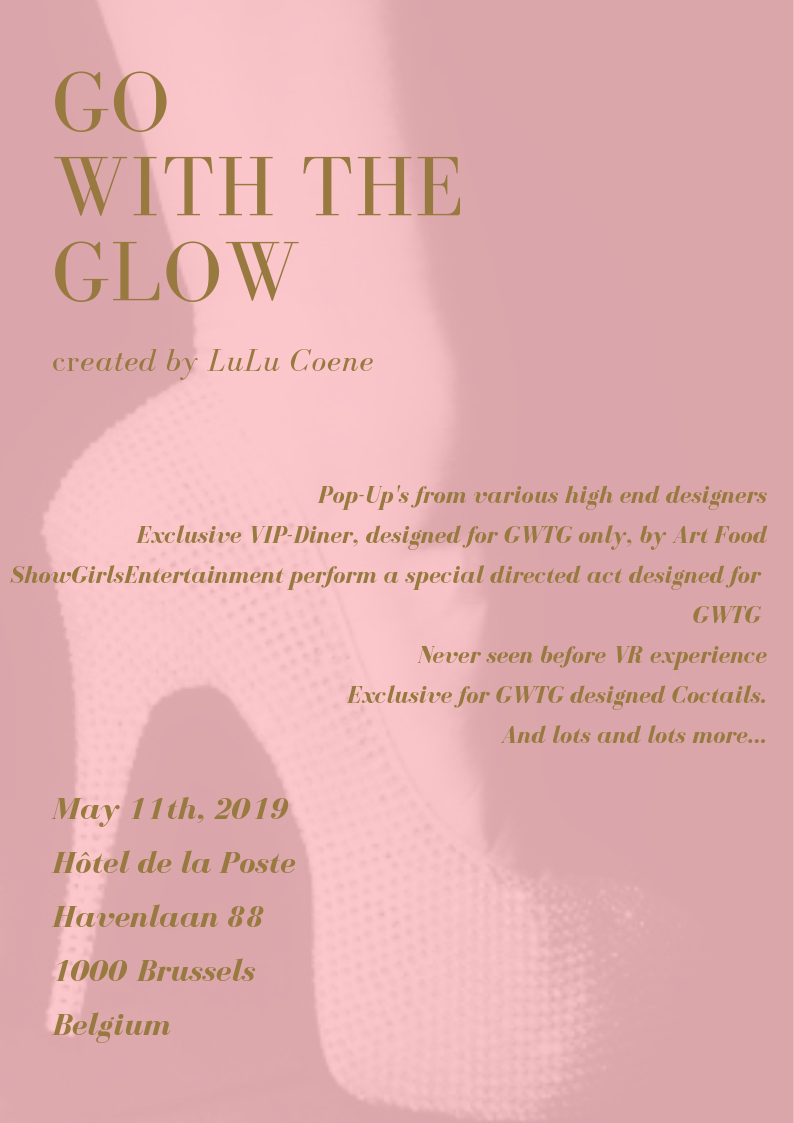 Go with the glow promises to be a one of a kind event, a meeting point for fashion and it's esteemed lovers. Brands, designers, models, buyers and the crème de la crème of the fashion world meet in an exquisite location so that they can together share their love and adoration for everything fashion.
We intend to host a small and intimate event, so no one is left out and all our guests get the full experience. We want you to have space and liberty to absorb the beauty on display and relay your impressions as purely as possible. Also, the event is set to be exclusive in nature, for the fashion juggernauts.
GWTG is created by Lulu Coene and is scheduled to hold on May 11th, 2019. At Hotel de la Poste, Havenlaan 88, 1000 Brussels, Belgium. The event kicks off by 10:00 am.
There will be showcases by high-end fashion designers, an exclusive VIP dinner put together by Art Food, performances by Show Girls Entertainment and the Gatsby Cool Collective, a first of its kind Virtual Reality experience and a whole lot more.

GWTG is set to revamp the fashion world by rekindling the flames of enchantment surrounding design, fashion, and beauty. It is going to be a magical experience, appealing to all your senses to create a unique dynamic.
Our vision is clear
We intend to be at the forefront of bringing a change to the fashion industry. By creating an environment free from segregation, an inclusive and empowering setting where sustainability and equality are core values. A world where our differences are not abhorred but celebrated, a world where women stay true to their authentic selves instead of trying to attain unrealistic ideals of what society wants women to be which has sadly already ruined so many lives.
Through events like Go with the Glow, the future we hope for is very much within our grasp. It will be an experience you won't be able to forget, exquisite and enchanting from the start…