Description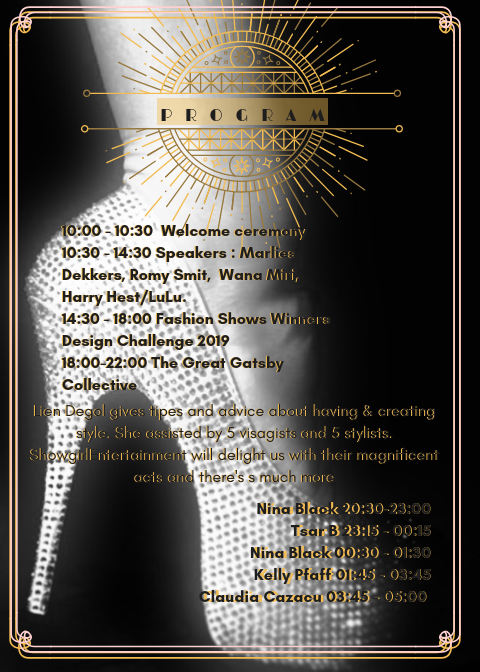 With The Glow: Dutch, English, French, German, Arab, Chinese,
---
❝Go With The Glow is bedoeld om hét evenement te worden waar mode, beauty, merken, ontwerpers, influencers, modellen, kopers en natuurlijk fashionista's elkaar ontmoeten in een exclusieve, luxueuze omgeving. Waar ze de passie en liefde die ze voelen voor deze vorm van kunst kunnen delen.
De omvang van het event werd expres klein gehouden zodat we onze gasten de aandacht en service kunnen garanderen die ze verdienen. Om hen de vrijheid en ruimte te bieden die ze nodig hebben om alle indrukken volledig in te ademen en te kunnen relateren zonder elke stap te worden onderbroken of afgeleid. Daarnaast willen we hiermee het exclusieve karakter van het evenement garanderen en behouden.
Deel uitmaken van 'Go With The Glow' is een wereld betreden die we laten herleven door de magie en mystiek wakker te maken die eeuwenlang design, mode en schoonheid omhulde en haar geheimen beschermde, die diep in de rijke geschiedenis verankerd lagen. Het is een ervaring die alle zintuigen prikkelt en rekening houdt met de 'totaalervaring', alles is met elkaar in harmonie en verbonden waardoor er een unieke dynamiek ontstaat.
Het wordt een ervaring zijn die zal blijven nazinderen, voortreffelijk en betoverend vanaf het begin ...❞
Join our Ambassador program to earn rewards
---
❝Go With The Glow is meant to be the event where fashion, beauty, brands, designers, influencers, models, buyers and of course fashionistas meet in an exclusive, luxurious environment. Where they can share the passion and love they feel for this form of art.
The size of the event was kept small on purpose so that we can guarantee our guests the attention and service they deserve. To give them the freedom and space they need to fully breathe in, and relate all impressions without being interrupted or distracted. In addition, we want to guarantee and preserve the exclusive character of the event.
Being part of 'Go With The Glow' is entering a world that we revive by awakening the magic and mystique that surrounded design, fashion and beauty for centuries and protected its secrets, deeply rooted in rich history. It is an experience that stimulates all the senses and takes into account the 'total experience', everything is in harmony and connected, creating a unique dynamic.
It will be an experience that will continue to reverberate, exquisite and enchanting from the beginning ... ❞
Join our Ambassador program to earn rewards
---
❝Go With The Glow est censé être l'événement où la mode, la beauté, les marques, les designers, les influenceurs, les mannequins, les acheteurs et bien sûr les modeuses se rencontrent dans un environnement luxueux et exclusif. Où ils peuvent partager la passion et l'amour qu'ils ressentent pour cette forme d'art.
La taille de l'événement a été volontairement réduite au minimum afin de pouvoir garantir à nos invités l'attention et le service qu'ils méritent. Pour leur donner la liberté et l'espace dont ils ont besoin pour pleinement respirer et relater toutes les impressions sans être interrompus ni distraits. De plus, nous voulons garantir et préserver le caractère exclusif de l'événement.
Faire partie de 'Go With The Glow', c'est entrer dans un monde que nous ravivons en éveillant la magie et la mystique qui ont entouré le design, la mode et la beauté pendant des siècles et ont protégé ses secrets, profondément enracinés dans une histoire riche. C'est une expérience qui stimule tous les sens et prend en compte «l'expérience totale», tout est en harmonie et connecté, créant une dynamique unique.
Ce sera une expérience qui continuera à résonner, exquise et enchanteresse depuis le début ...❞
Join our Ambassador program to earn rewards
---
❝Go With The Glow ist eine Veranstaltung, bei der Mode, Beauty, Marken, Designer, Influencer, Models, Käufer und natürlich Fashionistas in einer exklusiven, luxuriösen Umgebung aufeinander treffen. Wo sie die Leidenschaft und Liebe teilen können, empfinden sie diese Kunstform.
Die Größe der Veranstaltung wurde bewusst klein gehalten, damit wir unseren Gästen die Aufmerksamkeit und den Service garantieren können, die sie verdienen. Um ihnen die Freiheit und den Raum zu geben, die sie benötigen, um alle Eindrücke vollständig einzuatmen, ohne unterbrochen oder abgelenkt zu werden. Darüber hinaus möchten wir den exklusiven Charakter der Veranstaltung garantieren und erhalten.
Teil von "Go With The Glow" zu sein, betritt eine Welt, die wir wiederbeleben, indem wir die Magie und Mystik erwecken, die Design, Mode und Schönheit jahrhundertelang umgab und deren Geheimnisse, tief verwurzelt in der reichen Geschichte, bewahrt. Es ist eine Erfahrung, die alle Sinne anregt und die 'Gesamterfahrung' berücksichtigt. Alles ist in Harmonie und Verbindung, wodurch eine einzigartige Dynamik entsteht.
Es wird eine Erfahrung sein, die von Anfang an nachhallt, exquisit und bezaubernd ist ... ❞
Join our Ambassador program to earn rewards
---
❝Go With The Glow يهدف إلى أن يكون الحدث الذي تلتقي فيه الموضة والجمال والعلامات التجارية والمصممين وأصحاب النفوذ والموديلات والمشترين وعشاق الموضة في بيئة فاخرة وفاخرة. حيث يمكنهم مشاركة العاطفة والحب الذي يشعرون به لهذا النوع من الفن.
تم الحفاظ على حجم الحدث صغيرًا حتى نضمن لضيوفنا الاهتمام والخدمة التي يستحقونها. لمنحهم الحرية والمساحة التي يحتاجون إليها للتنفس بشكل كامل وربط جميع الانطباعات دون مقاطعة أو تشتيت انتباههم. بالإضافة إلى ذلك ، نريد أن نضمن ونحافظ على الطابع الحصري للحدث.
يدخل جزء من "Go With The Glow" إلى عالم نحييه بإيقاظ السحر والغموض الذي أحاط بالتصميم والأناقة والجمال لقرون عديدة وحمايتها أسرارًا عميقة الجذور في التاريخ الغني. إنها تجربة تحفز جميع الحواس وتراعي "التجربة الكلية" ، وكل شيء في تناغم ومتواصل ، وخلق ديناميكية فريدة من نوعها.
ستكون تجربة سوف تستمر في الصدى ، رائعة وساحرة من البداية ... ❞
Join our Ambassador program to earn rewards
---
❝GoWith The Glow旨在成为时尚,美容,品牌,设计师,影响者,模特,买家以及时尚达人在独特奢华环境中相遇的盛会。他们可以分享他们对这种艺术形式的热情和爱。
活动规模保持不变,以确保我们的客人得到应有的关注和服务。为他们提供自由和空间,他们需要充分呼吸并将所有印象联系起来而不会被打断或分心。 此外,我们希望保证并保留活动的独特性。
参与"Go With The Glow"的一部分正在进入一个我们复兴的世界,它唤醒了几个世纪以来围绕着设计,时尚和美丽的神奇和神秘,并保护其秘密,深深植根于丰富的历史。这是一种刺激所有感官的体验,并考虑到"总体经验",一切都和谐相连,创造出独特的动力。
这将是一种从一开始就会继续回荡,精致和迷人的体验......❞
Join our Ambassador program to earn rewards
Lien Degol

Lien Degol

Styliste

Marlies Dekkers

Marlies Dekkers

Designer/CEO

Wana Miri

Women On Topp

CEO

Romy Smit




Couturier