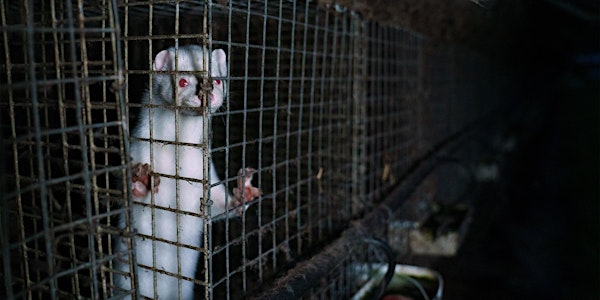 Fur Farming in Europe: Addressing Animal Welfare & Public Health Concerns
This event will explore the issue of fur farming in Europe. It will address animal welfare and public health concerns associated with it.
By Humane Society International/Europe
When and where
Date and time
Tue, 8 Dec 2020 06:00 - 07:30 PST
About this event
Fur farming has hit the headlines in recent months in Europe as a result of fresh exposés of animal cruelty being released by animal protection organisations, political proposals to ban fur production being tabled in various Member States and, most worryingly, outbreaks of COVID-19 on mink farms in the Netherlands, Denmark, Sweden, Spain, Italy, Greece, France and Lithuania, with cases of mink-to-human transmission also being documented.
The time is ripe for a re-evaluation of the practice of fur farming in the European Union. This webinar will seek to address societal concerns about mink, fox and raccoon dogs continuing to be bred for their pelts. The question this event seeks to answer is whether this is worth the risk to animal welfare and, it now seems, public health also.
This event, which is hosted by Anja Hazekamp MEP (GUE/NGL), Niels Fuglsang MEP (S&D/Denmark) and Anna Deparnay-Grunenberg MEP (Greens/EFA, Germany), will bring together politicians and policymakers with experts on animal welfare and veterinary epidemiology to discuss these issues.
It is being organised by Humane Society International/Europe in collaboration with the Fur Free Alliance (FFA), Eurogroup for Animals and the European Parliament's Intergroup on the Welfare and Conservation of Animals.
Preliminary programme
Welcome & Introductory remarks
Anja Hazekamp MEP (GUE/NGL/The Netherlands)
Niels Fuglsang MEP (S&D/Denmark)
Anna Deparnay-Grunenberg MEP (Greens/EFA, Germany)
Video presentation
A compilation of footage of fur farms in Poland, Finland and France with veterinary analysis from Emeritus Professor Bo Algers, Department of Animal Environment and Health, Swedish University of Agricultural Sciences.
Short presentations
Mike Moser, Former CEO of British Fur Trade Association
An insiders' insights into fur production and the treatment of animals on European fur farms
Prof dr Arjan Stegeman, Faculty of Veterinary Medicine, Utrecht University, The Netherlands
The COVID-19 outbreak on mink farms: risks to animal and public health.
Panel discussion with additional panellists
Dr Andrea Gavinelli, Head of Unit for Animal welfare and Antimicrobial Resistance, Directorate-General for Health and Food Safety, European Commission
Marta Korzeniak, Otwarte Klatki, Poland
Prof dr Christian Sonne DVM, Aarhus University, Denmark
Britta Riis, CEO, Dyrenes Beskyttelse, Denmark
Moderator - Dr Jo Swabe, Senior Director of Public Affairs, HSI/Europe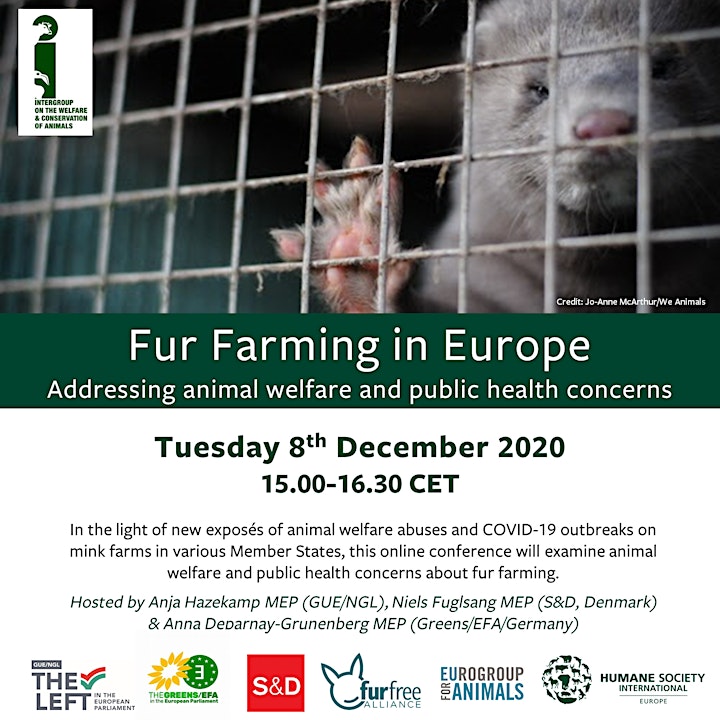 About the organiser
Humane Society International/Europe is a leading force for animal protection in the European Union, with active campaigns to protect wildlife, reduce and replace animal use in scientific research and product testing, to combat the slaughter of marine life, and to improve conditions for animals farmed for food, skins and fur.