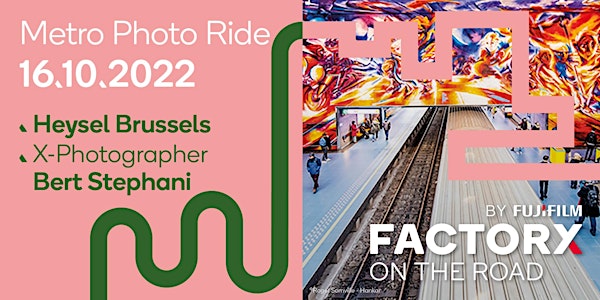 Factory X on the road | Metro photo ride
Fotoworkshop i/d Brusselse metro met X-Photographer Bert Stephani Atelier photo dans le métro de Bruxelles avec X-Photographer Bert Stephani
When and where
Location
Heysel 69 Rue du Cloître 1020 Bruxelles Belgium
About this event
*Faites défiler la page pour lire le texte en français*
Tijdens deze Factory X on the road fotoworkshop neemt X-Photographer Bert Stephani – gekend om zijn creatieve portretten en lifestyle beelden met een ruw kantje – jou mee op een ondergrondse reis doorheen de Brusselse metro.
We verzamelen aan de metrohalte Heysel. Na een verwelkoming en intro over het Fujifilm X Series gamma en de te bewonderen kunst die al 40 jaar bijdraagt aan het unieke karakter van de Brusselse metro, geeft Bert jou waardevolle tips & tricks om unieke shots te maken in deze ondergrondse wereld.
Tijdens de fotorit voorzien we een aantal tussenstops waarbij je telkens een nieuw kunstwerk kan bewonderen en een leuke foto-opdracht krijgt van Bert. Denk hierbij aan het uittesten van het effect van lage sluitertijden (het station is scherp maar de mensen en rijdende metro worden onscherp), zoeken naar alternatieve hoeken (waarvoor het kantelscherm heel interessant is), actieportretten (autofocus), een introductie tot video,… Voor elk wat wils dus!
Indien je geen eigen toestel meebrengt, kan je tijdens de workshop zelf aan de slag met enkele X Series toestellen waarbij je in no-time een master wordt in het bedienen van de onberispelijke capaciteiten van deze spiegelloze camera's. Voorzie zeker ook je eigen SD kaartjes.
Nuttig om te weten: deze workshop vindt tegelijk plaats met de Photo Days beurs in Brussels Expo, waar Fujifilm aanwezig is met een stand waar heel wat te beleven valt. Meer info over de beurs en onze stand vind je hier. Neem je deel aan de workshop, dan ontvang je een gratis toegangsticket tot de beurs én een leuke Fujifilm goodiebag!
Deelnemen aan deze 'on the road' workshop kan tijdens de Nederlandstalige ochtendsessie van 10:00-13:00 uur of de Franstalige namiddagsessie van 14:00-17:00 uur voor slechts €35 per persoon*.
*Opgelet: Je kan maximum 2 tickets per persoon bestellen. Plaatsen zijn beperkt. Je hebt per sessie (en dus per taal) keuze uit 2 soorten tickets:
een standaardticket aan bovenvermelde prijs voor toegang tot de workshop
een "on the road" ticket voor toegang tot de workshop én een dagpas voor de metro (twv €7,80)
Meer informatie over de workshop vind je op fujifilm-x.com terug.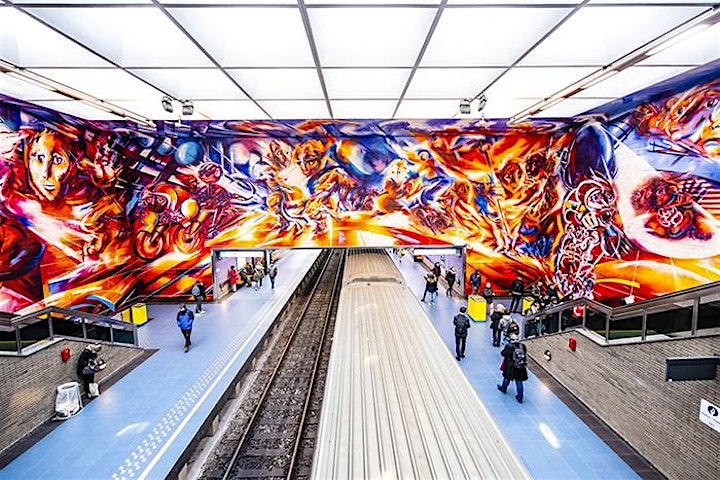 Au cours de cet atelier photo Factory X on the road, X-Photographer Bert Stephani – connu pour ses portraits créatifs et ses images de style de vie avec un côté brut – vous emmènera dans un voyage souterrain dans le métro de Bruxelles.
Nous nous rassemblerons à l'arrêt de métro Heysel. Après un accueil et une présentation de la gamme Fujifilm X Series et de l'art qui contribue au caractère unique du métro de Bruxelles depuis 40 ans, Bert vous donnera de précieux conseils et astuces pour prendre des photos uniques dans ce monde souterrain.
Au cours du tour photo, nous ferons plusieurs arrêts où vous pourrez admirer une nouvelle œuvre d'art à chaque fois et recevoir une mission photo amusante de Bert. Il s'agit notamment de tester l'effet des vitesses d'obturation lentes (la gare est nette mais les gens et le métro en mouvement sont flous), de rechercher des angles alternatifs (pour lesquels l'écran inclinable est très intéressant), des portraits d'action (autofocus), une introduction à la vidéo,... Il y en a donc pour tous les goûts !
Si vous n'apportez pas votre propre appareil photo, vous pourrez, pendant l'atelier, travailler vous-même avec certains appareils de la Série X et devenir en un rien de temps un maître dans l'utilisation des capacités impeccables de ces appareils sans miroir. Veillez également à fournir vos propres cartes SD.
Bon à savoir : cet atelier se déroulera en même temps que le salon Photo Days à Brussels Expo, où Fujifilm sera présent avec un stand proposant de nombreuses activités. Vous trouverez plus d'informations sur la foire et notre stand ici. Si vous participez à l'atelier, vous recevrez un billet d'entrée gratuit pour le salon et un joli sac de goodies Fujifilm !
Vous pouvez participer à cet atelier "sur la route" pendant la session néerlandophone du matin de 10h00 à 13h00 ou la session francophone de l'après-midi de 14h00 à 17h00 pour seulement 35 € par personne*.
*Note : Vous pouvez commander un maximum de 2 billets par personne. Les places sont limitées. Vous avez le choix entre 2 types de billets par session (et donc par langue) :
un billet standard au prix mentionné ci-dessus pour l'accès à l'atelier
un billet "on the road" pour l'accès à l'atelier et une carte journalière pour le métro (7,80 €)
Pour en savoir plus sur l'atelier, rendez-vous sur fujifilm-x.com.