Información sobre el evento
Presential Tantra Yoga classes in Brussels
Acerca de este evento
Master your vital energy, unleash the perfect storm, balance your polarities and embrace the ultimate union between masculine and feminine.
Each person works individually. We will perform asanas, breathing and meditations that will teach you to direct your vital energy to the area of your life that needs it most:
Enjoying a lasting love partnership.
Activate your vitality.
Resting from internal dialogue
Recover passion and desires.
Finding motivation and purpose.
Celebrate your body.
After the practice you will feel relaxed, activated, connected and passionate.
Specifics
Price: 15€/session
Location: Auderghem Yoga (Rue Edouard Henrard 11, 1160 Auderghem, Belgium)
Date: Every Friday 17:30 – 18:45
No equipment is needed.
You can bring your yoga clothes and water (yoga mats are available)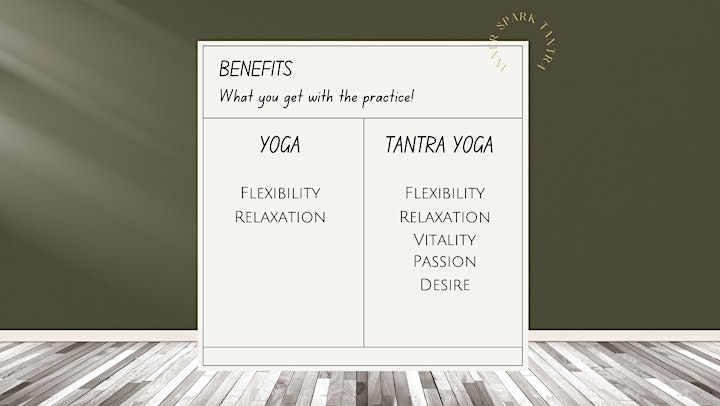 The Teacher:
Hi, I'm Pablo, Tantra Yoga Master.
At the age of 25 I was lonely and deeply disenchanted with my life. All my relationships were failing, I had no purpose, and I could not use my vital energy for anything constructive.
Then I saw clearly: nobody had taught me to be the master of my experience, and I was a victim of my weakness!
So I started my spiritual development. I spent years poring over treatises on Yoga and Tantra and doing intense practices to awaken my kundalini energy.
I succeeded, and my life changed forever. I became a free, empowered, the conscious and passionate human soul.
Now, together with my beloved Monika, I show the path of love and passion to those who seek it.
Testimonials
From the first time when I participate to the yoga lesson of Pablo I felt happy 🌞 He has an unique and beautiful way to uplift your vital energy during the asanas. I felt unbelievable good after. Thank you very much for your amazing work! You totally changed my state from good to extraordinary!
Antonella
Pablo has an inspiring way to quide you through yoga poses, so you can feel relaxed and comfortable while in his unique way helps you to realise profound things about your body, mind and soul.
I highly recommend Pablo's yoga lessons to anyone who wants to have a better understanding of themselves and of yoga too.
Koralia
Monika and Pablo are wonderful spiritual guides. I feel very blessed to have both of them in my life.
Sandra
Organizador de Inner Spark Tantra Yoga
Hi, I'm Pablo. I'm Personal Development Instructor, Spiritual guide and Life Coach in Inner Spark.

What do I want?
Give to you the knowledge and the tools that allow you to SWITCH your energy state, OVERCOME your challenges and ACHIEVE your highest wishes.

How I do it?
I take what STOPS YOU, and what MOVES YOU, and I put them together. The rest happens by itself.