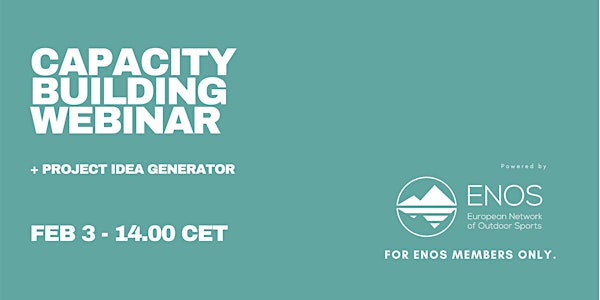 ENOS Capacity building webinar for outdoor sports projects
Learn about Erasmus+ Sports funding mechanisms and find partners for your project idea!
By European Network of Outdoor Sports (ENOS)
Date and time
Wednesday, February 3, 2021 · 5 - 7am PST
About this event
Regardless of what stage you are within your project, this webinar is here to prepare you for every step that counts during financing your outdoor sports development project! This webinar is specially designed for outdoor sports projects and will focus on the main funding instruments for sport development at European Level: Erasmus+ Sport. One of the most important logistical components of a process is financing. This webinar will be led by members of ENOS who will share their knowledge about Erasmus+ opportunities and funding mechanisms.You will learn practical tips for a successful application and where to find relevant and updated information. Finally, a project idea accelerator online workshop will let you find project partners from across Europe.
The webinar is exclusively reserved for organisations that are members of ENOS. You are welcome to join ENOS if you are not member yet. Find out why joining ENOS at www.outdoor-sports-network.eu/join-enos/
About the organizer
Working together to promote outdoor sports across Europe
The European Network of Outdoor Sports (ENOS) was established as a not for profit organisation at the Nature and Outdoor Sports Euro'Meet conference in 2013 (Liptovsky Mikulas, Slovakia). Participants recognized that no organization was representing outdoor sports at a European level and called for a representative organization. ENOS became a network of European experts, local authorities, federations, universities, practitioners and outdoor sports enthusiasts. The main objectives are:
· Representing outdoor sports at a strategic level in Europe.
· Promoting that outdoor sport can provide genuine environmental, educative, social and economic benefits to individuals, communities, regions and nations.
· Supporting the organization and management of outdoor sports both on a national and transnational basis.
· Encouraging trans-national approaches to the recognition of leaders, instructors and coaches, to develop mobility and employment.
· Assisting initiatives that promote responsible and sustainable access and use of landscape, marine areas, habitats and eco-systems.