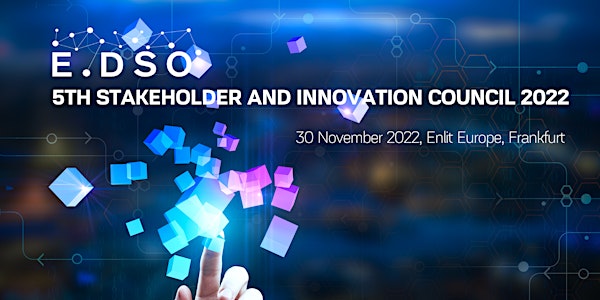 E.DSO's 5th Stakeholder and Innovation Council (hybrid)
5th edition of the EDSO #Stakeholder and Innovation Council - "Seizing the change, get ready-for-action" - at Enlit Europe 2022
About this event
2 hours 30 minutes

Mobile eTicket
On 30 November, recognized figures representing the most advanced thinking and research around Europe will meet in the framework of Enlit Europe in Frankfurt, to explore specific actions DSOs can take to strike the right balance and deliver on the commitment to decarbonise to supply a carbon neutral Union by 2050 – an undoubtfully crucial task in view of the unprecedented crisis.
Since 2018, E.DSO has been hosting this unique Council to give experts and progressive thought leaders the opportunity to put their heads together and create added value for citizens and society, industry, customers, and other stakeholders, by supporting the development of DSO models.
This year, our high-level panels will discuss the:
Panel 1. The optimal design for future electrification,
Panel 2. Nurturing Innovation for a Low Carbon Future - Tighten the cooperation between distributors and equipment manufacturers
Panel 3. Standards to optimise the pathway to maximum efficiency
Panel 4. Customers at the centre of decarbonisation efforts
Panel 5. DSO Panel – Conclusions & wrapping up
Registrations are now open. Do not miss the opportunity to join the discussion and share your views! The event will take place in a hybrid format. Online participants will have the possibility to ask their questions via a dedicated chat.
If you are already attending Enlit and you are able to join us in person, please contact us at tiffany.jordan@edsoforsmartgrids.eu or anita.gianelli@edsoforsmartgrids.eu
We are looking forward to your numerous participation! Find the agenda here.