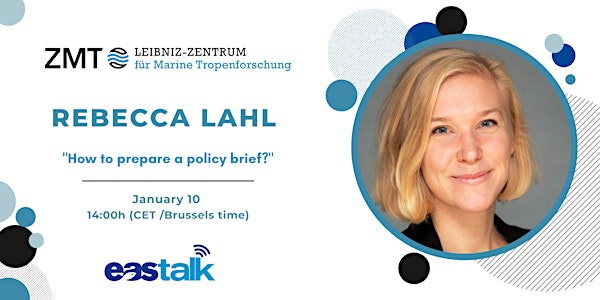 EAStalk webinar with Rebecca Lahl (Leibniz ZMT)
EAStalk webinar with Rebecca Lahl (Leibniz ZMT)
About this event
"How to prepare a policy brief?"
Summary of the presentation:
"Scientific knowledge is the key element that underpins the development and implementation of policy.
As we develop further the knowledge base, it is important to communicate those developments to policy makers. We have an increasing presence of Policy Briefs that are written as deliverables and/or outcomes of research projects.
In this EASTalk webinar, Rebecca Lahl of the Leibniz Centre for Tropical Marine Research (ZMT) Office for Knowledge Exchange (OKE) will take us step by step through the preparation of a good policy brief and share her experience on how it should be prepared to achieve maximum impact. This is a skill that all researchers should have. Either if you are preparing policy briefs yourself, or if you need to verbally explain your research to policy makers".
Short biography of the presenter:
Rebecca Lahl, Head of the Office for Knowledge Exchange at Leibniz Centre for Tropical Marine Research in Bremen (ZMT), is supporting stakeholder engagement and knowledge and technology transfer at ZMT. As a knowledge broker and trainer she supports science-to-society and science-to-policy processes, knowledge transfer and transdisciplinarity.
Rebecca holds an B. Sc in Environmental Science and an M. Sc. in Natural Resource Management. Before joining ZMT, she has worked in development cooperation and as a political advisor.
Visit Leibniz ZMT's website: https://www.leibniz-zmt.de/de/