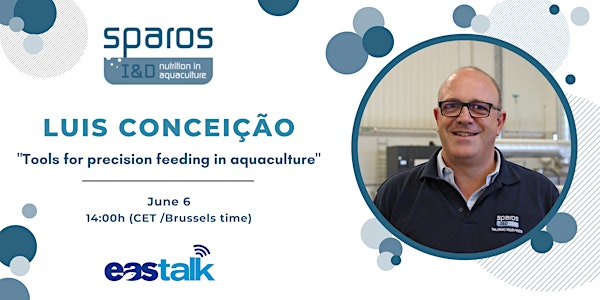 EAStalk webinar with Luis Conceição (SPAROS Lda)
EAStalk webinar with Luis Conceição (SPAROS Lda)
By European Aquaculture Society (EAS)
Date and time
Tuesday, June 6 · 5 - 6am PDT
About this event
"Tools for precision feeding in aquaculture"
Precision feeding is an important aspect of the present and future of aquaculture. Feeding has a strong impact on the economic and environmental sustainability of fish farming. SPAROS develops nutritional solutions for precision feeding, which will be discussed in this presentation. These solutions include tailored microfeeds for different fish and shrimp species, testing of feed ingredients and additives to make aquafeeds more sustainable, smart IT tools and services to optimize feeding.
Short biography of the presenter:
Luis Conceição is co-founder, co-CEO and R&D director at SPAROS Lda (www.sparos.pt). He obtained his MSc in Aquatic Sciences at ICBAS/Porto University (Portugal), MSc in Aquaculture and PhD in fish nutrition at Wageningen University (The Netherlands). Past positions as post-doc at SINTEF Aquaculture (Trondheim, Norway) and CCMAR / University of Algarve (Faro, Portugal). He has 20 years' experience in sustainable aquaculture and fish nutrition, including development of nutritional solutions and coordination of R&D projects.
Visit SPAROS website: https://www.sparos.pt/
About the organizer
The European Aquaculture Society – EAS (www.aquaeas.eu) is an independent non-profit association, created in 1976, that promotes contacts and disseminates information among all involved or interested in aquaculture in Europe. EAS currently has members in more than 60 countries and the EAS Secretariat is based at Oostende in Belgium.
These are primary objectives of the EAS:
to promote contacts between all those interested in marine and freshwater aquaculture
to facilitate the flow of information both within Europe and worldwide
to improve co-operation between a governmental, scientific and commercial organisation and individuals who are interested in aquaculture
to promote the sponsorship of research, particularly at the European level
Primary activities of the EAS include:
Publishing a bimonthly international scientific journal (Aquaculture International), a quarterly magazine (Aquaculture Europe), and publications within the series of special publications
Annual international conferences (Aquaculture Europe), seminars and workshops
EAStalk webinars and podcasts
Participating in the development of sustainable aquaculture in Europe through various EU projects and initiatives
Maintaining contacts, or special agreements/links with several national and international associations involved in aquaculture (World Aquaculture Society, FAO, ICES, The European Association for Animal Production, EUROFISH, CIHEAM, AquaTT, Aquacultural Engineering Society).
Become a member of the EAS here- https://www.aquaeas.eu/cb-registration.