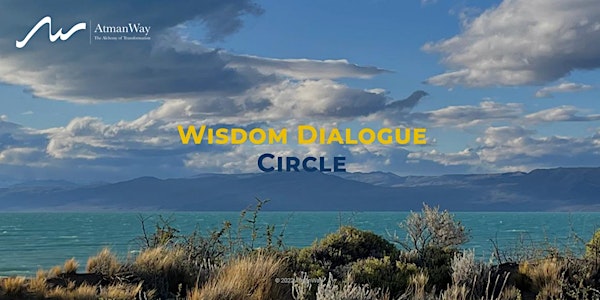 Multiple dates
Earth WISDOM DIALOGUE Circle | eWDC 2023
- Practice to co-create a New Dialogue for Humanity -
Date and time
February 24 · 9am - May 24 · 2am PST
Refund Policy
Contact the organizer to request a refund.
Eventbrite's fee is nonrefundable.
About this event
The WISDOM DIALOGUE Circle aims at activating a new form of dialogue, creating a space that catalyzes and elevates wisdom in the world.
The Earth WISDOM DIALOGUE Circle (eWDC) is a a series of events to continue and integrate the Wisdom Dialogue - a practice informed by Silence, and sourced out of Wisdom, intended as Love in Action, to create together a New Dialogue for Humanity, on a journey from Head to Heart to Hand.
In the WISDOM DIALOGUE Circles, we go through and beyond the Word (Dia-Logos) for new wisdom to emerge, capable of shifting how we care about our Self, Others and the World, offering new directions for Humanity, towards a shift of consciousness.
Join on Zoom for FREE
Each eWDC gathers gradually and regularly Wisdom keepers from all 4 corners of the world to harvest Earth's wisdom and unearth new directions and input for upcoming global WISDOM DIALOGUE events & manifestations
DIALOGUE FLOW
Each eWDC session follows a similar rhythm starting with a brief Context & Silence practice, a 90-min Dialogue round and final Wrap-up for a total of 2-hours.
Extra Optional time: We may extend the overall practice longer only when necessary and for those who wish and open up the Dialogue space to the external audience (up to 45-60-min max), and hence lasts a total of 3-hours (2+1-hour optional). Feel free to stay or leave.
4 WAYS TO ENGAGE
#1 OBSERVE – Watch the plenary Dialogue space unfolding throughout the event
#2 SENSE – Participate in the listening circles to co-listen and co-sense
#3 MEDITATE – Commit to a moment of stillness, turn gaze within & hold intention for this Dialogue greater impact
#4 SPREAD & SIGNAL – Share this movement and suggest a Earth Wisdom Elder for our next dialogue sessions
Wisdom Dialogue Circle SERIES
There will be eWDC events throughout the year and you can register for the ones you wish.
Choose the date(s) of the Circle Event you wish to participate by clicking on "Select Date" when ordering your ticket.
See below the next events - more will be published soon!
INFO
Please contact Paolo or Nora (nora@atmanway.org) for any comment, question or support.
For more info about the movement, visit AtmanWay
THANK YOU
Thank you in advance for your presence. We look forward to co-creating with you!