Dit evenement is afgelopen.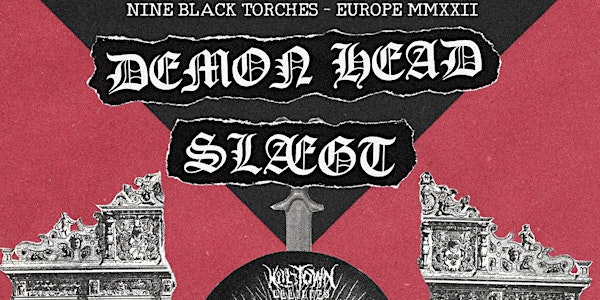 DEMON HEAD // SLÆGT
Demon Head (dk) + Slægt (dk) "Nine Black Torches" European tour
Waar en wanneer
Locatie
Het Bos 5 Ankerrui #7 2000 Antwerpen Belgium
Kaart en routebeschrijving
Beleid voor refunds
Neem contact op met de organisator om een restitutie aan te vragen.
Over dit evenement
Demon Head
DEMON HEAD
Demon Head is the long lasting constellation of five internationally based and widely acclaimed musicians; Mikkel Fuglsang, Birk Gjerlufsen Nielsen,Marcus Ferreira Larsen, Thor Gjerlufsen Nielsen and Jeppe Wittus. Though hesitant to compromise the description of the music they perform through generalizing terms of genre, they've coined the term 'Diabolic Rock' as an appropriate presentation.
It is important to pay attention to the journey from 'Ride The Wilderness'(2015), a juvenile and hungry adventure exploring the boundless courage of classic rock music, onto 'Thunder on the Fields' (2017) turning their inspirations further towards the strange and sinister purposes of life, a tendency followed and completed on 'Hellfire Ocean Void' (2019), with it's gothic and nothing but otherworldly song-writing and production. Demon Head is recognized for their uncompromising and independent practice, having written, recorded, produced, mixed, filmed, photographed, drawn, printed, chauffeured, practiced every second and every cell of the body that is Demon Head, leaving their development and growth as an organism completely free from the restraints of capitalism. What is left is a vessel, containing every possibility of collectivity, courage, rebellion, daydreaming, friendship, faint hope, clenched fists and opened hearts.
Slægt
Slaegt have cemented their place as one of the most important and exciting metal bands to come out of their native scene in recent years. Defying the DNA blueprint of traditional Scandinavian black metal, instead forging their own lineage a new from the roots of their predecessors. With a vicious and at times unpredictable live show, Slaegt have created something truly unique.