Dans & Beweging als bouwsteen voor positieve gezondheid en vitaliteit
Live workshop door Stephan Marchant
About this event
'Dans & Beweging als bouwsteen voor positieve gezondheid en vitaliteit' door Stephan Marchant
Op woensdag avond 6 oktober a.s. organiseren we samen met ideeën fontein, newfreak, zinzoeker, bewuste beweger, creatief-procesbegeleider, adviseur Welzijn bij de KU Leuven & meer want hij past nu éénmaal niet in 1 kader..  Stephan Marchant ons eerste najaar live Coach Café Leuven nu opnieuw in de Living Lei.. omdat het weer kan!
Wees welkom!
Tijdens deze avond maak je kennis met dans- & bewegingstherapie vanuit het perspectief van kracht, groei en verbinding. Bij dans- & bewegingstherapie staan het doen en ervaren via het lichaam centraal. De focus wordt daarbij gelegd op mensen hun persoonlijke ervaring en innerlijke dansproces.   
Naast enkele theoretische kapstokken ontdek je tijdens de workshop door middel van laagdrempelige bewegingsactiviteiten hoe jouw lichaam beweegt en welk verhaal het tot leven brengt. 
Doorheen deze sessie leer je als coach hoe persoonlijke gezondheid en vitaliteit wordt gestimuleerd door creativiteit en wendbaarheid aan te spreken, bewust te worden van eigen lichaamssignalen en inzicht te krijgen in denken, voelen en handelen. 
Je ervaart hoe samen bewegen het onderlinge vertrouwen verhoogt en hoe je verbondenheid creëert vanuit een open en authentieke (non-verbale) communicatie. 
De ervaring en de oefeningen van de avond kun je zelf toepassen in zowel 1-1 coaching of begeleiding als in het werken met een groep.
De sessie is een weergave van de werkwijze van Move2Create.
Move2Create is een creatieve praktijk van menselijke groei en verbinding waar volwassenen zichzelf & de ander ontdekken via dans en beweging. In álle initiatieven staat het creatieve proces van deelnemers centraal.  
 En wees gerust, het draait die avond niet om perfectie maar om de beleving. Iedereen kan meedoen!
Praktisch: Om 19u gaan de deuren van het Coach Café open, is er tijd om toe te komen, iets te drinken en te connecteren met gelijkgestemden. De lezing/workshop zelf loopt van 20 tot 22u. Nadien is de bar open en kan er worden nagepraat tot 23u.
Kom bij voorkeur met de fiets, er is een gratis fietsenstalling in de garage van Living Lei (deze garage is naast de toegangsdeur). Met de trein is het 18' wandelen vanuit Leuven station (of neem je een bus naar het centrum). Als je met de auto komt, kan je parkeren op de publieke betaalparkings in de buurt:  Sint-Jacobs (7' wandelen), Minckelersparking (10' ), Ladeuze (10') of Engels Plein (Vaartkom 10').
Over de spreker / trainer: 
Stephan Marchant is een creatieve vernieuwer met een passie voor mensen, beweging en playfulness. Hij houdt ervan om mensen letterlijk en figuurlijk in beweging te brengen.
Enerzijds uit zich dit in zijn actieve rol binnen het vakgebied van Dans- & Bewegingstherapie. Zo is hij docent Creatieve Processen en werkt hij reeds jaren als creatief-procesbegeleider binnen zijn eigen VZW Move2Create waar hij dans en beweging inzet voor menselijke groei en verbinding.
Anderzijds heeft hij een jarenlange ervaring opgebouwd binnen zijn loopbaan van Personeels- & Organisatieontwikkeling op het gebied van organisatiecultuur, leren & ontwikkelen, welzijn en innovatie. Momenteel zet hij die expertise in als Adviseur Welzijn bij KU Leuven.
Woorden die hem typeren: ideeënfontein, groeimotor, nieuwfreak, sterkte-architect, zinzoeker, buikdenker, aansteker, sfeervoeler, vertrouweling en bewuste beweger.
Meer info? 
www.Move2Create.be
en 
https://www.linkedin.com/in/stephanmarchant/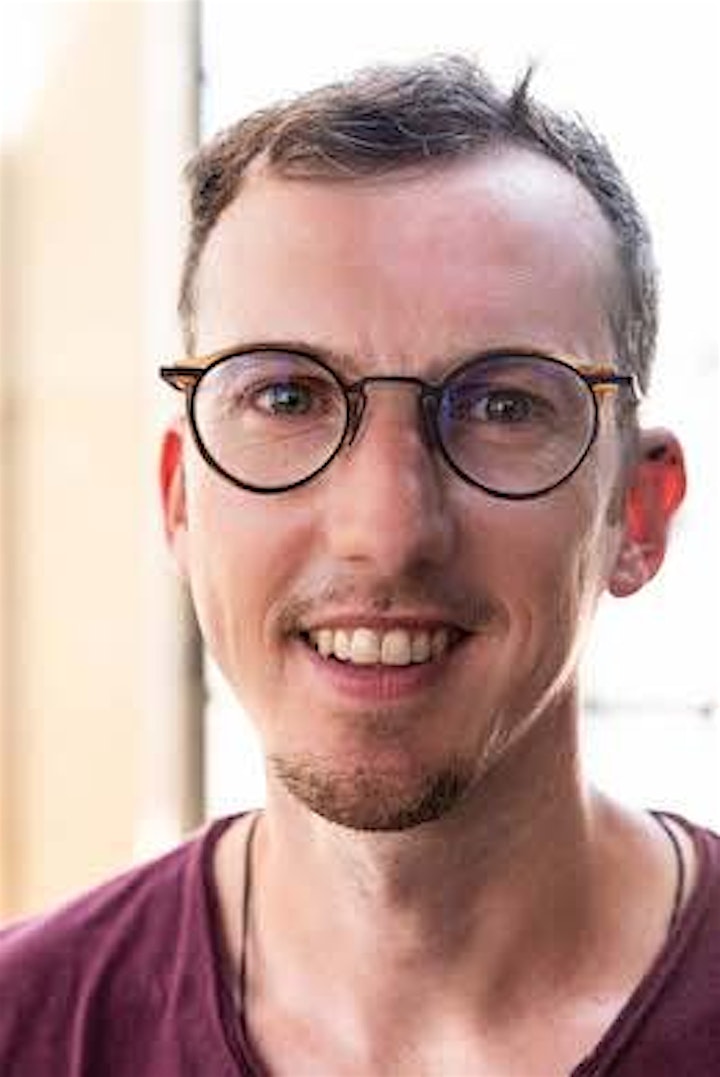 Organizer of Dans & Beweging als bouwsteen voor positieve gezondheid en vitaliteit
Coach Café Leuven is an open platform for everyone (coaches, trainers, personal development 'addicts', HRM, managers..) interested in personal growth, coaching, team & organizational and/or spiritual development. We offer a broad spectrum of workshops and talks to inspire you. 
The ideal meeting place to get to know like-minded people.
The Coach Café Leuven is an initiative of Anne-Marie Walgering - de Walle and Peter Plusquin.