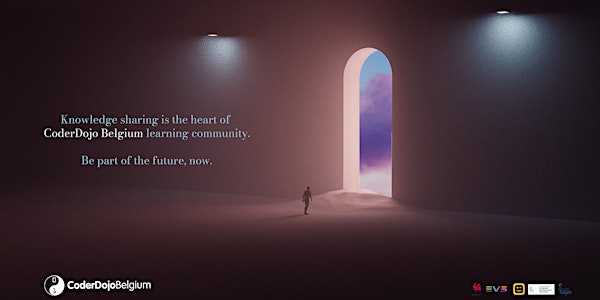 Coach Café - Online - 09/11/2022
Monthly Coach Café
About this event
# English
Starting from september 2022, you can attend the Coach Cafés alternately Online and in Person. Both will be organised every first Thursday of the month, except when specifically communicated otherwise. We start in September with an online edition, followed by a physical edition in October.
The online sessions will focus on educational material brought in an informal setting, like you already know the Online Coach Cafés. The educational material includes: interesting technologies for ninjas, available resources, new exercises... You can also present your own material here, share experiences, give suggestions and ask questions to the community.
The physical sessions will focus on informal discussions and networking. We will invite speakers or volunteers who would like to share some knowledge about CoderDojo or some other interesting subject (that has nothing to do with CoderDojo).
# Nederlands
Vanaf september 2022 kan je de Coach Cafés afwisselend online en fysiek volgen! Beide edities zullen telkens op de eerste donderdag van de maand plaatsvinden, behalve als we specifiek een andere datum vermelden. In september starten we met een online editie, gevolgd door een fysieke editie in oktober.
Tijdens de online sessies wordt er, zoals jullie de Online Coach Cafés al kennen, educatief materiaal voorgesteld. Het educatief materiaal bevat: interessante technologieën voor Ninja's, beschikbare bronnen, nieuwe oefeningen,... Je krijgt, als vrijwilliger, hier ook de kans om je eigen materiaal voor te stellen, ervaringen te delen, suggesties geven, vragen stellen,....
De fysieke sessies focussen zich voornamelijk op netwerken en interessante discussies/presentaties. Hiervoor zullen sprekers worden uitgenodigd of vrijwilligers die graag kennis of ervaringen willen delen. Dit kan van toepassing zijn op CoderDojo, maar kan en mag ook een volledig andere richting uit gaan.
# Français
À partir de septembre 2022, vous pourrez suivre les Coach Cafés en ligne et physiquement ! Les deux éditions auront lieu le premier jeudi du mois, sauf si nous mentionnons spécifiquement une autre date. En septembre, nous commençons par une édition en ligne, suivie d'une édition physique en octobre.
Pendant les sessions en ligne, comme vous connaissez déjà les Coach Cafés en ligne, du matériel pédagogique est présenté. Le matériel pédagogique contient : des technologies intéressantes pour les Ninjas, des ressources disponibles, de nouveaux exercices,... Vous avez également la possibilité, en tant que volontaire, de présenter votre propre matériel, de partager vos expériences, de faire des suggestions, de poser des questions, .....
Les sessions physiques sont principalement axées sur le réseautage et les discussions/présentations intéressantes. Des orateurs seront invités ou des volontaires qui souhaitent partager leurs connaissances ou leurs expériences. Cela peut s'appliquer à CoderDojo, mais peut aussi aller dans une direction complètement différente.