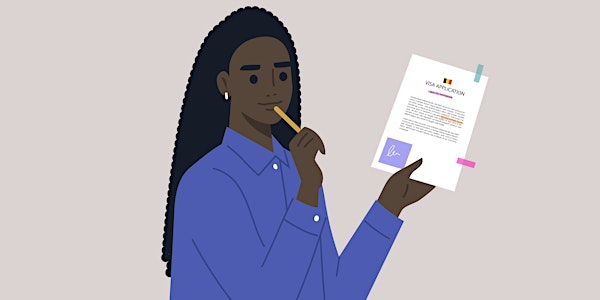 Co-Searching workshop: work permit in Belgium (English)
Free workshop for jobseekers in English
When and where
Location
Lekker Gec Koningin Maria Hendrikaplein 6 9000 Gent Belgium
About this event
As a non-EU citizen you need to hold a work permit to be able to work in Belgium. In this interactive workshop we will discuss this topic in a group of jobseekers.
We will start the talk with the work visa eligibility criteria for non-EU citizens and go through the application procedure. But more importantly, we will discuss questions that are hard to find answers online, such as what happens to your residency if you switch jobs in Belgium as non-EU or interrupt your work contract.
To make sure we are equipped with the most recent and detailed information, an English-speaking representative from the Gent Cityhall Migration Office will be present during the workshop.
We will also share experiences: which employers are more open to help you get a Visa? What profile should you have as a jobseeker? Etc..
In the workshop we will also adress your questions: when you register for the workhsop you have the chance to fill in some questions regarding the topic. We will adress them in our workshop.
We're looking forward to get to know you!
Important!
If you register for this workshop we expect you to be there. We put in a lot of effort organizing and preparing this workshop.
Every time a participant does not show up we have an empty chair at our table that could have been filled by somebody else who wanted to be there. So don't forget to delete your participation if you can't make it or contact Annelies at annelies@co-searching.be
We only send tips or reports to participants who show up.
For who?
This workshop is open for all jobseekers who want to learn and discuss. You are welcome regardless of your age, sector, gender, education level, etc.
This workshop requires enough knowledge of English to be able to participate in a conversation.
About Co-Searching
Co-Searching is a non-profit organization that organises free and interactive workshops and conversation groups for jobseekers. We exchange experiences, share tips and tricks, give each other direct feedback. Co-Searching is a network of jobseekers that want to help and inspire each other in the search for a job.
Workshops and conversation groups are prepared and guided by Co-Searching volunteers. Our volunteers are jobseekers or working.
See you soon!
Padma, Rita, Mariam and Annelies
Check our other (Dutch spoken) Co-Searching workshops or follow us on Facebook. We also share tips and stories in English to help you in your job search.