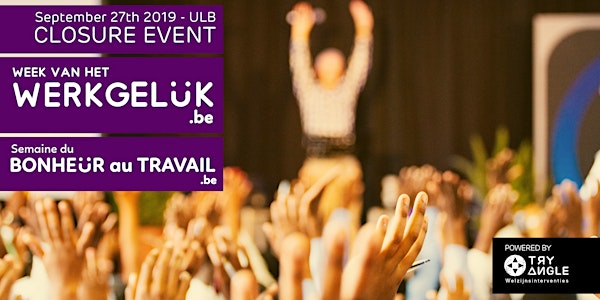 Closure Event Week van het Werkgeluk / Semaine du Bonheur au Travail 2019
Description
The international Week of Happiness@Work goes out with a bang! Register quick for the international event about Happiness@Work in Belgium. What to expect? A keynote of the world leader on Happiness@Work , an international expert on happiness, hands-on workshops... to be short: a captivating afternoon full of new insights and discoveries on Happiness@work.
De internationale Week van het Werkgeluk gaat er dit jaar met een knaller uit! Schrijf je snel in voor hét internationale event rond werkgeluk in België. Verwacht je aan de wereldleider rond Happiness@Work, een internationaal gerenommeerde expert in geluk, hands-on workshops, ... kortom een boeiende middag vol inzichten en ontdekkingen rond werkgeluk.
La Semaine internationale du Bonheur au Travail connaîtra une fin explosive cette année! Inscrivez-vous vite pour l'événement international sur le Bonheur au Travail en Belgique. Attendez-vous au leader mondial en Happiness@Work, un expert internationalement renommé en bonheur, des ateliers pratiques... bref, un après-midi intéressant pleine de découvertes sur le bonheur au travail.
Organizer of Closure Event Week van het Werkgeluk / Semaine du Bonheur au Travail 2019
Tryangle werkt samen met organisaties aan het welzijn en werkgeluk van werknemers voor meer engagement, hogere productiviteit en minder absenteïsme. We bieden oplossingen op maat onder de vorm van workshops, trainingen, coaching, teambuilding, consulting, webinars, lezingen,... Tryangle is tevens de organisator van de Week van het Werkgeluk in België.

Tryangle aide les entreprises à favoriser le bien-être et le bonheur au travail de leurs collaborateurs pour renforcer l'engagement des travailleurs, accroitre leur productivité et réduire l'absentéisme. Nous offrons des solutions sur mesure sous la forme d'ateliers, de formations, de coaching, de teambuilding, de consulting, de webinaires, de conférences,... Tyangle est également l'organisateur de la Semaine du Bonheur au Travail en Belgique.

Tryangle works together with organizations on the well-being and happiness at work of employees for more engagement, higher productivity and less absenteeism. We offer customized solutions in the form of workshops, training, coaching, team building, consulting, webinars, lectures, etc. Tryangle is the driving force behind the Week of Happiness at Work in Belgium.