Description
/!\ /!\ COMPLETE /!\ /!\
There is no more sensors available, please give us your contact details here so we can keep in touch with you for the next workshop.
~~~~~~~~~~~~~~~~~~~~~~~~~~~~~~~~~~~~~~~~~~~~~~~~~~~~~~~~~~~~~~~~~~~~~~~~~~~~~~~~~~~~~
Open air quality data are a powerful, essential force to help us move towards clean air. The good thing is... you, as a citizen, can help measure and map local pollution levels!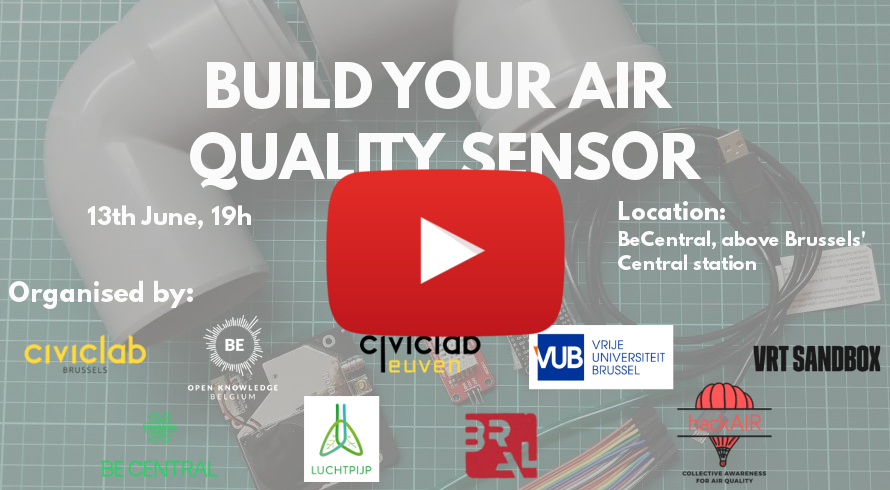 How does it work
The measurements are made through sensors that are cheap and easy to build. The software is flashed into the sensor which is then assembled with a humidity measurer, a wireless module to connect it to the wifi, and a casing.
When you go back home with your assembled sensor, you need to plug it to an electrical socket, connect it to your WiFi network, and that's it ! It then collects the data and sends it to a centralized database, which makes it possible to produce a map of air quality, of which you can find an example here.
At the event
During the workshop, you will be provided a box with all the necessary pieces and instructions to build your sensor, as well as resources to set up your sensor at home correctly. There will also be coaches who will help you if you encounter any problem with the assembly.
When you will be done, there will be stickers, painting, and more at your disposal to customize your sensor, so you can give it a personal touch.
The price you pay here includes the access to the workshop with your own sensor-box as well as drinks during the event.
The Sensor Box will contain:
• All the pieces necessary to build your Air Quality Sensor
• An infographic to help you build your sensor
• A folder with the instructions to set up your sensor at home
At the workshop, you will have the opportunity to sign up for a research from the Vrije Universiteit Brussel, which will investigate if the monitoring of air quality leads to any behaviour change. The event is supported by the VUB and the hackAIR project for the drinks and overall cost price of your ticket for the workshop.
Who we are
Civic Lab Brussels is a group of citizens who gather every other Tuesday to work on projects that aim at improving local communities' life. Find out more about Civic Labs here. InfluencAir is one of our projects, you can find a short presentation of InfluencAir here, and our website with the map of air quality here.
If you have any question or concern, feel free to send an email to thomas@openknowledge.be. We will answer you as soon as possible.
This event is made possible by Civic Lab Brussels, Open Knowledge Belgium, BeCentral, Luchtpijp, Civic Lab Leuven, BRAL, VUB, VRT Sandbox and hackAIR (H2020, grant agreement nr. 688363).

We look forward to seeing you at BeCentral on the 13th June !