Cet événement est terminé.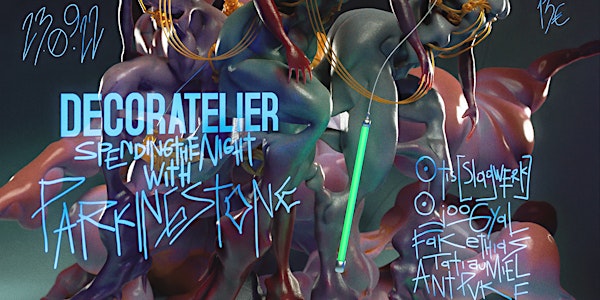 spending the night with PARKINGSTONE
1st PARKINGSTONE in Brussels with OJOO GYAL, OTIS, ANTPUKE, TATI AU MIEL, FAKETHIAS
Où et quand
Lieu
Decoratelier 17 Rue de Manchester 1080 Molenbeek-Saint-Jean Belgium
Politique de remboursements
Contactez l'organisateur pour demander un remboursement.
Les frais d'Eventbrite ne sont pas remboursables.
À propos de cet évènement
BX Premiere 🇧🇪
DECORATELIER: Spending the Night w/ PARKINGSTONE.
23.09.22 = 22:00 - 05:30
13€ cash at the door
17 Manchesterstraat 1080 Molenbeek-Saint-Jean
...................
Timetable:
22:00 - 23:30 OJOO GYAL (djset)
https://soundcloud.com/ogyal
Born and raised in Morocco, the recently Brussels-based OJOO GYAL has a wide-range approach to DJing, as evident from her Noods and Movement radio residencies. Her mixes vary from old-school dancehall to its contemporary mutations, heavy dub, bass, breaks, baile funk, and other radical twists of electronic music.
23:30 - 01:00 OTIS (djset)
https://soundcloud.com/oti_s
https://soundcloud.com/slagwerk
Otis is the founder of Slagwerk, a Brussels-based label notorious for their parties, bringing together the ever-surprising stretches of contemporary music – its history includes Amnesia Scanner, Aïsha Devi, Oli XL, Lee Gamble, Varg2TM, Rabit, Abyss X and M.E.S.H. – and a delight in the many faces of club, never disconnected from the families it fosters. That partying is not something one should take lightly, understands Slagwerk like no other, showing that only in its experimental and dynamic embrace one can escape both nightlife's over-intellectualizing and too- trivializing impulses. At Slagwerk, and so too in Otis' continuous escapades as a DJ, the trivial is never just banal, the poppy never just popular, but the cutting-edge never turns pose either. In Otis' sets, rigid conceptions of music are left aside, cul-de-sacs explored conditionally through humor, affect and instinct alike. Staying true to the thrill and shuffled spirit of online musical discovery, sound and songs connect and disconnect, flow and disrupt, genres are exploited and transgressed, melody seduced and swept. Having had the opportunity to play around Europe in clubs such as De School (Amsterdam), Macao (Milan) and Trauma Bar (Berlin), supporting the likes of Yves Tumor, Endgame, Malibu, Bladee and Swan Meat and appear on radio platforms including NTS Radio (London), Red Light Radio (Amsterdam), Rinse France (Paris), Otis' sets each seem an inspired and heterogeneous take on that sublime desire to simultaneously keep up and let go.
01:00 - 02:30 ANTPUKE (hybrid djset)
https://soundcloud.com/antpuke
The founder of new kiki brand Club Carry, member of New World Dysorder, resident at Nowadays (NYC), DJ doll and composer Antpuke is on the frontlines of an exciting new scene embodied largely by femme-tastic, experimental techno and hyperpop raves in Ridgewood.
02:30 - 04:00 TATI AU MIEL (hybrid djset)
https://soundcloud.com/tatiaumiel
Tati au Miel's work explores freedom, desire and the emancipatory potential of sound and its relation to the artist's own identity as a queer, gender fluid Haitian-Canadian. They create evocative experimental sound pieces and playful relation to heavy sounds; referencing industrial, punk, noise, and techno, as well as continuing a legacy of speculative experimentation in black electronic music.
04:00 - 05:30 FAKETHIAS (djset)
https://soundcloud.com/fakethias
FAKETHIAS' music has been described as something that forces itself upon you, unrelenting and multifaceted, dragging you in many directions all at once. Ripped audio and personal voice notes are moulded into animated instruments and pulsating soundscapes, that are driven forward by restless and hyperbole patterns. It's a vertiginous rendering of a skittering mind trying to harmonize with its own chaos. Since his debut in 2018, the Oslo-based artist has been nominated for the coveted equivalent to a Norwegian Grammy, brought his high-intensity sets to clubs and major festivals around Europe and released on labels such as YEAR0001, Mama Told Ya, Ute, Parkingstone, Ball Em Up and his own Massive Gain, a label focused on releasing highly functional, peak-time anthems co-founded with Erik Spanne.
Artwork by Mario Gonzalez
IG: @marandozaton
...................
Awareness concept:
🏳‍🌈 🏳️‍⚧️ The actions or display of the following behaviors are not tolerated: slutshamming, racism, sexism, transphobia, homophobia, misogyny, validism, discrimination as well as disrespect for consent. If you have any concerns, contact us directly, we are here for you!
💎 Every shape, color, gender, soul, body and sex are WELCOME and CELEBRATED
...................
𝗜𝗻 𝟮𝟬𝟮𝟭, 𝘄𝗵𝗲𝗻 𝘁𝗵𝗲 𝗱𝗲𝘀𝗶𝗿𝗲 𝘁𝗼 𝗴𝗲𝘁 𝘁𝗼𝗴𝗲𝘁𝗵𝗲𝗿 𝘄𝗮𝘀 𝗯𝗶𝗴𝗴𝗲𝗿 𝘁𝗵𝗮𝗻 𝘁𝗵𝗲 𝗼𝗽𝗽𝗼𝗿𝘁𝘂𝗻𝗶𝘁𝗶𝗲𝘀, 𝗝𝗼𝘇𝗲𝗳 𝗪𝗼𝘂𝘁𝗲𝗿𝘀 𝗱𝗲𝘀𝗶𝗴𝗻𝗲𝗱 𝗮 𝗻𝗶𝗴𝗵𝘁𝗰𝗹𝘂𝗯 𝗶𝗻 𝗗𝗲𝗰𝗼𝗿𝗮𝘁𝗲𝗹𝗶𝗲𝗿. 𝗪𝗶𝘁𝗵 𝗿𝗲𝗰𝘂𝗽𝗲𝗿𝗮𝘁𝗲𝗱 𝗺𝗮𝘁𝗲𝗿𝗶𝗮𝗹𝘀 𝗴𝗮𝘁𝗵𝗲𝗿𝗲𝗱 𝗳𝗿𝗼𝗺 𝗺𝗮𝗻𝘆 𝘀𝗼𝘂𝗿𝗰𝗲𝘀 𝘄𝗲 𝘄𝗮𝗻𝘁 𝘁𝗼 𝗮𝗰𝗰𝗼𝗺𝗺𝗼𝗱𝗮𝘁𝗲 𝗮 𝗴𝗮𝘁𝗵𝗲𝗿𝗶𝗻𝗴 𝗼𝗳 𝗽𝗲𝗼𝗽𝗹𝗲, 𝗶𝗻 𝗮 𝘄𝗮𝘆 𝘁𝗵𝗮𝘁 𝗮𝗹𝗹𝗼𝘄𝘀 𝘁𝗵𝗲𝗺 𝘁𝗼 𝗯𝗲 𝘁𝗼𝗴𝗲𝘁𝗵𝗲𝗿 𝗮𝗻𝗱 𝘁𝗼 𝗸𝗲𝗲𝗽 𝘁𝗵𝗲𝗶𝗿 𝗱𝗶𝘀𝘁𝗮𝗻𝗰𝗲, 𝘁𝗼 𝗯𝗲 𝘃𝗶𝘀𝗶𝗯𝗹𝗲 𝗮𝗻𝗱 𝗶𝗻𝘃𝗶𝘀𝗶𝗯𝗹𝗲, 𝗮𝗰𝗰𝗼𝗿𝗱𝗶𝗻𝗴 𝘁𝗼 𝗻𝗲𝗲𝗱. 𝗜𝗻 𝟮𝟬𝟮𝟮, 𝘄𝗲'𝗹𝗹 𝗱𝗲𝘃𝗲𝗹𝗼𝗽 𝗦𝗽𝗲𝗻𝗱𝗶𝗻𝗴 𝘁𝗵𝗲 𝗡𝗶𝗴𝗵𝘁 𝗮𝘀 𝗮 𝗽𝗮𝗿𝘁 𝗼𝗳 𝗮 𝗰𝗼𝗹𝗹𝗲𝗰𝘁𝗶𝗼𝗻 𝗼𝗳 𝘀𝗽𝗮𝗰𝗲𝘀 𝘁𝗵𝗮𝘁 𝗰𝗼𝗺𝗲𝘀 𝗶𝗻𝘁𝗼 𝗳𝗼𝗰𝘂𝘀 𝗼𝘃𝗲𝗿 𝘁𝗵𝗲 𝗰𝗼𝘂𝗿𝘀𝗲 𝗼𝗳 𝗼𝘂𝗿 𝘀𝗲𝗮𝘀𝗼𝗻.
𝗛𝗲𝗿𝗲 𝗮𝗿𝗲 𝘀𝗼𝗺𝗲 𝘁𝗵𝗶𝗻𝗴𝘀 𝘄𝗲 𝘄𝗮𝗻𝘁 𝘆𝗼𝘂 𝘁𝗼 𝗸𝗻𝗼𝘄 : 𝗵𝘁𝘁𝗽𝘀://𝗯𝗶𝘁.𝗹𝘆/𝟯𝗞𝟲𝗤𝗟𝘀𝗾
Spending The Night was realized with the support of the Bruss-it subsidy of the Flemish Community Commission (VGC) & B2030 / Spending The Night werd gerealiseerd met de steun van de Bruss-it subsidie van de Vlaamse Gemeenschapscommissie (VGC) & B2030