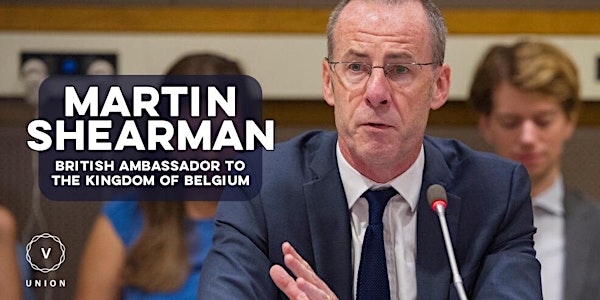 Martin Shearman | British Ambassador to Belgium
Depuis 2019, la V Union invite des personnalités à venir échanger et partager leurs perspectives avec la communauté académique de l'ULB
Date et heure
Début le lun. 17 avr. 2023 14:00 CEST
Lieu
Université Libre de Bruxelles 50 Avenue Franklin Roosevelt 1050 Bruxelles Belgium
À propos de cet évènement
3 heures

Billets électroniques sur mobile
As part of our small diplomatic series with representatives from various countries, the V Union is honored to invite you to its conference-meeting with His Excellency Martin Shearman CVO, British Ambassador to Belgium, on Monday, April 17.
Although we only have a large hour for this event at a slightly different time than usual, we hope that you will be able to join us and take advantage of this opportunity to exchange with our distinguished guest.
📅 Monday 17 April
📍ULB - Av. Franklin Roosevelt 50, 1050 Brussels
⏰ Conference starts at 14:00
➡ Open to all (free) with registration
Registration required: https://forms.gle/vvFZwfmLsZYrsipS6
Please do not register if you do not plan to attend.
Any incomplete or incorrectly completed form (in terms of required fields) will not be considered.
The location of the audience will be sent to you by email a few days before the event.
📋 Registration V Union membership (20€): https://forms.gle/qEuEh7RWgQe1gXDW8
About our guest :
Education
The Skinners' School in Tunbridge Wells
Trinity College, Oxford*
Commander of the Royal Victorian Order Martin Shearman was appointed Her Majesty's Ambassador to the Kingdom of Belgium in June 2019. The Ambassador represents His Majesty The King and the UK government in Belgium. He is responsible for the direction and work of the embassy and its consulates, including political work, trade and investment, press and cultural relations, and visa and consular services.
The Ambassador began his diplomatic career in 1989 with the European Community Department at the Foreign and Commonwealth Office (FCO). Our guest has spent a considerable part of his career working on European-related issues.
Deputy European correspondent (early 2000s)
Deputy high commissioner to Nigeria (2003-2006)
Head of the EU External Department (2006-2008)
British high commissioner to Uganda (2008-2012)
Responsible for British business, trade and investment at the British embassy in Japan
Counsellor for Development and Human Rights, Permanent Mission of the United Kingdom to the UN
*Trinity College is one of the constituent colleges of the University of Oxford in England
À propos de l'organisateur
Depuis 2019, la V Union invite des personnalités à venir échanger et partager leurs perspectives avec la communauté académique de l'ULB.