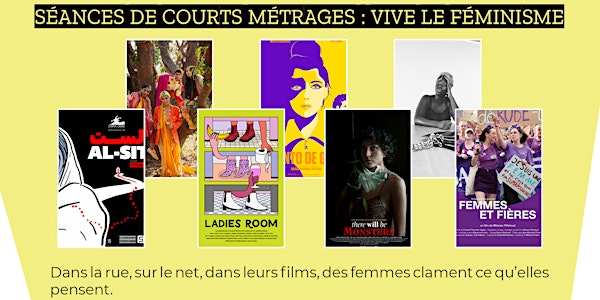 Fermeture bruxelloise - Courts métrages / Shorts films : VIVE LE FÉMINISME
Lieu
Cinéma Vendôme
18 Chaussée de Wavre
1050 Ixelles
Belgium
Politique de remboursements
Contactez l'organisateur pour demander un remboursement.
Les frais d'Eventbrite ne sont pas remboursables.
Courts-métrages / Shorts 70' : VIVE LE FÉMINISME
À propos de cet évènement
Vive le féminisme
FR Dans la rue, sur le net, dans leurs films, des femmes clament ce qu'elles pensent.
EN In the street, on the internet, in their films, women are saying what they think.
FR Après la séance, rendez-vous au Crazy Circle pour notre verre de clôture bruxellois !
EN After this session, farewell-drinks at the Crazy Circle to close the Brussels part of the Festival.
Courts métrages | Shorts films :
AL-SIT - Suzannah Mirghani (SDN/QA, 2020)
FR : Nafisa, 15 ans est amoureuse de Babiker mais doit épouser Nadir. Sa grand-mère Al-Sit s'en mêle. Nafisa a-t-elle son mot à dire ? Une histoire d'amour poétique au Soudan, entre modernité et tradition.
EN : Nafisa, 15, is in love with Babiker but has to marry Nadir. Her grandmother Al-Sit interferes. Does Nafisa have any say in the matter? A poetic love story in Sudan, between modernity and tradition.
JE NE SUIS PAS TA POUPEE - Collectif Bruxelles (BE, 2021) 
PLOT POINT - Ainhoa Menéndez (ESP, 2021)
FR : Clara et Luis se sont disputés. Ce n'est pas la première fois, toujours sur le même sujet : le travail de Clara interfère avec le désir de Luis de fonder une famille.
EN : Clara and Luis have an argument. It's not the first and it's always over the same issue. Clara's job interferes with Luis' desire to have a family.
THERE WILL BE MONSTERS Carlota Pereda (ESP, 2021)
FR : «Les monstres existent. Ils sont en nous. Et parfois, ils gagnent»
EN : Monsters exist. They are in us. And sometimes they win."
WAITING FOR ME by Mme Gandhi – Misha Ghose (IND, 2020)
FR: Hymne écoféministe pour la liberté personnelle et la conscience globale. « L'avenir est féminin, l'avenir est grand ! »
EN : An ecofeminist anthem for personal freedom and global awareness. "The future is feminine, the future is great!
BALANCE TON SPORT - Lola Mansour et Charline Vansnick (BE, 2021)
FR : Collectif de sportif•ve•s en lutte contre les clichés, les discriminations et les violences sexistes dans le sport.
EN : Collective of sportsmen and women fighting against clichés, discrimination and sexist violence in sport.
FEMMES ET FIERES - Mélanie Pitteloud(CH, 2021)
FR : Immersion visuelle et sonore au coeur de la Grève Nationale des femmes en Suisse en 2019. Étape-clé de la marche vers l'égalité en terres helvétiques.
EN : Visual and audio immersion in the heart of the National Women's Strike in Switzerland in 2019. A milestone in the march towards equality in Switzerland.
WOMEN WALKING - Netti Hurley (UK, 2021)
FR : Le corps de la femme sous toutes ses formes et sa beauté, en toute simplicité sans l'hypersexualiser.
EN : The woman's body in all its forms and beauty, in all simplicity without hypersexualising it.
LADIES ROOM - Christina Santori et Alex Behles (USA, 2021)
FR : Ladies Room est un film sur les femmes dans les films. Il met en scène un groupe de femmes qui parlent des choses dont parlent les femmes. Si cela semble simple, c'est parce que ça l'est.
EN : Ladies Room is a film about women in films. It features a group of ladies talking about the things women talk about. If it sounds simple, it's because it is.
WHY A WOMEN FILM FESTIVAL IS IMPORTANT – Collective (DE, 2021)
FR : En plein milieu du confinement du COVID, 18 festivals internationaux de films de femmes ont répondu à la question : Pourquoi les festivals de films de femmes sont-ils importants aujourd'hui ?
EN : In the midst of the COVID lockdown, 18 international women's film festivals responded to the question: Why are Women's Film Festivals important now?