Informations sur l'événement
Adresse
Rue Van Moer 5
5 Rue Van Moer
1000 Bruxelles
Belgium
Politique de remboursement
Politique de remboursement
Remboursements jusqu'à 7 jours avant l'événement
Les frais d'Eventbrite ne sont pas remboursables.
Description de l'événement
Faire correspondre une idée, un mot, un morceau de pierre.
À propos de cet événement
Connect sign and matter in three steps:
(1) Etymological research
Convenor: Lia Wei 魏离雅, Department of Archaeology and Museum Studies, Renmin University of China
This first afternoon is dedicated to the discovery of Chinese script through etymological dictionaries. The way characters are classified, the different types of scripts and their location, the material supports for writing (wood, bamboo, bronze, stone, silk or paper). Participants will be invited to select the characters for the seal they have in mind and combine them in a condensed form of script. Compilations of ancient seals and more recent creations by seal carvers will be available for consultation. On this first day, each participant will choose one or more stones to be carved and base his or her research on the size and appearance of the support.
(2) Calligraphic models
Convenor: Lia Wei 魏离雅, Department of Archaeology and Museum Studies, Renmin University of China
This second step in the creation of a seal is devoted to the process of copying and interpreting calligraphic models. The accent will be placed on how models are «born», by introducing a few among the most copied calligraphic models and analysing their style. Based on this practice, the participants will be guided towards a calligraphic rendering of their seal design. Exercises on this day will essentially be in ink on paper, although participants can train to write directly on the stone, in reverse, with the help of smaller brushes.
(3) Carving and printing
Guest: Lv Zizheng 吕子真,Beijing Folk Art Museum
The third stage in the creation of a seal is about handling the chisel, sometimes called «the Iron Brush», on a small and soft stone surface. the fine-grained and tender pyrophillite used for this purpose can be sanded and re-used until the result is satisfactory. During the printing process, the participants are encouraged to keep printing their seal «en devenir», adding a cinematic dimension to the exercise. The participants are welcome to contribute their seal impressions and research in ink to the archive, while they walk away with the stone in hand.
Lv Zizheng (born 1967) is currently in charge of the Beijing Folk Art Museum. From his practice as a Taoist adept, he draws inspiration as to how strokes, characters and inscriptions are made and unmade. The innovative structures Chinese writing can adopt, while relying on a combination of revelation and transmission, is at the core of his experiments with ink.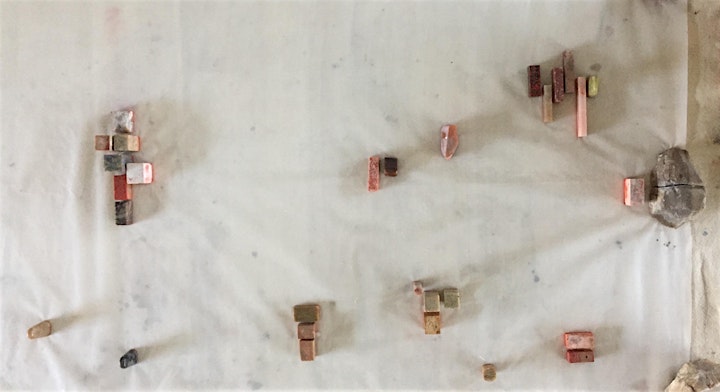 Date et heure
Adresse
Rue Van Moer 5
5 Rue Van Moer
1000 Bruxelles
Belgium
Politique de remboursement
Remboursements jusqu'à 7 jours avant l'événement
Les frais d'Eventbrite ne sont pas remboursables.