Informations sur l'événement
Adresse
Rue Van Moer 5
5 Rue Van Moer
1000 Bruxelles
Belgium
Politique de remboursement
Politique de remboursement
Contactez l'organisateur pour demander un remboursement.
Les frais d'Eventbrite ne sont pas remboursables.
Description de l'événement
Paysage écrit/Ecriture peinte
À propos de cet événement
Find your way between nature and culture:
(1) From models to interpretation
This first session looks at characteriological interpretations of Chinese script: how do calligraphic strokes, shapes and structures relate to the identity and attitude of the writer? How did the calligraphic overcoding of lines contaminate the visual expression of rocks and trees? Through a series of portraits of calligraphers, a line of investigation emerges where stylistic choices correspond to intentional positioning with regards to tradition and its representatives. Interpretative freedom or references to illustrous personalities draw a space where the calligrapher stands, before and after the gesture of writing. Participants will be proposed a series of calligraphic profiles, in quest for their own line of expression.
(2) Landscape analysis
Guest: Rosa Simonet-Lin 林金淘, Institut Belge des Hautes Etudes Chinoises
This second afternoon digs in the internal structure of landscapes, from early examples on bronze and lacquer to mural paintings in cave temples and tombs. What balance is to be found between the swirling modules of the cloud pattern in early imperial times and the towering or spiralling compositions of the late medieval period? Where does the human figure fit in such landscapes, where do we draw the paths between space cells, how do they constitute itineraries accross mountainous barriers and myst or absence? Participants to this workshop will engage in the construction or de-construction of a landscape and the itineraries therein.
Rosa Simonet-Lin (born 1933) spent the last decades teaching calligraphy at the Institut Belge des Hautes Etudes Chinoises and experimenting with watercolour and ink painting techniques. In her sober experiments, the brush is suddenly freed from constraints, yet remaining highly respectful to the tradition of ink and landscape painting and somehow withdrawn.
(3) Writing and drawing
Guests: Zhang Qiang 張強, Sichuan Fine Arts Institute, and Lv Zizhen 吕子真 , Beijing Folk Art Museum
To elaborate an environment of one's own, literati painters have drawn inspiration from calligraphic strokes from different periods and styles, feeding a growing repertoire of artificial shapes of nature. The history of Chinese ink painting is related to the idea of 'texture lines' (cunfa 皴法). Painting is here 'writing an intention' (xieyi 寫意), but the intention is not solely conceptual: it is embedded in both a lithic and a calligraphic expression. Whit the guidance of ink painters/calligraphers Zhang Qiang and Lv Zizhen, the participants will be encouraged to develop lines of texture of their own. Elegant gatherings of painters and calligraphers gave birth to collaborations in poetic or visual shape. The course will conclude with the creation of a collaborative piece of work with multiple authors, each contributing his or her line of texture to the ensemble.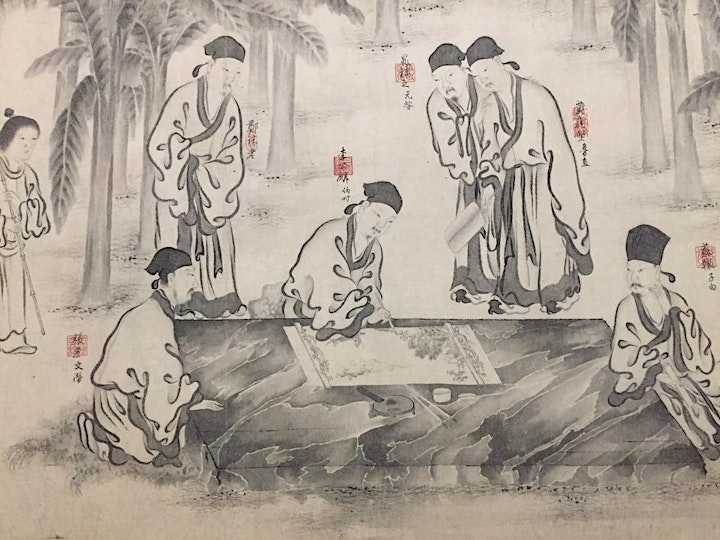 Adresse
Rue Van Moer 5
5 Rue Van Moer
1000 Bruxelles
Belgium
Politique de remboursement
Contactez l'organisateur pour demander un remboursement.
Les frais d'Eventbrite ne sont pas remboursables.