Sales Have Ended
Registrations are closed
Hi So sorry, you are too late. Ticket sale is closed. Do keep following us on LinkedIn or Facebook. Check out our website too for updates. Hope to greet you on one of our next events. Secretariat BelTox Mail: admin@beltox.be
Sales Have Ended
Registrations are closed
Hi So sorry, you are too late. Ticket sale is closed. Do keep following us on LinkedIn or Facebook. Check out our website too for updates. Hope to greet you on one of our next events. Secretariat BelTox Mail: admin@beltox.be
Annual scientific meeting on chemical carcinogenicity - Webinar from October till December 2020
About this event
In the wake of the Corona pandemic, the Steering Committee of BelTox has decided to organise this year a series of webinars instead of a live annual meeting in an auditorium as normally done every year.
The topic of the webinar is chemical carcinogenesis, and the webinar consists of three sessions planned on:
14 October 2020: Regulatory aspects of chemical carcinogenesis.
18 November 2020: The lung as a target for chemical carcinogenesis
9 December 2020: The liver as a target for chemical carcinogenesis
The detailed program can be found on our website - click here.
Participants can register free of charge for all of the three sessions.  Make sure you register for every session separately!
Afterwards, every member of BelTox will be given access to the recording of the presentations on the members-only page of the BelTox website. Not a member yet? You can easily become one via our website. Do click here.
There will be no young scientist competition this year. 
Technical support was kindly provided by ECETOC and Umicore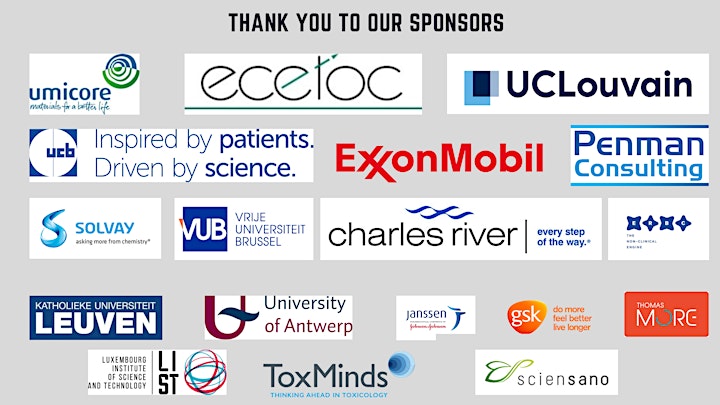 Organiser of BelTox - Scientific Meeting Series on "Chemical Carcinogenicity" - Webinar