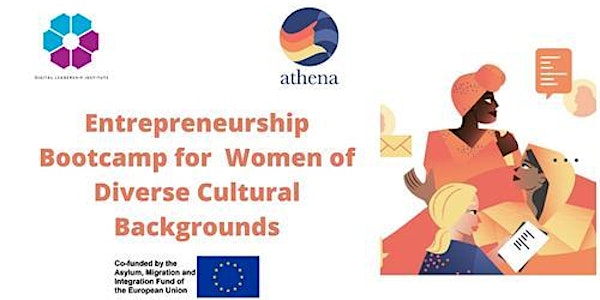 Athena Entrepreneurship Bootcamp for Women of Diverse Cultural Backgrounds
The Athena Entrepreneurship Bootcamp 2.0 is a FREE entrepreneurship training dedicated to third-national migrant women.
By Digital Leadership Institute
Date and time
Friday, October 7, 2022 · 9:30am - 2pm CEST
Location
Rue d'Arlon 25 25 Rue d'Arlon 1050 Ixelles Belgium
About this event
ABOUT
Athena Entrepreneurship Bootcamp 2.0 follows after a successful first edition being organized in June 2022, aiming to support women migrants or with migrant backgrounds to plan their entrepreneurial activities in Belgium. The focus is on creating a community of women (aspiring) entrepreneurs with diverse cultural backgrounds that face similar challenges in starting or growing their businesses, by connecting them with a network of professionals and organizations that can support to fully valorize their entrepreneurial potential.
The bootcamp will cover the main aspects of doing business in Belgium, but also a session dedicated to working on your business ideas:
What you need to know about administrative procedures, funding opportunities and general business ecosystem in Belgium: learning about the cultural diversity and business environment, administrative and legal requirements for setting up an entrepreneurial activity, and – most importantly – funding opportunities for entrepreneurs;
Hands-on business coaching: clarify your business vision and work on a concrete plan to advance your activity with the support of our coach and the different resources and tools offered by the program.
The entrepreneur with the most inspiring business idea will participate to a networking meeting with other women entrepreneurs in Rome on the 25-26 of October 2022, all costs covered.
AGENDA
9:30 - 10:00: Registration and welcome coffee
10:00 - 11:00: What you need about administrative procedures, funding opportunities and general business ecosystem in Belgium
11:00 - 11:15: Break
11:15 - 13:00: Hands-on business coaching
13:00 - 14:00: Conclusions and light lunch
The full price of the program is 550 EUR, but we are organizing this edition completely FREE.
Frequently Asked Questions:
Who can participate the Athena Entrepreneurship Bootcamp?
The Bootcamp is dedicated to third-national women* migrants - that is women that have migrated from countries outside the European Union – who are entrepreneurs or interested in opening a business activity in Belgium.Places to the Entrepreneurship Bootcamp are limited and applications will be accepted in the order of registration.
What is the price for participation to the Bootcamp?
The participation to the Bootcamp is FREE of charge, but registration is mandatory. If a registered participant cannot attend, it is kindly requested to inform the organizers two days in advance.
I am a second-generation migrant, can I participate?
Yes, second-generation women migrants can participate to the Bootcamp.
I am not a third-national citizen, I have an EU nationality and I migrated to Belgium, can I participate?
The Bootcamp is dedicated to third-national women migrants, but if places will remain available we will also welcome (aspiring) entrepreneurs migrating from EU countries.
Do I need to be an established entrepreneur to join the Bootcamp?
No, women who are not registered as freelancers or business owners in Belgium can also participate. Any women aspiring future entrepreneurs are welcome.
I have a loose business idea, can I still participate?
Yes, the purpose of the Bootcamp is to support you with the knowledge, skills and network to develop your idea into a viable business project.
I can't participate in the entire Bootcamp, but I am interested in a specific session, can I still register?
Yes. The modules of the Bootcamp are structured so that they offer a comprehensive understanding of how to start and grow a business in Belgium, but they can also be attended independently in accordance with each participant's interest.
I am not able to participate in person, will the Bootcamp also take place online?
The Bootcamp will be only organized in-person to support the connection between women entrepreneurs into a real community, BUT all the materials of the different workshops will be available online free of charge after the Bootcamp.
Is there an age limit?
All women 16+ aspiring to be future entrepreneurs are welcome to the Bootcamp.
I am not available to participate anymore, do I need to cancel my ticket?
YES, WE WOULD HIGHLY APPRECIATE IF YOU CANCEL YOUR TICKET OR SEND US A MESSAGE TO LET US KNOW TWO DAYS IN ADVANCE. Organizing the event involves preparing materials and ordering catering for each participant, and knowing how many participants will attend helps us not wasting any resources. Also your spot will be given to another woman that is available to participate.
IF DON'T CANCEL YOUR PARTICIPATION AND DON'T ATTEND THE BOOTCAMP, YOU WILL BE CHARGED 15 EUR TO COVER THE PRICE OF THE CATERING.
*Anyone who identifies as a woman.
The Athena Entrepreneurship Bootcamp 2.0 for Women of Diverse Cultural Backgrounds was organized as part of the Athena project – Approaches To valorise the High ENtrepreneuriAl potential of migrant women to contribute to their social and economic integration – a two-year project funded by the AMIF Program. The overall objective of the project is to contribute to the economic and social integration of migrant women in the EU society by improving the services of entrepreneurship support oriented to migrant women and creating a specific entrepreneurial path for them.
The project is implemented by a consortium of six partners and covers five European countries , and will directly benefit a 210 migrant women, it will increase the capacities of more than 35 professionals working in entrepreneurship support roles, it will create synergies with several organisations and it will finally intend to influence policies through a series of policy recommendations.
Here you can find more about the project: https://athenaproject.net/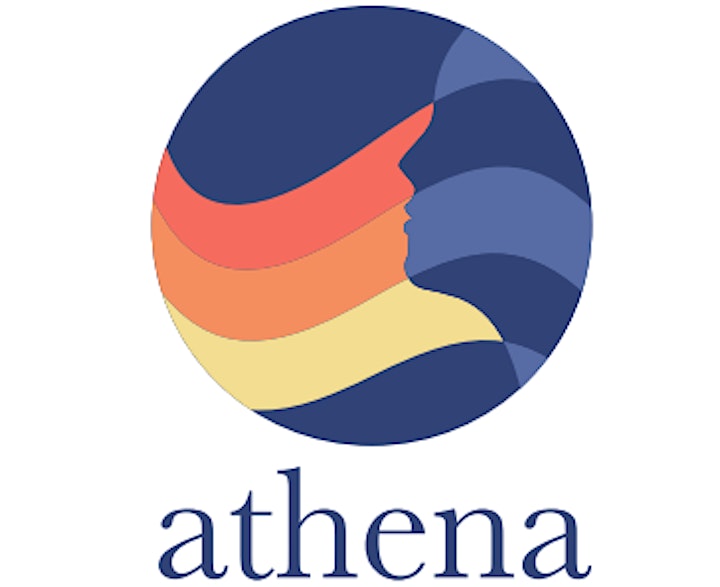 About the organizer
The Digital Leadership Institute ("DLI") is a Brussels-based international organisation bridging the gender gap and digital divide by educating and empowering digital leaders of today and tomorrow.