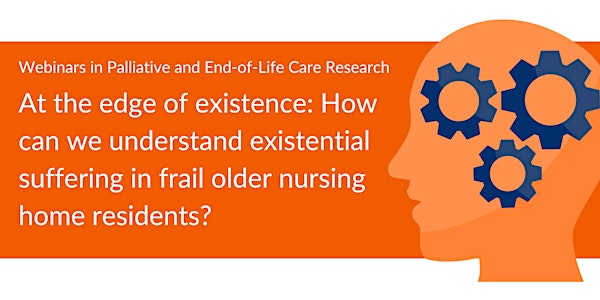 At the edge of existence: existential suffering in nursing home residents
At the edge of existence: How can we understand existential suffering in frail older nursing home residents? By Jessie Dezutter
About this event
Join Zoom Meeting
https://us02web.zoom.us/j/84566361669
At the edge of existence: How can we understand existential suffering in frail older nursing home residents? – Jessie Dezutter Meaning Research Late Life Lab
Existential psychology assumes that our existence as human beings has some inherent intrinsic properties, some ultimate concerns that every one of us has to deal with. These concerns—the inevitability of death, the question of life's meaninglessness, the profound and fundamental isolation one can find oneself in— have the potential to trigger important psychological suffering. The setting of a nursing home and the developmental characteristics of late life create a context that can intensify existential concerns or suffering and this premise aligns with experiences of health care professionals in the workplace. Studying this complex and sensitive layer of human existence in a population of vulnerable older adults is, however, highly challenging.
In this webinar, I provide an overview of our team's research vision and approach and the specific methodologies that we use in our aim to provide insight into these multilayered phenomena touching the core of our lives.
Jessie Dezutter is an Associate Research Professor at the KU Leuven (Belgium). She conducts research that sits at the boundaries of positive psychology, existential psychology, and gerontology. She directs the Meaning Research Late Life Lab and co-directs with her colleague prof. dr. Siebrecht Vanhooren the KU Leuven Meaning&Existence Research Center. She is the chair of LIRAM, the KU Leuven Interdisciplinary Center Lived Religion and Meaning. Her current research lines focus on how meaningfulness is related to late life psychological functioning and mental health, how existential givens are experienced at highly advanced age and whether and how existential struggles are related to psychological suffering. She is an advocate for a biopsychosocial-existential approach of elderly care. Her research and her team is interdisciplinary in nature and she combines quantitative and qualitative studies.
About the webinar series:
In this three-monthly webinar in palliative and end-of-life care, the VUB-UGent End-of-Life Care Research Group and the Public Health at the End of Life Research Group of the Amsterdam UMC invite experienced national and international speakers to present health services, public health and clinical research that uses innovative research methods. The aim is to exchange and grow knowledge on a diverse range of methods used in these different disciplines and explore their potential for improving and innovating future palliative and end-of-life care research.
The seminar will held over Zoom. Participation is free of charge, but registration is compulsory. Upon registration you will be sent a link to join the webinar. For more information: endoflifecare@vub.be